TeachingBooks is delighted to welcome authors Irene Latham and Charles Waters as our featured guest bloggers this month.
Each month, we ask distinguished authors or illustrators to write an original post that reveals insights about their process and craft. Enjoy!
For a Better World
By Irene Latham and Charles Waters
Dictionary for A Better World: Poems, Quotes, and Anecdotes from A to Z (Lerner, 2020) is our second collaboration. It follows Can I Touch Your Hair? Poems of Race, Mistakes, and Friendship (Lerner, 2018).
The idea for Dictionary was born on a snow-filled Friday morning after a school visit cancellation in Grand Rapids, Michigan (due to the district calling a snow day). It was a Friday, and we'd spent the whole week talking with students about issues around race, how to create inclusion and acceptance, and ways to broaden and sharpen our identities. Our minds and hearts were brimming over, and we were also exhausted! So we settled around a table at a local restaurant to await our flights scheduled to depart later that day.
We sat across from one another and started brainstorming new book ideas. We knew we wanted to do something to extend the work of Can I Touch Your Hair?, exploring poetry forms that intimidated us and also sharing details about our lives that feel intensely personal. We also knew we wanted to include quotes (because we both collect quotes). One of the ideas that made its way onto paper was this one — a dictionary for a better world. Talk about ambitious!
So, as we visited other schools (jointly and separately) throughout the winter, we refined our idea. In early spring, we submitted a synopsis of the book along with four sample poems (two apiece) to Carol Hinz, the editorial director at Lerner Publishing Group, who then took it the acquisitions committee. We were thrilled when they said YES!
As we worked to complete the project, we always had in our minds the many students we've met — students who have moved us and changed us with their strength and vulnerability. We wrote as if we were in a room talking personally to them and tried to be as strong and vulnerable as they are.
Later, as our illustrator Mehrdokht Amini's vibrant art came in, we were amazed by her creativity and brilliance throughout the book, and especially touched by the final spread, which features a poem written by both of us called "The Etymology of Progress." Mehrdokht incorporated into the piece a multitude of diverse faces — just like the students we see in schools — as well as actual photographs of us and Mehrdokht. Beautiful and inspiring! We really are all in this together.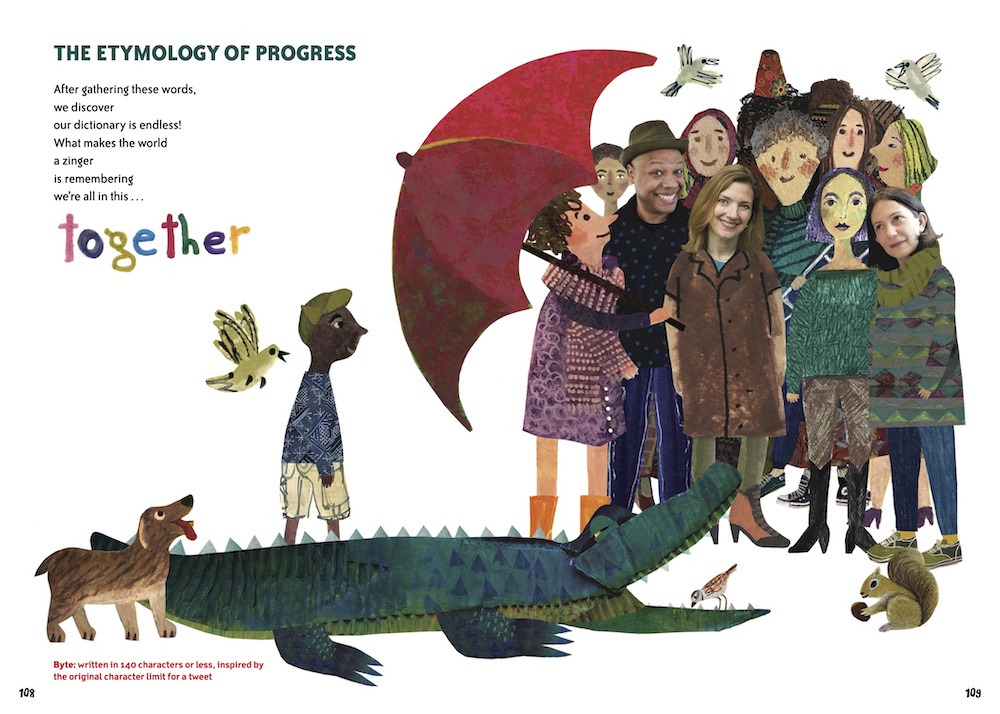 Writing Dictionary really established us as a writing team and friends-for-life: I & C Construction Co: Building Books One Word At A Time since 2015.
And we can't wait to share the book with even more students. Who knows what we will learn from them as we discuss words like "Acceptance" and "Xenial"? We can't wait to find out.
Educators, if you'd like your students to be included in this discussion, please consider contacting us through our websites to schedule us for a school visit!
Watch Charles Waters recite from Dictionary for a Better World.
Text and images are courtesy of Irene Latham and Charles Waters and may not be used without their expressed written consent.