TeachingBooks is delighted to welcome author Carolyn Crimi as our featured guest blogger this month.
Each month, we ask distinguished authors or illustrators to write an original post that reveals insights about their process and craft. Enjoy!
The Magic of Science
By Carolyn Crimi
While Weird Little Robots (Candlewick, 2019) is considered magical realism, there's plenty of science sprinkled in it, too. I happen to find science kind of magical.
For instance, while I was writing the book, I read a fascinating story about a little girl from Seattle who received gifts from crows. That's right. Gifts. From crows.
It all started in 2011 when Gabi Mann was four years old. Gabi had a habit of accidentally dropping food around the neighborhood. One day a chicken nugget might fall from her lap as she got out of the car, or she'd drop a French fry in her front yard. As soon as the morsel fell, a crow would rush over and grab it. Soon the crows started watching for Gabi, waiting to see if she would drop them a treat.
Some folks might find this creepy, but not Gabi. She liked the attention, so she and her brother started leaving food for the birds. Soon, the crows would line up each day, waiting for their snacks. By 2013 it was a ritual. Every morning Gabi and her brother would spread peanuts on the bird feeder platforms in their yard and pour fresh water into the birdbath.
The crows loved it. They'd caw loudly as they watched the siblings set the food out. After eating, they would leave little shiny presents in the birdbath. An earring. A paperclip. A hinge. A tiny piece of metal with the word best on it. Gabi has more than 70 such gifts. Her favorite is a heart-shaped pendant.
I can't tell you how much this story delights me. These are crows we're talking about. Now I happen to be a huge fan of crows, but I never realized that they were capable of this kind of behavior.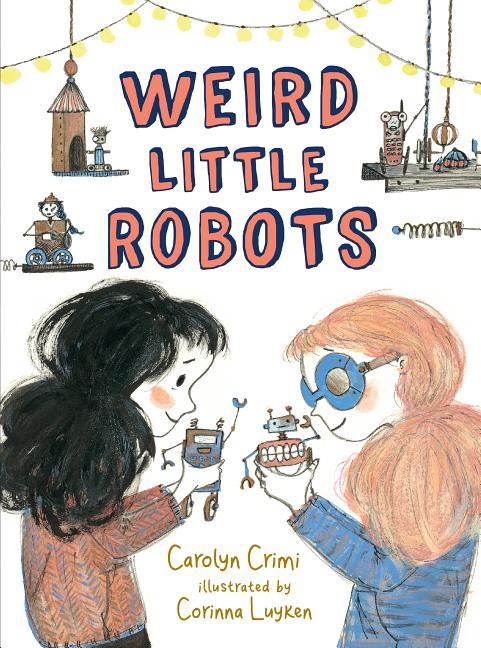 I could also see that had I known Gabi back then and she told me this story, I probably wouldn't have believed her. And so in my book, Penny Rose, who considers herself a scientist, doesn't believe her best friend Lark, when Lark tells her that she receives gifts from birds. But it's based on a true story, and it's a fact that crows will form a bond with humans in this way. It's also a bit magical.
Science is magic and magic is science is an idea I play with in Weird Little Robots. One of my favorite quotes by Albert Einstein is, "There are only two ways to live your life. One is as though nothing is a miracle. The other is as though everything is." I pretty much live my life thinking miracles and magic are around every corner, and I'd love it if kids were inspired to think the same way after reading my book.
Hear Carolyn Crimi pronounce her name and share her nicknames
Learn where Carolyn Crimi got the idea for this story in her Meet-the-Author Recording.
Discover more resources for books written by Carolyn Crimi
Text and images are courtesy of Carolyn Crimi and may not be used without her expressed written consent.