TeachingBooks.net is delighted to welcome author Evan Turk as our featured guest blogger this month.
Each month, we ask distinguished authors or illustrators to write an original post that reveals insights about their process and craft. Enjoy!

Sketching a National History Journey
by Evan Turk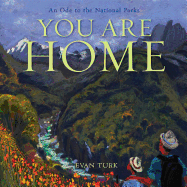 I arrived at the idea for You Are Home: An Ode to the National Parks (Simon and Schuster 2019) after spending a year drawing scenes of the Hudson River Valley in New York, where my husband and I Iive.
Creating this book was very personal for me because I grew up visiting the parks with my family. My dad has worked for the National Park Service my entire life, and the parks have become home to me.
I began with the text. I wrote the first draft in a little sketchbook after taking a walk by the river near our house. Once I realized it was going to be a book, I researched each of the parks, and read and thought about the symbolism of different aspects of nature. For some pages, I knew exactly which park I needed to visit; for other pages, I wanted to see what my travels suggested.
I usually, fairly methodically, plan out every page and color throughout a book before getting to the final art, making many rounds of thumbnails for each spread. With You Are Home, the experience of going to the parks and drawing in nature had to dictate how each spread was going to look.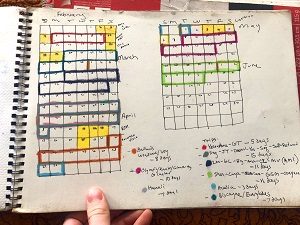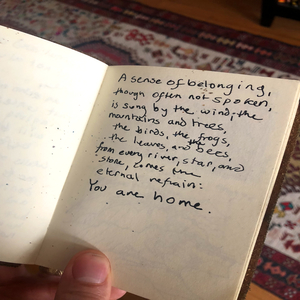 One of the most difficult aspects of the book was the timing. I only had about six months to visit all of these amazing landscapes, and because so many of the parks have extreme winters, I had to wait for certain areas of the country to thaw before visiting them.
I went to the New York City's American Museum of Natural History to practice sketching the animals before drawing them in the wild. Those sketches helped me get an idea of various animal anatomies, so that I'd be better prepared when I saw the creatures on the move.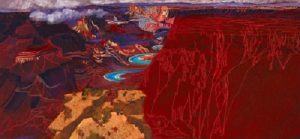 I brought the same sketchbook in which I wrote my first draft, and made notes and thumbnail drawings in all of the parks that I visited. I drew the Grand Canyon as the clouds parted and I saw it for the first time. On a hike to an incredible glacier and turquoise glacial lake in Glacier National Park, I sketched a drawing, later adding the mountain goats I saw on the way. (On that hike, I also saw moose and bald eagles, and witnessed a mountain lion kill.) The book cover was drawn in the foothills of Sequoia National Park surrounded by awe-inspiring mountains and wildflowers.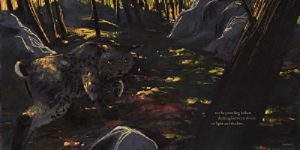 Every animal in the book was one that I observed visiting a national park; I wanted the book to be realistic in terms of what you might actually see if you were to go to these places. I changed one of my original sketches after I spotted a bobcat in Yosemite because I knew I had to include it.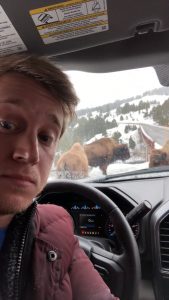 So much of the power of visiting a national park is the feeling of wonder that you experience when you turn a corner and come upon an incredible vista or see an animal cross your path, and there's no better way to capture that feeling than to draw it in the moment.
For the creatures I couldn't draw on location, I made drawings in the parks, and used them as reference and inspiration. I incorporated drawings that I made in my car, surrounded by a herd of bison in Yellowstone in winter, to create the illustration of these magnificent animals in the book.
This whole book felt like a homecoming for me, getting to visit the amazing places I saw as a child, and feeling the incredible excitement that comes with visiting new parks. I hope that this book will capture that feeling for readers.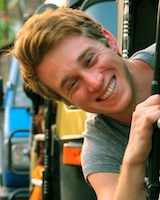 Listen to Evan Turk discuss his process for writing his book Grandfather Ghandi
Hear Evan Turk pronounce his name and explain its backstory
Learn more about Evan Turk's process for writing his book Muddy
Discover more exciting resources for Evan Turk
Text and images are courtesy of Evan Turk and may not be used without his expressed written consent.