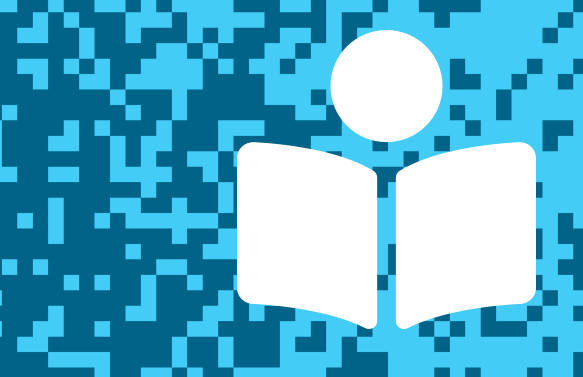 In this post, we feature author Lisa Fipps. You can hear her speak about her debut novel-in-verse, Starfish, and try her "invitation to imagine" activity. You'll also find other resources to explore. Thanks for joining us, and let us know what you think in the comments below!
---
Written by Lisa Fipps
Published by Nancy Paulsen Books, an imprint of Penguin Young Readers Group
Release date: March 9, 2021
Ever since Ellie wore a whale swimsuit and made a big splash at her fifth birthday party, she's been bullied about her weight. To cope, she tries to live by the Fat Girl Rules—like "no making waves," "avoid eating in public," and "don't move so fast that your body jiggles." And she's found her safe space—her swimming pool—where she feels weightless in a fat-obsessed world. It's also where she can get away from her pushy mom, who thinks criticizing Ellie will motivate her to diet. Fortunately, Ellie has allies in her dad, her therapist, and her new neighbor, Catalina, who loves Ellie for who she is. This poignant debut novel-in-verse follows Ellie as she tries to finally cast aside the Fat Girl Rules and be her own fabulous self.
From Starfish, by Lisa Fipps.

As soon as I slip into the pool,

I am weightless.

Limitless.

For just a while.

Read a longer excerpt from Starfish, by Lisa Fipps.
---
Listen to Lisa Fipps talking with TeachingBooks about creating Starfish. You can click the player below or experience the recording on TeachingBooks, where you can read along as you listen, and also translate the text to another language.
---
Invitation to Imagine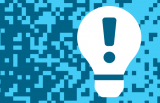 TeachingBooks asks each author or illustrator on our Virtual Book Tour to share a writing prompt, a drawing exercise, or just an interesting question to spark curiosity and creativity. Enjoy the following activity contributed by Lisa Fipps.
Imagination Activity with Lisa Fipps
Remember the first time you blew up a balloon? Someone pulled a balloon out of a bag and handed it to you. Fresh out of the bag, it didn't even look a lot like a balloon, but you could see how it could be, with a little work. And you'd seen a balloon before, so you knew what it should look like. With the image of a balloon in mind, you filled your cheeks with air and blew into it. It started to take shape. You blew more air into it. It got bigger. Then you could really start to see what it was going to be like when you were done. You began imagining all that you could do with it. Imagined sharing it with others. The more you breathed into it, the more you stretched it. Expanded it. Each time you breathed more into it, the tension increased. You felt like it could pop. You even braced a little, in case it did. Finally, it was as big as it could be without popping. Then you tied the end so the air couldn't leak out. You had a fully inflated balloon.
That is writing. You start with a story idea (the balloon fresh out of the bag). You write one sentence to sum up the story. You've read stories, so you know what a good one is like, what you love to read. Maybe it's a book with all kinds of details. Maybe it's a graphic novel with lots of images. Maybe it's in free verse. With your favorite books in mind, keep writing. Add details to your story. That's like the balloon as it begins to take shape.
Examples of details to add to make the story start taking shape include what the character feels about what's happening around them. What they see (maybe the ocean), hear (the roar of the waves), smell (the saltiness), taste (not all senses apply to all situations), feel (sand between their toes), and touch (water lapping at their ankles). How they react. How they talk compared to how someone else talks. What's the character want? Need?
Then you throw in conflict. That stretches the character, just like filling the balloon with air stretches it. But don't stop there. Keep going. Add more tension and more until you feel like the character can't take much more. That's the balloon getting so big you think it might pop and you even brace a little in case it does. That's the climax of the story. You're almost to the end. So it's time to edit your work, rewrite, and tie up all the loose ends so you have a complete story.
---
Finish This Sentence . . . with Lisa Fipps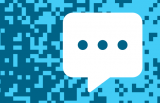 As part of our Virtual Book Tour, TeachingBooks asks authors and illustrators to complete short sentence prompts. Enjoy Lisa Fipps's response.
"A surprising thing that helps me work is…"
A surprising thing that helps me work is music. I find songs that I think my main character would listen to, whether it's to motivate them, sum up their story, show their feelings, or help others understand them. It helps me see the world from their point of view. I listen to those songs while I'm writing.
"Where I work is…"
Here are photos of my writing space and also the space where I do virtual events. In my writing space, everything's a symbol of something. For example, the hibiscus carving is because, as a kid, I used to write underneath a Rose-of-Sharon tree, which is a cousin to the hibiscus. I try to stay fearless when writing and tackling tough topics. Some of my fav. quotes about writing surround a button to remind me to keep my "butt on" the chair and write. When I do virtual events, people ask about the jar. Whenever anyone says anything good about Starfish, I print it off and put it in the jar. Whenever I doubt myself or need encouragement, I can look over at the jar and know my writing has touched people's lives.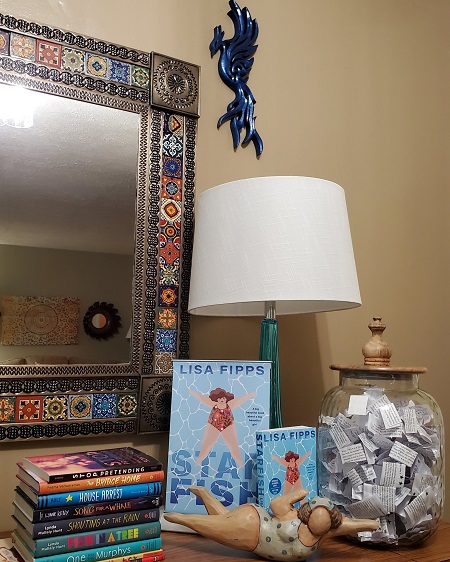 ---
Thank you!
To wrap up this Virtual Book Tour, we thank Lisa Fipps for signing a book for all of us.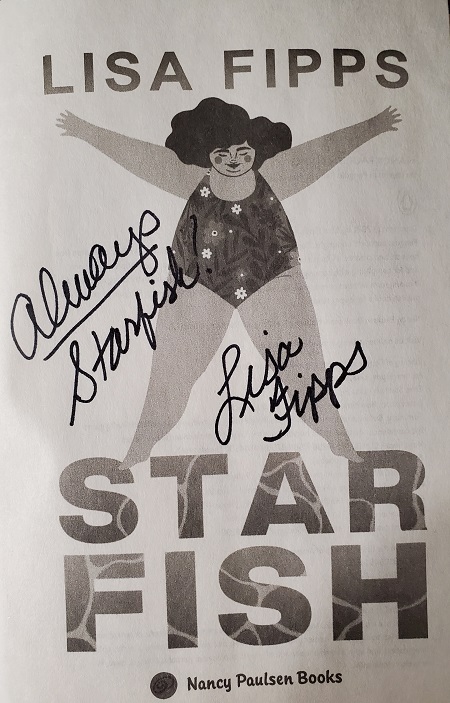 ---
More Connections to Lisa Fipps and Starfish
---
Explore all of the titles featured in the TeachingBooks Virtual Book Tour: one link with author interviews, lesson plans, activities, and more!
All text and images are courtesy of Lisa Fipps and Penguin Young Readers and may not be used without expressed written consent.