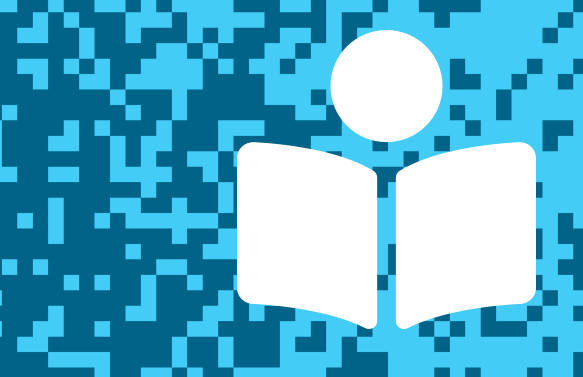 In this post, we feature author Donna Galanti, whose previous books for young readers include Joshua and the Lightning Road. You can hear her speak about her new novel, Unicorn Island, and try her "invitation to imagine" activity. You'll also find other resources to explore. Thanks for joining us, and let us know what you think in the comments below!
---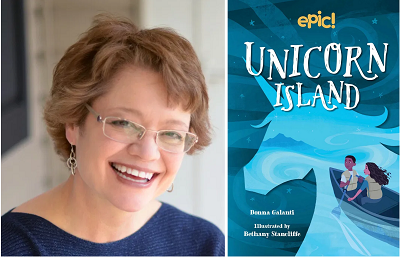 Written by Donna Galanti, illustrated by Bethany Stancliffe
Published by Epic! Originals, an imprint of Andrews McMeel Publishing
Release date: February 9, 2021
When Sam arrives in Foggy Harbor, population 3,230, all she can see is a small, boring town that's way too far from home. Knowing that she's stuck there all summer with her grumpy Uncle Mitch only makes things worse. But when Sam discovers a hidden trapdoor leading to a room full of strange artifacts, she realizes that Foggy Harbor isn't as sleepy as it seems. With the help of a new friend, Sam discovers an extraordinary secret beyond the fog: an island of unicorns whose fates are intertwined with hers. With bright illustrations throughout, this fantasy adventure follows Sam as she tests her courage and stretches her heart in a very unexpected summer.
From Unicorn Island, by Donna Galanti.

In New York City, lights twinkled across Sam's ceiling all night long. She had never felt lonely there, knowing the city was awake with her. She could already tell Foggy Harbor was different. It looked like the loneliest place ever.

Read a longer excerpt from Unicorn Island, by Donna Galanti.
---
Listen to Donna Galanti talking with TeachingBooks about creating Unicorn Island. You can click the player below or experience the recording on TeachingBooks, where you can read along as you listen, and also translate the text to another language.
---
Invitation to Imagine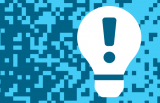 TeachingBooks asks each author or illustrator on our Virtual Book Tour to share a writing prompt, a drawing exercise, or just an interesting question to spark curiosity and creativity. Enjoy the following activity contributed by Donna Galanti.
Imagination Activity with Donna Galanti
Coming up with stories can be hard! One way is to brainstorm. This means to spontaneously come up with an idea or solution to a problem. Brainstorming with different characters and settings can be one technique used to create story. Here's how to get started:
Sit at a desk with a notebook and pencil. Set a timer for twenty minutes. Choose one of these 3 selections to brainstorm about a story idea:
A pilot in a dungeon
A medieval knight in the Amazon rainforest
A ghost in a waterslide park
Write nonstop for 15 minutes using the character and setting you chose to create a story idea or to write the beginning of a story. Throw your character into the setting right away so we can see them in action.
When the timer goes off, see if you have a story idea that you like and want to continue writing about! Whenever you are stuck on creating a story, try this exercise and mix up characters and settings to see which imaginative ideas you come up with. Here's a tip: borrow from world history for settings and characters to use in your brainstorming.
---
Finish This Sentence . . . with Donna Galanti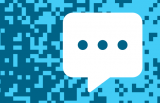 As part of our Virtual Book Tour, TeachingBooks asks authors and illustrators to complete short sentence prompts. Enjoy Donna Galanti's response.
"I knew I would be a writer when…"
I was seven-years-old and read The Lion, The Witch, and the Wardrobe, by C.S. Lewis and went on to write my first fantasy story about a wizard, a Dodo bird, and a flying ship.
"When I work, the pet who keeps me company is…"
This is my cat Star. He is a rescue kitty from the streets of Philadelphia. He likes to sit on my lap while I write—and knock books off my desk when I'm not paying enough attention to him.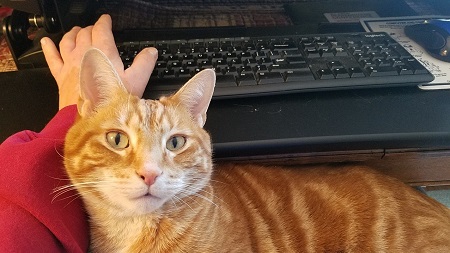 ---
Thank you!
To wrap up this Virtual Book Tour, we thank Donna Galanti for signing a book for all of us.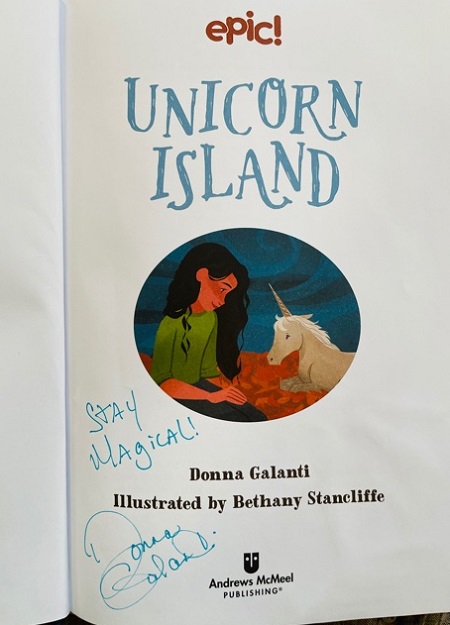 ---
More Connections to Donna Galanti and Unicorn Island
---
Explore all of the titles featured in the TeachingBooks Virtual Book Tour: one link with author interviews, lesson plans, activities, and more!
All text and images are courtesy of Donna Galanti, Bethany Stancliffe, and Andrews McMeel and may not be used without expressed written consent.