TeachingBooks is delighted to welcome authors N.H. Senzai and Shannon Hitchcock as our featured guest bloggers this month.
Each month, we ask distinguished authors or illustrators to write an original post that reveals insights about their process and craft. Enjoy!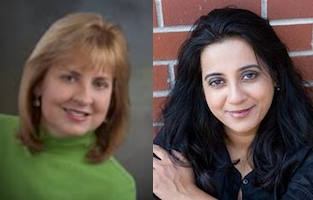 When Collaborators Collide
By N.H. Senzai and Shannon Hitchcock
Authors N.H. Senzai and Shannon Hitchcock had never met before, but in the summer of 2018, they decided to write a book together. They've stopped by TeachingBooks to chat about how their story came to be.
What inspired this story?
Shannon: Flying Over Water (Scholastic Press 2020) was written in alternating chapters, and my co-author, Naheed Senzai, and I each had different inspirations for telling this story. For me, the journey started when a friend's daughter converted to Islam. That piqued my interest in the religion and I started researching, though I wasn't entirely sure whether the research would result in a book. Around that same time, I saw a picture in my minister's office of a Syrian refugee and her young son. They held a handwritten sign that said, WE ARE FROM SYRIA, CAN YOU HELP US? I started writing a story about a Christian girl whose church is helping a Syrian refugee family. I completed an entire first draft from the Christian girl's point of view, but then I started paying attention to #OwnVoices and wondered if I was doing the story justice? I decided to seek a co-author, and after reading Naheed's book, Escape from Aleppo, thought she would be the perfect author to partner with.
Naheed: When I read Shannon's initial manuscript, I immediately connected with Jordyn and Noura's story. My previous book, Escape from Aleppo (Simon & Schuster 2018), was about a family fleeing the Syrian Civil War who ended up in a Turkish refugee camp. So for me, Noura's story provided an opportunity to explore what would happen to a Syrian family if they were granted asylum in the United States. As I brainstormed with Shannon, I proposed that we begin the story with President Trump's Muslim ban and incorporate the current political environment our nation is experiencing. It provides a setting where the girls would face challenges kids are facing today.
What are the benefits of working with a co-author?
Shannon: Naheed and I have different life experiences and they blended together to tell a richer story than either of us could have told on our own. Phrases like Bismillah-al-Rahman-al-Raheem rolled naturally off Naheed's tongue. She wrote of breakfasts that were different than any I've ever tasted, but that sounded delicious: eggs, stewed beans, cheese, lamb sausage, olives and bread with fig jam. She described a mosque, "bedecked in graceful arches and angular lines," in exquisite detail.
Naheed: Well one of the benefits is that you only have to write half the book! Kidding aside, before Shannon and I decided to work together, which in essence resembles a marriage of sorts, we dated a few times. We had the chance to share our hopes and visions for the novel and what we hoped to accomplish. Once we realized we were well suited, we took the plunge. It was great to have a partner to bounce ideas off of and critique each other's work, highlighting issues and complimenting what worked.
What are the unique challenges to working with a co-author?
Shannon: Normally an author calls all the shots as far as naming characters, plot points, and character traits, but working with a co-author requires compromise. Naheed renamed nearly all the Muslim characters from my first draft, and suggested changing the time period from 2015 and the San Bernardino terrorist attack to 2017 and the president's Muslim Ban.
Naheed: I was in a slightly awkward position as the outsider coming in to work on Shannon's manuscript. I wanted to be honest, while being sensitive to all the work she had put in. The great thing was that we had a chance to talk about our vision for the book before we entered into our partnership and got to know each other's personalities. We are both analytical and weighed each other's contributions and ideas thoughtfully. When we didn't agree, we gave concrete evidence on why it wasn't such a great idea! So, in that way, I was able to give good reasons to why we should change the timeline and add currents events, such as the Muslim Ban, climate change and the First Amendment.
What did your writing process look like?
Shannon: Luckily, both Naheed and I have accounting degrees and love spreadsheets. She set up a spreadsheet using Google docs, and we plotted the novel using it and left each other notes. I learned to never start a new chapter until I'd checked the spreadsheet to see if Naheed had left feedback for me or changed a plot point.
Naheed: Indeed, being accountants we are both plotters and online tools such as Google docs served us extremely well. We also had weekly meetings where we talked about difficulties we were having, to brainstorm and complement each other! These calls also enabled us to incorporate many current events that were happening around us, such as the shooting at the New Zealand mosque that took so many lives, the ridiculous ban on the ban of straws, and when a Trump official revised the Statue of Liberty poem to defend migrant rule changes.
What do you hope young readers take away from Noura and Jordyn's story?
Shannon: I hope young readers are inspired to learn more about Islam and the Syrian Civil War. I hope they delve deeper into the First Amendment and think about freedom of religion and freedom of speech. But mostly, I hope Flying Over Water shows them that kids who stand up for what they believe in can make a difference now and don't have to wait until they grow up.
Naheed: While writing our book, President Trump nearly took us to the brink of war with Iran, bringing back memories of our disastrous foray into Iraq based on false evidence. I hope that stories like Flying Over Water makes our readers pause and question what causes war, what we can do to prevent it, and what are the consequences to the people caught in its terrible midst? I'd like our readers to connect with Noura and Jordyn and see that they are like kids around the world — they want a safe and secure place to grow up and pursue their hopes and dreams. I also hope that they realize that they can effect positive change in their communities and the world around us.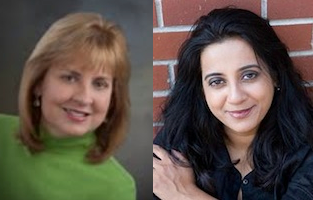 Listen to the Meet-the-Author Recording for Flying Over Water.
Hear Shannon Hitchcock's Audio Name Pronunciation.
Hear N.H. Senzai's Audio Name Pronunciation.
Text and images are courtesy of N.H. Senzai and Shannon Hitchcock and may not be used without expressed written consent.