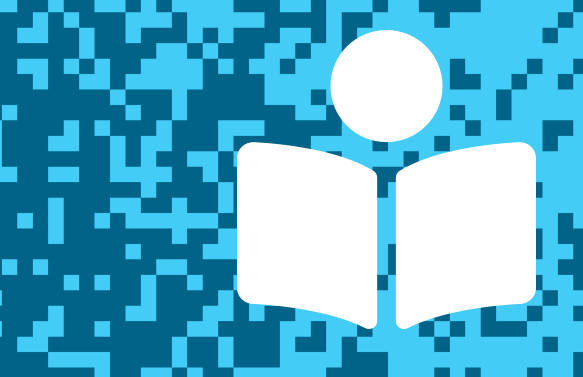 In this post, we feature author Betsy Uhrig. You can hear her speak about her debut novel, Double the Danger and Zero Zucchini, and try her fun "invitation to imagine" activity. You'll also find other resources to explore. Thanks for joining us, and let us know what you think in the comments below!
---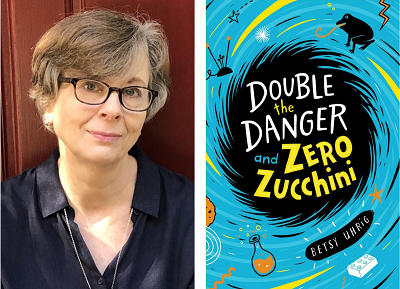 Written by Betsy Uhrig
Published by Margaret K. McElderry Book, an imprint of Simon & Schuster
Release date: September 22, 2020
Alex Harmon prefers running to reading. But when his aunt offers to pay him to point out the boring parts in her children's book, he figures it's an easy way to make ten bucks. The problem is that her book is about a grumpy frog and a prize-winning zucchini. The whole thing is a lost cause. So, Alex gives his aunt some ideas to help her out—like adding danger and suspense. But books can't just be interesting. They also have to be believable. Soon, Alex and his friends are acting act out scenes so that he can describe all the important details. He's even getting plot twists from a mysterious stranger (who might also be a ghost). Too late, Alex discovers that being a real-life stunt double for a fictional character can land you in terrible trouble—even if your friends are laughing their heads off!
From Double the Danger and Zero Zucchini:

My name is Alex Harmon. Unless you actually know me, I'm sure you've never heard of me. Because I'm not famous in any way. And I wouldn't want to be. In fact, I'd rather dive into the back of a garbage truck with my mouth open than be famous.

Read a longer excerpt from Double the Danger and Zero Zucchini, written by Betsy Uhrig.
---
Listen to Betsy Uhrig talking with TeachingBooks about creating Double the Danger and Zero Zucchini. You can click the player below or experience the recording on TeachingBooks, where you can read along as you listen, and also translate the text to another language.
---
Invitation to Imagine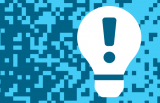 TeachingBooks asks each author or illustrator on our Virtual Book Tour to share a writing prompt, a drawing exercise, or just an interesting question to spark curiosity and creativity. Enjoy the following activity contributed by Betsy Uhrig.
Imagination Activity with Betsy Uhrig
Similes (figures of speech that compare something to something else) add depth to your writing, but they can also reveal more about your story or your character if you punch them up with creative details. Here's a fun thing to do when you need a striking simile (or are just having trouble falling asleep). Take a bland simile and keep adding details until it's really working. As an example: "His face was as green as a pea." He's nauseated, so why not make it: "His face was as green as an overcooked Brussels sprout"? Yuck! Here's another: "The car was moving as slowly as a snail." Pretty normal, right? Now try adding detail: "The car was moving as slowly as a tired snail." Better? Or go all out: "The car was moving as slowly as a tired snail with a sprained ankle carrying a load of wet laundry." Too much? That's for you to decide!
Try spicing up a couple plain-vanilla similes yourself:
1) Her hands were as cold as ice.
2) The room smelled like dirty socks.
---
Finish This Sentence . . . with Betsy Uhrig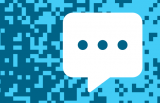 As part of our Virtual Book Tour, TeachingBooks asks authors and illustrators to complete short sentence prompts. Enjoy Betsy Uhrig's response.
"My protagonist can't live without . . ."
My protagonist can't live without audiobooks. Alex doesn't like to sit still and read—he gets too twitchy—but he loves to listen to audiobooks while he's running. He's a multitasker!
"Where I work is . . ."
I work in what used to be my daughter's bedroom, before she went off to college. I am surrounded by her childhood books, which inspire me to write stories she would have liked as a kid, with lots of humor and suspense. I am visited throughout the day by Max and Ruby, my two cats. I have a lot of fur in my keyboard!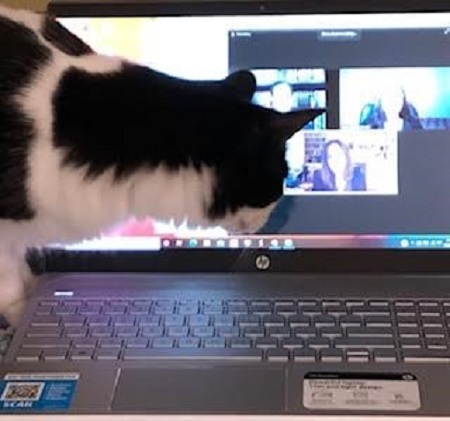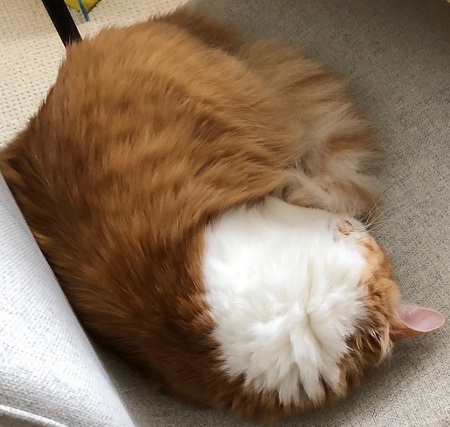 ---
Thank you!
To wrap up this Virtual Book Tour, we thank Betsy Uhrig for signing a book for all of us.
---
More Connections to Betsy Uhrig and Double the Danger and Zero Zucchini
---
Explore all of the titles featured in the TeachingBooks Virtual Book Tour: one link with author interviews, lesson plans, activities, and more!
All text and images are courtesy of Betsy Uhrig and Simon & Schuster and may not be used without expressed written consent.