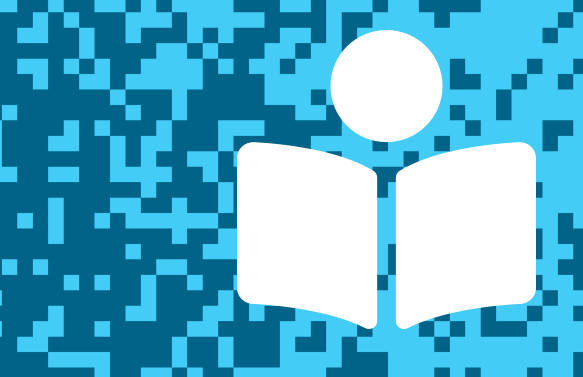 In this post, we feature Jerry Craft, whose graphic novels for young readers include the Newbery Medal-winning New Kid. You can hear him speak about his new title Class Act, and try his fun "invitation to imagine" activity. You'll also find other resources to explore. Thanks for joining us, and let us know what you think in the comments below!
---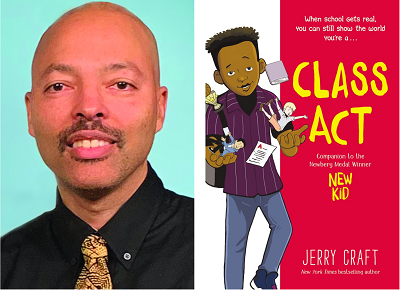 Written and illustrated by Jerry Craft
Published by Quill Tree Books, an imprint of HarperCollins Children's Books
Release date: October 6, 2020
Jerry Craft returns with a companion book to New Kid, winner of the 2020 Newbery Medal and the Coretta Scott King Author Award. This time, it's Jordan's friend who takes center stage. Eighth-grader Drew Ellis is no stranger to the saying "You have to work twice as hard to be just as good." His grandmother has reminded him his entire life. But what if he works ten times as hard and still isn't afforded the same opportunities that his privileged classmates at the Riverdale Academy Day School take for granted? With humor and inventive visual storytelling, Craft has created another powerful graphic novel about being one of the few kids of color in a prestigious private school.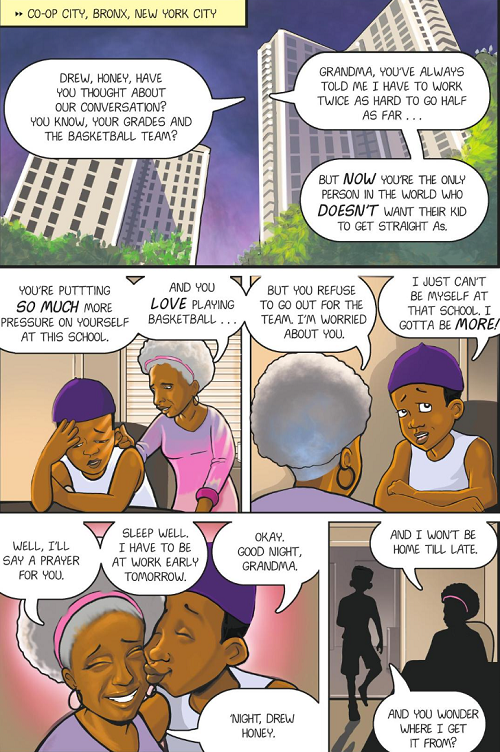 ---
Listen to Jerry Craft talking with TeachingBooks about Class Act. You can click the player below or experience the recording on TeachingBooks, where you can read along as you listen, and also translate the text to another language.
---
Invitation to Imagine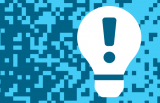 TeachingBooks asks each author or illustrator on our Virtual Book Tour to share a writing prompt, a drawing exercise, or just an interesting question to spark curiosity and creativity. Enjoy the following activity contributed by Jerry Craft.
Imagination Activity with Jerry Craft
When I create characters for my books, I like to show enough details so that you can get a sense of who they are just by looking at them. For example, when I created Jordan Banks for New Kid, I wanted his hair to be a certain way, his skin tone, even the fact that he is smaller than most of the kids in his class. Then I added a few extras, such as his favorite article of clothing (his hoodie). And he is always carrying his backpack, which contains his sketchbook.
My invitation to you is to draw a picture of yourself. It does not have to be fancy; you can use basic shapes, or even stick figures if you want. Just think about the details that make this character represent you—anything from a book, to sports equipment, to a video game controller.
---
Finish This Sentence . . . with Jerry Craft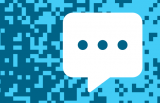 As part of our Virtual Book Tour, TeachingBooks asks authors and illustrators to complete short sentence prompts. Enjoy Jerry Craft's response.
"A surprising thing that helps me work is…"
A surprising thing that helps me work is that I almost never sit down in front of a blank piece of paper or a blank computer screen without already having an idea of what I would like to do. I use my day to come up with ideas. For example, I may see kids running for an ice-cream truck, and I wonder what would happen if, when they reached the truck, it was full of vegetables. Then, I will think about it during the day. So by the time I sit down to draw, I have a pretty good sense of what I want to do.
"I hope that my book may encourage readers to think about…"
I hope that my book may encourage readers to think about how important it is to be kind. There are so many little things that really make a difference: knowing how to properly pronounce someone's name; how to spell it; where they are from. Also, be respectful of how you tease someone. Teasing has always been around, and probably always will be. But the best thing about me and my friends when we were young was that we never teased each other on things that were actually true. For example, I was always one of the smallest kids in my grade, and they NEVER commented on that. And I gave them the same respect. Because believe it or not, those harsh feelings can last for the rest of people's lives. So, be kind.
---
More Connections to Jerry Craft and Class Act
---
Explore all of the titles featured in the TeachingBooks Virtual Book Tour: one link with author interviews, lesson plans, activities, and more!
All text and images are courtesy of Jerry Craft and HarperCollins Children's Books and may not be used without expressed written consent.