TeachingBooks is delighted to welcome author Jackie Azúa Kramer as our featured guest blogger this month.
Each month, we ask distinguished authors or illustrators to write an original post that reveals insights about their process and craft. Enjoy!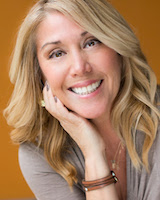 Don't be Afraid to Go There
By Jackie Azúa Kramer
On October 29th, 2012 Hurricane Sandy ripped through New York, bringing with it record breaking storm surges and flooding that devastated many communities throughout the five boroughs, including my own in Long Island.
I remember waking up the next morning freezing under a mound of blankets without electricity or heat. From this battery powered, old radio, a scratchy voice shared the news of one of the first deaths due to Sandy on Long Island.
I heard a last name, which I recognized, but it was a common enough name. Okay. Then came the name of the town. Oh, I thought, that's nearby. And finally, a short description of the family. Now my heart began to race.
I had known this lovely family for a few years mostly through my daughter's funny recounting of events while babysitting these two adorable, little sisters. And, from a time I had them over for a very messy tea party. It was their father who was killed by a falling tree while attempting to drive his family to a safer location.
I was heart-broken for my daughter, their mother and most deeply for the little girls. At the time, I was at the start of my writing journey and taking a writing course. "I feel helpless," I told the instructor. "I wish I could do something, anything to help those innocent children. But what?" I remember her words, even today. "You're a writer. Imagine their feelings and questions and write that story."
Sure. A lot easier said than done. I jotted it down in my, "Idea's List." However, I was a bit afraid to go there. It would be another three years till I started to draft the story. But during that time, I would often recall their sweet giggles, and I knew I wasn't ever going to let this story idea go.
In the meantime, I did research on how to help children cope with grief and loss. I learned that depending on the age of the child, many kids have lots of questions about death but are unsure who or how to ask. As a result, the process of grieving in a healthy way becomes difficult and that might lead to depression.
I like to take walks in our nearby park. One afternoon I became distracted by this little boy talking to his stuffed toy. I watched as he spoke so easily to it and then listened for an answer. It reminded me of my own children at play and an idea began to formulate.
What if a little boy lost his mother and both the boy and his father are grieving, but separately and unaware of each other's pain. Maybe the boy was afraid to ask questions fearing he'd make his father sad. Maybe the father's afraid to talk about the boy's mother fearing he'd upset his son.
Their unspoken feelings have become the metaphorical idiom of the 'eight-hundred-pound gorilla' in the room. What if that large gorilla comes to life in the little boy's mind? By creating the character of a kind, honest and supportive gorilla, the boy has someone he could share his feelings with and ask questions about death. Suddenly, a spark, a whiff of a beginning.
The Boy and the Gorilla (Candlewick, 2020) is told all in dialogue between the Boy and the Gorilla and at its core is about loss, hope and love. In the end, my favorite takeaway in the story is that it's the boy who finds hope first. The boy reaches out to his father to share his hopefulness and ultimately, love. Now, as they both look at pictures of mom, laugh at her silly jokes and plant new flowers in her garden, the boy and his father can grieve together in a healthy way. The gorilla can now leave as its work is done.
So, don't be afraid to go there. Children need stories to help them understand the truth and allow them to feel their emotions.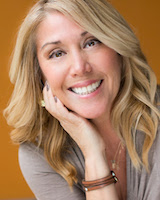 Listen to the Meet-the-Author Recording for The Boy and the Gorilla.
Hear Jackie Azúa Kramer's Audio Name Pronunciation.
Explore Jackie Azúa Kramer's website.

Text and images are courtesy of Jackie Azúa Kramer and may not be used without expressed written consent.