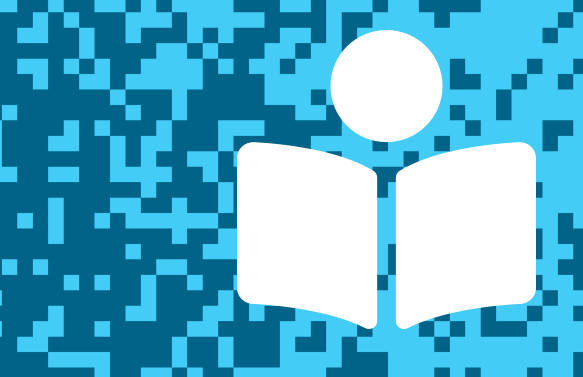 In this post, we feature Varsha Bajaj, whose titles, including the picture book The Home Builders, have appeared on "best book" lists. You can hear her speak about the inspiration for her novel Count Me In and try her fun "invitation to imagine" activity. You'll also find other resources to explore. Thanks for joining us, and let us know what you think in the comments below!
---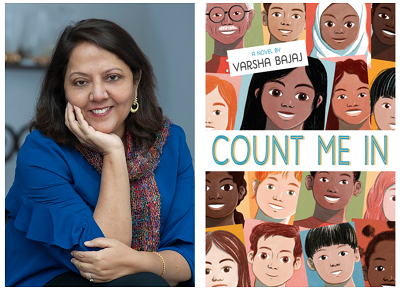 Written by Varsha Bajaj
Published by Nancy Paulsen Books, an imprint of Penguin Young Readers
Release date: August 27, 2019; paperback edition, August 25, 2020
Indian-American Karina Chopra never imagined being friends with Chris, the boy next door. But after her grandfather begins to tutor him, she discovers that he's actually a nice, funny kid. Then, while the three are together, Karina's grandfather is seriously injured by a racist stranger. Vowing to fight against hate, Karina creates a social media post, asking, "What does an American look like?" Her message, with its hashtags #CountMeIn, #immigrants, #WeBelong, #IamAmerican, and #HateHasNoHomeHere, goes viral. Told in Chris and Karina's alternating voices, this timely novel tells a realistic, inspiring story of middle-schoolers who create understanding and change through everyday actions.
Chapter One: Karina

Chris Daniels and I are like separate planets orbiting in the same galaxy. Like the planets, we have our own paths, and I like it that way. Mine is full of photos and stories, and his is full of basketball and hyenas.

Read a longer excerpt from Count Me In.
---
Listen to Varsha Bajaj talking with TeachingBooks about creating Count Me In. You can click the player below or experience the recording on TeachingBooks, where you can read along as you listen, and also translate the text to another language.
---
Invitation to Imagine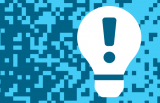 TeachingBooks asks each author or illustrator on our Virtual Book Tour to share a writing prompt, a drawing exercise, or just an interesting question to spark curiosity and creativity. Enjoy the following activity contributed by Varsha Bajaj.
Imagination Activity with Varsha Bajaj
The friendship between Karina, Chris, and Papa is central to Count Me In. Friendships are wonderful and rewarding and sometimes challenging and complicated. What qualities do you admire in your friends? Friends can have qualities that you admire and traits that you dislike. What is friendship about? What would you do if someone were mean to your best friend?
---
Finish This Sentence . . . with Varsha Bajaj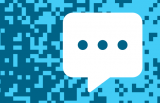 As part of our Virtual Book Tour, TeachingBooks asks authors and illustrators to complete short sentence prompts. Enjoy Varsha Bajaj's responses.
"A surprising thing that helps me work is . . ."
Doing dishes! The warm soapy water calms me. Something about doing a repetitive, mechanical activity helps my mind come up with ideas and solve plot problems.
"I hope that my book encourages readers to think about . . ."
I hope that my book may encourage kids to think about what they feel passionate about and act, in however small a way, to make the world a better place. You might decide to recycle, plant a tree, be kind to someone in your community, or invite someone to sit with you at lunch.
---
Thank you!
To wrap up this Virtual Book Tour, we thank Varsha Bajaj for signing a book for all of us!
---
More Connections to Varsha Bajaj and Count Me In
---
Explore all of the titles featured in the TeachingBooks Virtual Book Tour: one link with author interviews, lesson plans, activities, and more!
Author photo is by Debbie Porter Photography. All other text and images are courtesy of Varsha Bajaj and Penguin Young Readers and may not be used without expressed written consent.