TeachingBooks.net is delighted to welcome author Alexandria Giardino as our featured guest blogger this month.
Each month, we ask distinguished authors or illustrators to write an original post that reveals insights about their process and craft. Enjoy!

Ode to an Onion
by Alexandria Giardino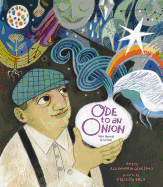 To write this essay, I had to watch television. I am not a big TV fan, but I wanted to reconnect with a childhood obsession of mine, a show called In Search Of…. I think my first picture book, Ode to an Onion (Cameron, 2018), emerged from that fixation. Let me explain.
In Search Of… ran from 1977 to 1982. Leonard Nimoy hosted six seasons of stories about controversial, paranormal, and historical mysteries. From the age of nine to 14, I tuned in weekly to contemplate: Do plants talk? Do people have ESP? Is there lost treasure on Oak Island? My favorite episode, by far, was about Grand Duchess Anastasia. It aired in February 1978. I was 11.
The show turned me into a writer.
I spent the entire summer of 1978 at the local public library reading as much as I could find about the last tsar and his family, and of course about the mystery of Anastasia. Did she survive? Was she Anna Anderson? I felt like a young investigative reporter.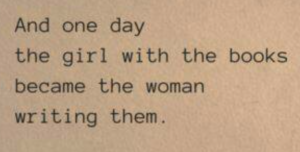 That fall, I stood in front of my seventh-grade English class, delivering a speech. The topic: What Happened to Anastasia? I reported the hard details about the fall of the last tsar, the assassination of his entire family, and the alleged escape of his young daughter into the forest.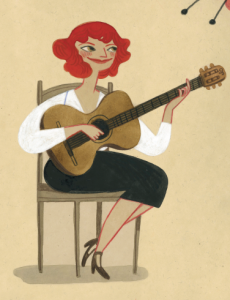 But when the real-life Anastasia disappeared into the night, I made up the rest of her story, based on the theories I found in books and on television. I was certain Anna Anderson was a fraud, so I suggested the possibility that Anastasia ended up living as "a hobo on the streets of Chicago." I got an A, and arguably, a start to my professional creative life.
Flash forward to 2001. By that time, I had earned a degree in journalism, and had been writing for magazines and struggling with a handful of fiction projects. I was also living in Latin America and had fallen in love with the poet Pablo Neruda. I had just landed a gig working on a documentary about his life.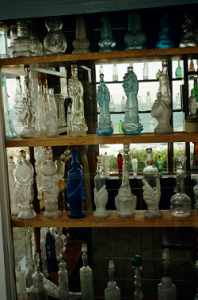 During a filming break at his home, I wandered off and happened into the poet's bar, which was lined with glass bottles, many in the female form. Neruda's presence so dominated his home that I wondered about his wife and muse, Matilde Urrutia. Who was she? How did she fit into this household? What happened to her after the poet died in 1973?
That curiosity led me to take a deep dive into Urrutia's life, just as intently as I had investigated Anastasia's years before. I spent the next three years painstakingly translating Urrutia's memoir My Life with Pablo Neruda (Stanford General Books, 2004) into English.
Prior to meeting Neruda, Urrutia led a bohemian life, traveling by herself throughout Latin America, and performing as a professional singer and musician. She had an easy laugh, a zest for life, and a love for gardening. She confided that she often tried to lighten Neruda's gloomy moods. In one scene, she told Neruda about a whimsical childhood garden, a place where roses mingled with celery and garlic. It made him happy.
I wrote Ode to an Onion for Matilde and for her joyful, free-spirited garden. It's not a straightforward biography. It's a story I invented based on real material.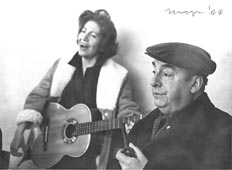 In Ode, I depict how a melancholic poet, who writes about hardworking miners, sees sadness everywhere, while his friend Matilde sees joy all around her and tries to lift his spirits. When the poet sees luminous beauty in a humble onion, his mood is transformed. Matilde suggests that he should write a poem about that. And so he does.
The book, which was illustrated by Felicita Sala, contains Neruda's original Spanish "oda al a cebolla" along with my English translation of that poem in its back matter. It also features my favorite photo of Urrutia; she is the center of our attention, playing the guitar and laughing.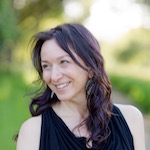 Hear Alexandria Giardino share more backstory on of Ode to an Onion
Listen to Alexandria Giardino pronounce her full name and its meaning
Learn and explore more of Alexandria Giardino's written work