Casey Ineichen, librarian
Casey is a 4k-5th-grade librarian at Winnequah Elementary School. She loves working with such a wide range of students. One of her passions is the after-school coding club she started. It started out three years ago with just a handful of students in 4th and 5th grade and has expanded to rotate between sessions for K-2 and 3-5. When she isn't teaching elementary students, Casey teaches a four-week course for the UW-Madison iSchool Continuing Education about designing a coding club for school and public libraries.
Every Kid is a Maker
Each student who walks through our doors in the morning has a talent, a skill, or a passion that they want to share, and it is important to find time for during the school day to embrace these passions. We can embrace a maker mindset and providing opportunities for our students to really show what they are capable of. Every kid is a maker. They are naturally curious and unafraid to try new things.
For me there are two avenues of making in the school library. One is having maker activities, stations, and opportunities available for students. The other is weaving making directly into the curriculum and allowing for more voice, choice, and creation during the school day. My library started its maker evolution four years ago with lots of paper and glue and a handful of iPad apps. Over the years we have slowly added everything from LittleBits and Snap Circuits to origami and cardboard building, but our philosophy about making hasn't changed. Making should be student-centered, provide choice and expression, and be fun!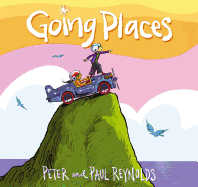 We do not have a physical makerspace, so materials live on a cart when they aren't in use. We have 4-6 main spaces where makerstations are set up, and we switch them out every 2-4 weeks. By switching out the stations every few weeks, we keep things fresh and it pushes my students to try something new and to approach making in different ways. While some of them would be content if the staples (like Lego) stayed out all year round, it is exciting to see what they create when presented with new sets of materials. The important things  is that they get to choose what area of making they want to explore, whether its creating the tallest tower with cups, playing the piano with Makey Makey, or creating a game with Bloxels.
Weaving making into the curriculum has proven to be a longer process. The first step is helping kids rediscover the maker within them. We've been trying to reinforce a growth mindset through picture books. Some of my personal favorites include:
The Most Magnificent Thing by Ashley Spire
Going Places by Paul and Peter Reynolds
What Do You Do With an Idea? By Kobi Yamada, illustrated by Mae Besom
My goal is to really infuse making into the curriculum and to partner with more teachers on ways students can show their learning in different ways. When provided the opportunity for choice, the kids really step up to the challenge. Whether it is creating a green screen video or making a paper and pencil poster, they are letting their talents shine and learning something new along the way.
While it is a work in progress, each day we are one step closer to helping kids realize their potential as makers. We need to keep kids curious.