TeachingBooks.net is delighted to welcome author Megan McDonald as our featured guest blogger this month.
Each month, we ask distinguished authors or illustrators to write an original post that reveals insights about their process and craft. Enjoy!

 Still Judy After All These Years
by Megan McDonald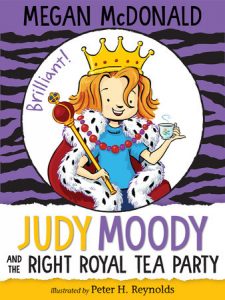 The Queen of England owns all the swans in British waters. She knows how to change a spark plug. She has a rubber ducky in the royal bathroom that wears a crown.
What does any of this have to do with Judy Moody, you ask?
Research.
Teachers and readers ask me if writing a Judy Moody book involves research. The answer is yes. But it's often not the kind of research that can be found in a book.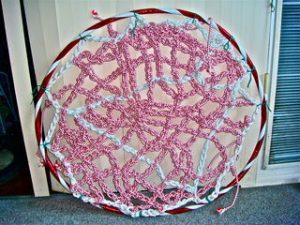 In writing the "Judy Moody" series, I've had to learn how to finger knit and turn a cartwheel. Research has taken me to a dude ranch and a glow-in-the-dark bowling alley at midnight, encouraged me to dance the tarantella, to eat an insect (lollipop!), and to track down the musical toilet on Boston's historic Freedom Trail. For any given book, I may have to consult a Magic 8 Ball or collect Band-Aids, try my hand at a Claw Machine or use a Grouchy pencil.
For my upcoming book, I had to imagine what it might be like to be related to the Queen of England. To better imagine, I turned to research. Does the Queen like to read? How many hats does she own? Does she really eat eel pie? And how much does that big fat crown weigh, anyway?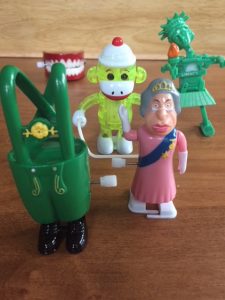 This September, Judy Moody will sport a new cover look in Judy Moody and the Right Royal Tea Party (Candlewick, 2018). One might say the covers are bold and spontaneous: they pop with happy jellybean colors against the signature tiger stripes of Judy's pajamas—moody in the best sense. In this caper, the third grader creates a family tree for an assignment, and soon begins to believe that she's related to a queen.
The Queen of England!
As a child, I never knew my four grandparents, so I've always been fascinated with family trees. The desire to know who we are and where we come from is universal. When my niece was working on a family tree for a school project, she discovered that she was related to Shakespeare. And as if that wasn't enough, she figured out that she and a classmate, with whom she shared the same initials, were related! More digging led to the discovery that in the way-way-way back, her ancestor bailed her friend's ancestor out of jail.
This inspired Judy's right-royal adventure. What's true became fiction. And Judy's fiction now felt true.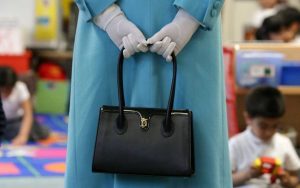 When my character creates her family tree, she learns that she is related to a pirate, a passenger on the Titanic, and…just-might-maybe…royalty! Probably a queen! Judy gets characteristically carried away with the notion.
When the girl digs a moat to attract royal swans, I had to learn how to make a trumpeter swan nest that might lure a swan to the backyard (Hint: it involves a hula hoop.) When Judy reenacts the Queen's beloved pigeon races, I substituted wind-up toys. (In a race between a wind-up Queen, a Sock Monkey and a Pair of Pants, the Pants seem to win!) And in order to play What's in the Queen's Purse? I had to do some digging to discover what Queen Elizabeth II really carries in her purse.
Research is fun. It carries me away, off into the imagination, and lands gifts of ideas right in my lap.
Judy's upcoming adventure is colorful to say the least, thanks to research. It matches the bold colors and moods of her new look. RARE!
Still Judy after all these years.
Text and images are courtesy of Megan McDonald and may not be used without her express written consent.