TeachingBooks.net is delighted to welcome author and illustrator Laurie Keller as our featured guest blogger this month.
Each month, we ask distinguished authors or illustrators to write an original post that reveals insights about their process and craft. Enjoy!

Where Do Ideas Come From?
by Laurie Keller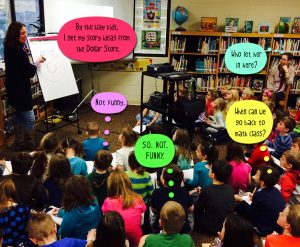 When kids ask me where I get my ideas I often say I buy them at the Dollar Store. They generally don't find this response particularly funny, yet it doesn't stop me from saying it time and again. While it would be convenient to purchase book concepts, I pretty much knew when I got into this line of work that I'd have to peruse the cluttered aisles of my own head for ideas.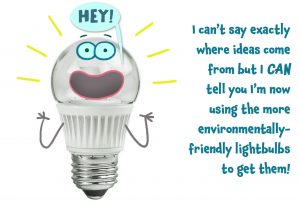 Sometimes I know what I want to write about: manners in Do Unto Otters (2007); dental health in Open Wide: Tooth School Inside (2003); and the importance of smiling in Birdy's Smile Book (2010). Most often, though, my story ideas are sparked by something I see or I hear, and usually when I'm not consciously trying to think of what to write about. My first book, The Scrambled States of America (1998), came to me just as I was falling asleep one night and states with arms, legs, and faces popped into my head. Arnie the Doughnut (2003), the story of a chocolate-covered sprinkle confection (who doesn't know that doughnuts are made to be eaten), was inspired by watching the doughnut-making process in a Krispy Kreme shop (aided by a doughnut-induced sugar high). Grandpa Gazillion's Number Yard (2005, all Macmillan) started with a doodle.

We Are Growing! (Disney/Hyperion, 2016)—the story of eight blades of grass, each trying to discover what makes it unique—came about another way. Author/illustrator, Mo Willems was kicking off a new beginning reader series, and I submitted three ideas to him and the editor. Two were in manuscript form. The third was a sketch of blades of grass (with faces, of course), and another image of the same blades of grass looking shocked after having been mowed.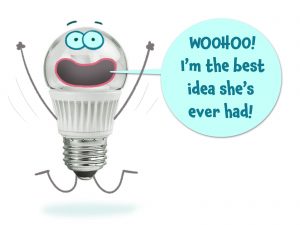 I didn't have a solid story idea at that point but the editor said what appealed to her was that she hadn't seen that cast of characters before. Little by little, after discussing the criteria of beginning reader books, the story concept emerged.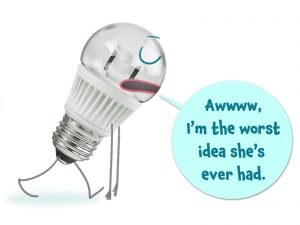 The idea stage is always exhilarating however it happens. Puns, jokes, and images race through my head faster than I can jot them down. Unfortunately, more often than not, that euphoria of having "my best idea EVER" is short-lived and I'm back to square one. Once in a while, though, an idea sticks. The excitement I feel doesn't wane and I dive in headfirst. It's extremely gratifying to bring an idea to completion, especially after all the false starts. It's what keeps me fired up (that, and the kids I meet at school visits)! And FYI: I do search bargain bins for ideas because, well, you just never know what you'll find.

Listen to Laurie Keller talk about We Are Growing!
Text and images are courtesy of Laurie Keller and may not be used without her express written consent.