TeachingBooks.net is delighted to welcome award-winning illustrator R. Gregory Christie as our featured guest blogger.
Each month, we ask one distinguished author or illustrator to write an original post that reveals insights about their process and craft. Enjoy!
Behind the Books:
Considering Art and Freedom in Congo Square
by R. Gregory Christie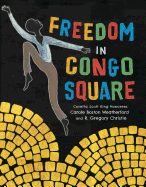 When a manuscript comes across my art table there's always a little bit of terror attached to it. What's the author trying to relate? How should I approach it? How would a parent, a librarian, and, most important, a child look at my paintings? If, as an artist, I can't quell some of these questions, they'll derail the creative process.
When little bee books approached me to work on Carole Boston Weatherford's Freedom in Congo Square (little bee books, 2016), I wondered whether the text would sugarcoat slavery. A story of injustice with a minimal, rhyming text—could this be done responsibly? Once I read the manuscript, I knew that it could, and I wanted my name attached to it. I picked up my brushes.
With regard to the art, I chose to depict the figures in silhouette. I didn't want readers to get caught up in emotions that they might see reflected in the characters' faces—that was for the text to deliver. I created flat, earth-toned backgrounds delineating textured skies, because for me the excitement was in the book's pacing and composition. If readers look carefully, they will see that even when the individual subjects stand still, the overall compositions are full of movement.
Although many historical subjects are indeed harsh, stories such as Freedom in Congo Square are an opportunity to understand ourselves, and one another, better.
We can't grow as a society without empathy. A number of the tales we hear as children are filled with injustice (take for instance biblical stories–I was reared by a Catholic Louisianan mother), but these accounts have something else to impart as well. Freedom in Congo Square conveys the importance of holding on to your humanity, of being able to cherish moments no matter what circumstances you are dealt. If readers can understand this history while looking beyond it, they, too, will experience moments of beauty beyond this particular bleakness.
All text and images are courtesy of R. Gregory Christie and may not be reproduced without his express written consent.
Listen to R. Gregory Christie's name pronunciation recording.
See all available resources about R. Gregory Christie.
Listen to author Carole Boston Weatherford introduce Freedom in Congo Square.
See all available resources about Freedom in Congo Square.