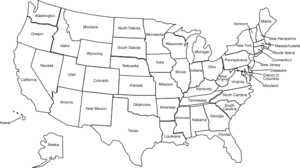 Can you name all 50 states in the United States of America? At the risk of dating myself, I will reveal that I can, but only in alphabetical order and to the tune of the pre-school/elementary lyrical treasure "Fifty Nifty United States". As a kindness to my colleagues, I sang the song silently "in my head" as I compiled the booklist for this blog post.
If your school celebrates books and authors from their home state, this list is for you! Begin celebrating and branch out by having your students experience books set in all 50 states. Go to http://teachingbooks.net/FiftyNiftyUS to begin your exploration.
A fun related title, with original TeachingBooks.net resources, is Peter Sis' The Train of States. Spoiler alert: the idea for this book came during a visit to Circus World Museum located in Baraboo, Wisconsin, in my own nifty home state.
These titles serve as great companions to the many excellent non-fiction series that highlight the history and unique characteristics of the United States. Get ready to explore all 50. Bon voyage!
Posted by Val Edwards, MLS, Educational Outreach & Training Specialist