TeachingBooks.net is delighted to welcome award-winning author and illustrator Cece Bell as our featured guest blogger.
Each month, we ask one distinguished author or illustrator to write an original post that reveals insights about their process and craft. Enjoy!
To All the Great Minds of Computer Science
by Cece Bell
The other day, I was speaking to a group about my book El Deafo (Abrams, 2014), an autobiographical graphic novel that chronicles my experiences growing up as a deaf kid with hearing aids. After my presentation, a man, who happened to be deaf, asked me what I thought was the single most important technological advancement for deaf people since the invention of hearing aids. My answer? The Internet, and more specifically, email.
I wouldn't be an author and illustrator of children books if it weren't for the Internet and email. In 2000, I was working as a freelance illustrator and dreaming about a job as an illustrator, and possibly author, of children's books. But how was I going to become one? It all started with the Internet.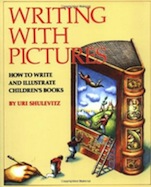 Back then (can you say "back then" when referring to the year 2000?), the Internet was new to me, but I forged ahead and did some online research. There I discovered Uri Shulevitz's Writing with Pictures: How to Write and Illustrate Children's Books (Watson-Guptill, 1985) and ordered it. When it magically arrived on my doorstep, I read it and re-read it so many times that I truly believe it is now part of my genetic code.
I let Shulevitz's process for creating children's books marinate for a while, and when I was ready to go, wrote Sock Monkey Goes to Hollywood (Candlewick, 2003), illustrating and creating a dummy for the story with what I learned from Shulevitz. Now what? The Internet again. There I researched book publishers. Each one had a website with advice on what to send, as well as an address where to send it to. Holy moly!
I was able to find a few publishers that seemed a good fit for Sock Monkey—and were accepting unsolicited manuscripts. I sent my dummy to Candlewick Press. Three months later, there was a message on my phone. My husband Tom told me it was from Candlewick's Jamie Michalak. She was interested! Gracious! Tom called her and asked her for an email address so that I could communicate directly with her. I sent off an email to Jamie, she wrote back, and suddenly I was officially in the world of children's books. Ever since that day I have been corresponding with a bunch of amazing editors.
That's one of the really cool things about email; I'm clearly not the only one who loves it. Almost everybody—even hearing folks—would rather communicate via email. It's the Great Equalizer. And it has totally, totally, made my life as a children's book author and illustrator possible. Just think, without email and the Internet, I would never have published the following "Words of Great Importance" from I Yam a Donkey (HMH, June, 2015):
"I yam confused. First you say, 'I yam a donkey.' Then you say, 'I yam a yam.' HEE-HAW! Yam-a-yam! Yam-a-yam-a-ding-dong! Whatever you is, you is SILLY!"
I lost my hearing 40 years ago this month. One year after I was born, according to Mashable, "U.S. programmer Raymond Tomlinson allegedly sent 'QWERTYUIOP' as the first network email, and was the first to connect his computer to his mailbox by using an '@' symbol."
Thanks, Raymond Tomlinson. You rock the mic! And so do all the other great minds of computer science, for that matter.
Text and images may not be reproduced with out the express written consent of Cece Bell.
 See all available resources about Cece Bell.