TeachingBooks.net is delighted to welcome award-winning illustrator Joe Cepeda as our featured guest blogger.
Each month, we ask one distinguished author or illustrator to write an original post that reveals insights about their process and craft. Enjoy!
Swing Sisters: The Story of the International Sweethearts of Rhythm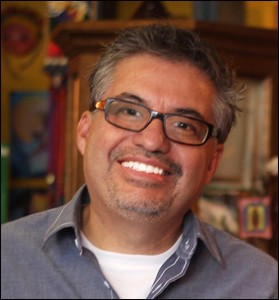 by Joe Cepeda
I'm not sure if it's wise to admit it, but I rarely read a manuscript twice before I decide whether or not to illustrate it. If I'm laboring over the decision during that first reading, it generally means that the story is just not speaking to me the way I need it to. It's like telling a joke: if you have to tell it twice, or explain it, it's probably not working for the other person. From the start, I liked Swing Sisters: The Story of the International Sweethearts of Rhythm by Karen Deans (Holiday House, 2015; Gr 2-5). Who wouldn't want to illustrate a story about an all-girl band that rose from such humble beginnings to such lofty heights?
Every book project is different. When a manuscript comes to me, one of the first questions I ask is "How much is this story rooted in gravity?" That phrasing may seem odd, but it stems from my early college days when I wanted to be an aerospace engineer. What I'm actually considering is the level of logic versus abstraction. Some stories are anchored in a linear narrative line, while others are more poetic, like a song, conceptual in tone. Realizing where a story lies on that continuum determines my aesthetic approach. If a book is plot based, then there is a good chance the skies will be blue and the trees will be green. If it's more abstract or fanciful, then the skies might be pink, and the grass may be turquoise.
Swing Sisters is a historical account. My challenge was to infuse poetry and vigor into the illustrations while staying true to a text that carries the plot along its chronological path. Luckily for me, Swing Sisters is a story about jazz and strong-willed young women who remained positive in the face of adversity.
Many times, the illustrator's job is to find scenes that speak to the tenor of a story, scenes that may not be specifically described in the text. For example, when Swing Sisters describes the atmosphere in the South during Jim Crow, my illustration depicts the African American members of the Sweethearts protecting the white women in the band, ushering them through a "colored" entrance. This image was inspired by the manuscript, but invented by me.
From a compositional standpoint, Swing Sisters offered plenty of pictorial opportunities. The story included a number of people and many settings. The trick was to maintain an underlying unity among the images despite the changing geography, and the characters, who aren't identified specifically. It was important to see these young women as real people, not just members of a 19-piece band.
As the author notes at the end of the story, the Sweethearts taught the world to swing. I was thrilled to paint pictures that had my brush dancing. Sometimes my brush moved slowly; at other times it skipped joyously from one side of the canvas to the other. Even when it wasn't quite sure about its next move, it was always swinging!
Text and images may not be reproduced without the express written consent of Joe Cepeda.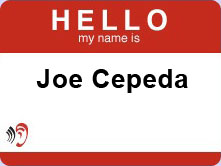 See all resources about Joe Cepeda.
Listen to Meet-the-Author Book Reading with Joe Cepeda featuring Swing Sisters.
Listen to Joe Cepeda's author name pronunciation.
See all resources about Swing Sisters.