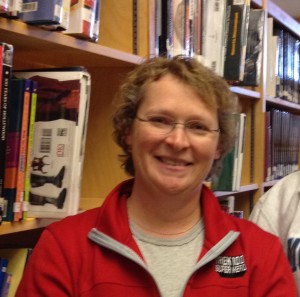 Slowly Spin the Wheels: Graphic Novels in the Classroom
by Val Edwards
 I have been browsing through Nimble: Thinking Creatively in the Digital Age (HOW Books 2015) by Robin Landa. I wish "being nimble" was an attribute more easily attainable in education, particularly in relation to adopting graphic novels for instructional use. Often teachers' efforts to integrate graphic novels into their curriculum are hindered by stakeholders who do not yet understand the value of multiple literacies to students.
Digital and global realities demand multiple literacies from everyone, particularly students, who are the future. Visual content requires a sophisticated level of decoding, just like accepted textual analysis. It is important to take advantage of the rich instructional opportunity and strong student appeal of comics and graphic novels.
To help support the integration of graphic novels into curriculum, I include here a link to a booklist of graphic novels with more than 100 teaching resources:  http://teachingbooks.net//gnblog.
Please join us on Tuesday, July 21, 2015 at 1:00 p.m. CT to discuss graphic novels and their instructional uses. Advance registration is available at: http://teachingbooks.net/webinarofthemonth. Enjoy!