TeachingBooks.net is delighted to welcome award-winning author Charles R. Smith, Jr., our featured guest blogger.
Each month, we ask one distinguished author or illustrator to write an original post that reveals insights about their process and craft. Enjoy!
The Story of 28 Days: Moments in Black History That Changed the World
by Charles R. Smith, Jr.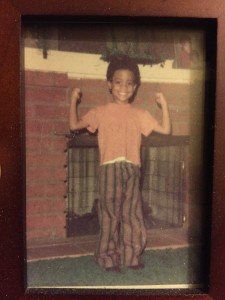 I remember sitting in my sixth grade class at Marian Anderson Elementary in Compton, California, when February rolled around and my teacher, Mr. Johnson, hung up the faces of Black History Month around the room. Sojourner Truth, Rosa Parks, Frederick Douglass, Harriet Tubman, and Dr. Martin Luther King, Jr. surrounded us until early March. Each picture had information about the person depicted on the back of the image, and the pictures hadn't changed since first grade. With no new countenances added each year, it was as if once black Americans had achieved equal rights in the law books, our history was complete.
How could that be? Weren't there others who accomplished great things, past and present? That question became the focus of 28 Days: Moments in Black History That Changed the World (Roaring Brook Press 2015).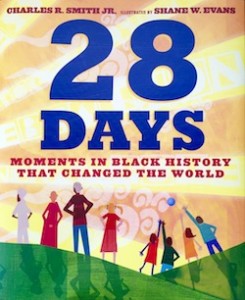 I wanted 28 Days to be more than a collection of familiar names and faces. I wanted it to tell the story of how black people had progressed from being treated as property to being elected to the highest office in the United States.
I wanted to show the extreme landscapes we have explored, from the North Pole to outer space.
I wanted to show the advances we've made in fields such as law and medicine.
I wanted to show entrepreneurs who have made names for themselves along with great wealth.
I wanted to show athletes breaking barriers and records.
I wanted to show the absurd laws that were written—and overturned.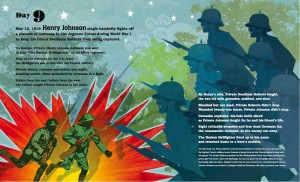 Most importantly, I wanted to tell a story: a story of black faces in America. Individuals brought here from somewhere else and forced into servitude. Day after day. Month after month. Year after year. Decade after decade. Century after century. Strained by the shackles of servitude. But also how slowly, over time, those shackles loosened as barrier after barrier was broken, until eventually, the shackles became undone.
And there lies our story. But before I could tell it I had to determine which 28 subjects would best represent the progression to freedom.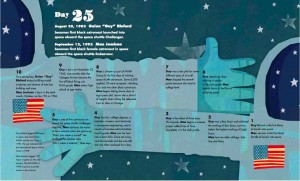 This was no easy task, so I made a point of including some of the names I came across on my own that inspired me, like Guy Bluford, the first black astronaut. When I found out that a black man had gone into space, I knew I could do the same. Other people—like Henry Johnson, Needham Roberts, and Robert Smalls—were included, people I had never heard of until I came across their stories through research.
Some names will always stand out in black history, such as Dr. Martin Luther King, Jr. And it was important for me to include Malcolm X. Dr. King preached nonviolence, whereas Malcolm preached change "by any means necessary" and those words gave voice to a new generation. Reading Malcolm's life story inspired me and made me understand that nothing is given to us, and that education is the key to self-awareness and success.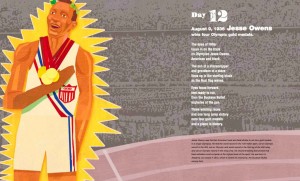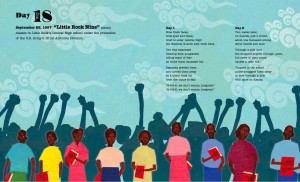 Once 28 Days was complete and I held it in my hands, I marveled at how far we've truly come, as a people and as a country. I relived the hardships of Harriet Tubman, I shared Jesse Owens's glory sprinting to gold, and I was inspired by the strength of The Little Rock Nine. I found strength—strength in the deeds of others who faced difficult tasks, strength in the lives of those who overcame obstacles to achieve greatness.
When I speak at schools, I am most often asked, "What's your favorite book?" For the past 16 years I've always responded, "They all are, because they're like my kids." But 28 Days is something different. It's more than me or my personal interests because it tells our story, and with it, the story of America.
 Text, images and media cannot be reproduced without the express written consent of
Charles R. Smith, Jr.
————————
 Watch 28 Days booktalk with author Charles R. Smith, Jr.