TeachingBooks.net is delighted to welcome award-winning author and Children's Poet Laureate Mary Ann Hoberman as our featured guest blogger.
Each month, we ask one distinguished author or illustrator to write an original post that reveals insights about their process and craft. Enjoy!
Memorizing Poetry
by Mary Ann Hoberman
Why memorize poetry? For the sheer joy of it! If there is a poem you love, nothing is more satisfying than committing it to memory. You'll get to know the work far more deeply when you have read it aloud a number of times and familiarized yourself with its rhymes, rhythms, and repetitions as part of a living composition. You'll enter the poet's mind and begin to understand the process of creation and find yourself making up mnemonic devices to help yourself along: three lines in a row begin with "T" or a particular word shows up in both the first and last line.
Once you have learned a poem, it becomes yours. You own it! If you memorized it in childhood, it will be yours for a lifetime. I urge children to memorize poems, and encourage their parents and teachers to do the same.
Learning poetry by heart fell out of favor because of its associations with both rote learning and the once-popular elocution lessons of my childhood known for their affected gestures, artificial speech, and often sentimental verses. Unfortunately, in deciding against memorization, we threw out the good with the bad. Now is the time to reevaluate.
Make learning poems a family activity. Make it a weekly ritual in the schoolroom. But wherever it takes place, make sure it's fun. No grades, no one-size-fits-all assignments. During my two-year "reign" as the second Children's Poet Laureate I have made it part of my mission to renew this rewarding practice.
Go with the poem!
This material may not be used without the express written consent of Mary Ann Hoberman.
Listen to Nick Glass, the Founder and Principal of TeachingBooks.net, recite the first poem he ever memorized, A Patch of Old Snow by Robert Frost.
We encourage you to share with other educators audio clips of students reciting their favorite memorized poems, just share the links to your audio in the comment section below!
And, below is a poem to try memorizing from Mary Ann's poetry anthology The Tree that Time Built (Sourcebooks 2009).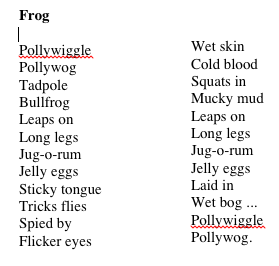 More online resources about Mary Ann Hoberman:
Hear Mary Ann Hoberman tell the story of her name, including the trouble she's had with her two first names …
Watch Mary Ann talk about her love of words and read from You Read to Me, I'll Read to You (Little, Brown, & Co. 2001)
Access all of TeachingBooks.net's online resources about Mary Ann Hoberman and her books.