Greeking Out
The story of how the Greeking Out (National Geographic, 2023) book came to be is pretty unique. Some of our readers might know that the book is based on the National Geographic Kids Greeking Out podcast, which launched back in 2019. This podcast was originally created as a promotion to support the Zeus the Mighty book series (more fantastic books about Greek mythology for kids). But soon enough, the podcast started to develop a life of its own, and we continued telling these famous stories in a straightforward, colloquial way that resonated with kids and families. And it wasn't long before we realized that a collection of these myths would make a great book all on its own.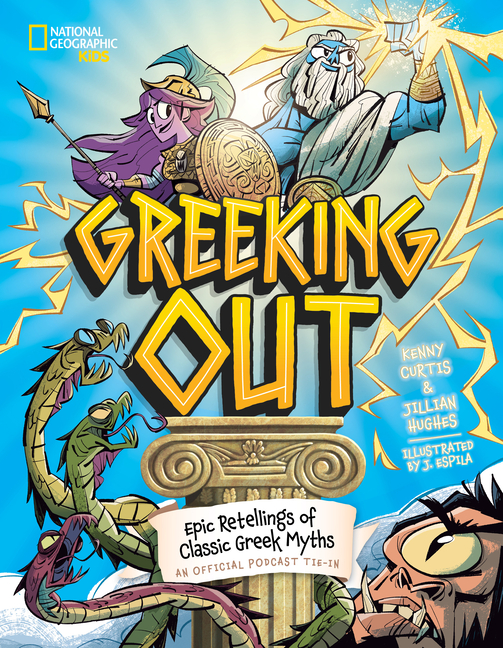 At first, we were a little nervous about writing a book. It had always been our dream to venture into the world of children's publishing, but up until this point, we had been script writers producing words for podcasts and radio shows. Our job was to write words that – when spoken – would engage and entertain kids and families. Writing a book seemed like a different thing altogether.
Except that it wasn't. Not really, anyway.
Throughout the process, we began to realize that a book was just another form of storytelling, plain and simple. That may seem obvious now, but when you're looking at word counts and layouts and illustrations and "backmatter" (we didn't even know there was a word for that stuff), it's easy to get a little intimidated and lose sight of the main picture. At the end of the day, our job was to tell these stories to the best of our ability.
And for Greeking Out, the stories we were sharing have been around for a LONG time. They existed before anyone actually bothered to write them down. These were tales that people told and retold for generations. And it's likely that every time one of these myths was shared, the storyteller added (or maybe subtracted) bits to make it their own.
Our spin on these classic Greek myths was to take the essence of every story and tell it in a way that would entertain and engage kids without dwelling too much on the graphic and scary parts of the narrative (death, beheading, cannibalism, promiscuity, more beheading…). But we also want kids to remember these tales and hopefully find a way to share them on their own – even if it's only as inspiration for their own stories.
And for us, storytelling and creativity are incredibly important (not to mention fun!) parts of life. Some people might not know that we are actually a father/daughter writing team. Jillian grew up listening to Kenny make up amazing (and sometimes overly elaborate) bedtime stories. Having a front-row seat to this kind of creativity inspired her to become a writer herself. We've spent the last few years writing together, and we can't believe we get to make up stories for a living. Talk about a dream job!
As we began to work on the first draft of this book, we both provided our creative interpretations and unique takes on these famous myths. It was a collaboration that combined our different life experiences and ways of seeing the world. And the stories really came to life with our amazing illustrator's eye-popping work. Again, another "storyteller" added their vision of these characters and myths to help deliver the goods.
In the end, we wound up with something entirely new, and yet very familiar. Still the same stories from classic Greek mythology – just told in a different way. I think Homer would be OK with that.
Hear Jillian Hughes' and Kenny Curtis' Audio Name Pronunciation.
Listen to a Meet-the-Author Recording for Greeking Out.
Explore the Greeking Out podcast.
Text and images are courtesy of Kenny Curtis and Jillian Hughes and may not be used without express written consent.