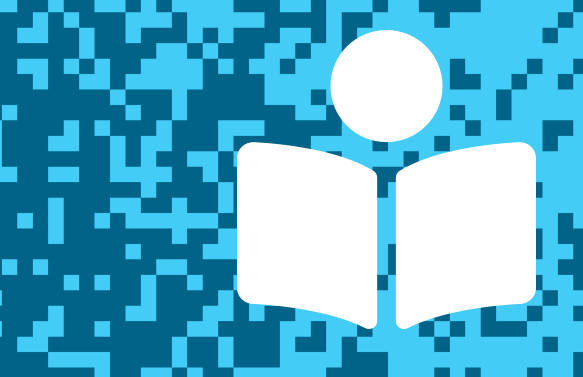 In this post, we feature award-winning author Francisco X. Stork, whose previous, acclaimed titles include Marcelo in the Real World, which was named a Schneider Family Book Award winner, among many other honors. You can hear him speak about his new book, I Am Not Alone, and try his "invitation to imagine" activity. You'll also find other resources to explore. Thanks for joining us, and let us know what you think in the comments below!
---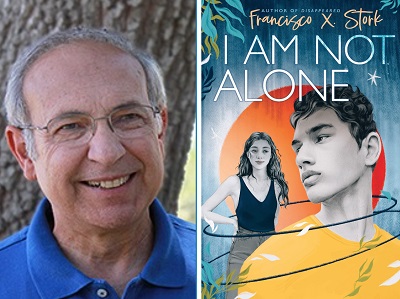 Written by Francisco X. Stork
Published by Scholastic Press, an imprint of Scholastic Inc.
Release date: July 18, 2023
Alberto had always accepted that his life wouldn't be easy. An undocumented immigrant from Mexico, he lives with his sister's abusive boyfriend. But everything grows more challenging after he starts to hear the voice of a man who wants him to achieve more, no matter the cost.
Grace has it all: She has a supportive boyfriend, she's on track to be valedictorian, and she's sure to go to the college of her dreams. Still, nothing feels right to her any more after the divorce of her parents.
When Alberto and Grace meet, they have an immediate and electric connection. But when Alberto is present at the scene of a terrible crime, he becomes a suspect. And with his developing schizophrenia, he's not even sure he believes in his own innocence. Can Grace find a way to prove Alberto's innocence to himself and the world? This is a page-turning thriller and a sensitive story about mental health, love, and community that will appeal to anyone who has struggled with their place in the world, from award-winning author Francisco X. Stork.
From I Am Not Alone, by Francisco X. Stork

"The first time Alberto heard the voice, he was riding the subway."

Click here to view a longer preview of I Am Not Alone, by Francisco X. Stork
---
---
Listen to Francisco X. Stork talking with TeachingBooks about creating I Am Not Alone. You can click the player below or experience the recording on TeachingBooks, where you can read along as you listen, and also translate the text to another language.
---
Invitation to Imagine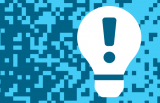 TeachingBooks asks each author or illustrator on our Virtual Book Tour to share a writing prompt, a drawing exercise, or just an interesting question to spark curiosity and creativity. Enjoy the following activity contributed by Francisco X. Stork.
Imagination Activity with Francisco X. Stork
Let's create a character together. Imagine that you are writing a story about a monster. Close your eyes, imagine the monster, and then in thirty seconds, describe what he or she looks like. Now here comes the fun part: Answer quickly the following five questions:
What does the monster like to do?
What is the monster good at?
What does the monster absolutely dislike?
What is the monster afraid of?
What does the monster want (in the near future or long term)?
You have begun the process of giving your character a unique personality. What other questions can you ask about your character that reveal who they are?
---
Finish This Sentence . . . with Francisco X. Stork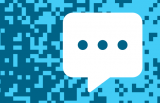 As part of our Virtual Book Tour, TeachingBooks asks authors and illustrators to complete short sentence prompts. Enjoy Francisco X. Stork's response.
"A surprising thing that helps me write is…"
A surprising thing that helps my work is to sit down and start writing without thinking too much about what I want to say. I rush into my writing room, open the laptop and plunge in. Of course, usually by the time I get there, I will have spent time imagining where to start or what comes next, but it is still helpful to commence even if the way forward is not totally clear. The path reveals itself as I write. Some of what I write will have to be cleaned up later, but the momentum gained is very valuable.
"I knew I would be a writer when…"
I knew I would be a writer when I discovered how much I enjoyed keeping a journal as a teenager. I started doing it every day, and it soon became a habit that I have kept up until now. My journal is the place where I learned to write. There are no rules for journal writing. I write about my feelings or the events of my day or sometimes I just copy a beautiful passage from a novel I admire. It is through my journal that I realized that writing required hours and hours of practice just like any other art.
"My favorite books as a child were…"
My favorite books as a child were a set of books called Tesoro de la Juventud or Treasure of Youth. My grandfather had them in this old bookcase in the house in Tampico, Mexico, where I grew up. The books had all kinds of articles in them: history, geography, science, short stories. The set contained 20 books, and my favorite time was lying in bed late at night or early in the morning and reading them.
"I hope my book encourages readers to think about…"
I hope that my book encourages readers to think about their own mental health and to talk to another trusted person when they feel that something is not right or healthy within them. Problems with mental health should be seen the way we see problems with our physical health: without judgment and stigma. I also hope that young people can see beyond someone's mental illness symptoms and appreciate the person behind the symptoms, the person like us who may need our acceptance and support.
---
Thank you!
To wrap up this Virtual Book Tour, we thank Francisco X. Stork for signing a book for all of us.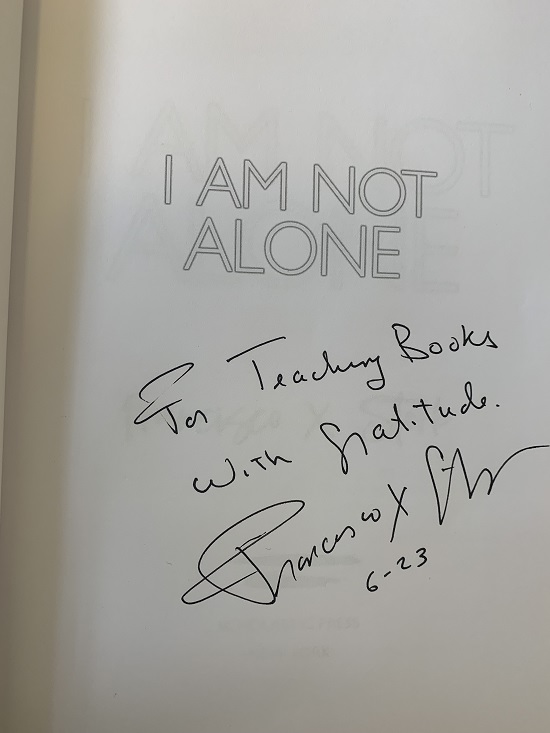 ---
More Connections to Francisco X. Stork and I Am Not Alone
---
Explore all of the titles featured in the TeachingBooks Virtual Book Tour: one link with author interviews, lesson plans, activities, and more!
Author photo by Anna Stork. All other text and images are courtesy of Francisco X. Stork and Scholastic, Inc. and may not be used without expressed written consent.