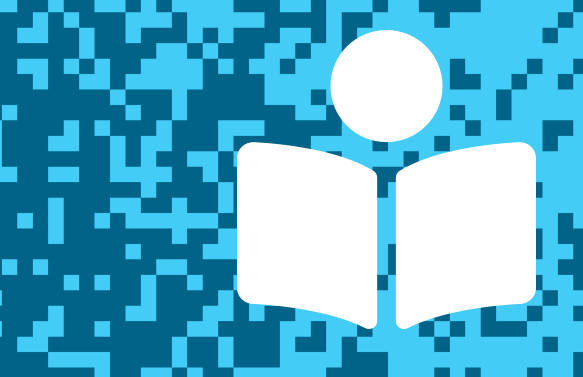 In this post, we feature debut author-illustrator Sendy Santamaria. You can hear her speak about her picture book, Yenebi's Drive to School, and try her "invitation to imagine" activity. You'll also find other resources to explore. Thanks for joining us, and let us know what you think in the comments below!
---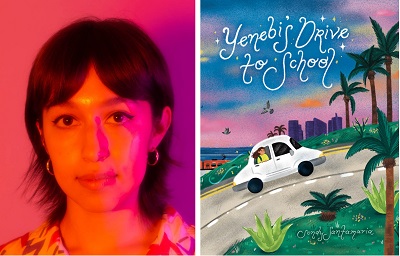 Written and illustrated by Sendy Santamaria
Published by Chronicle Books
Release date: June 27, 2023
For Yenebi and her sister, each school day begins at four in the morning, when they wake in their Tijuana home, climb into the backseat, and begin the long drive with their mother to school in San Diego. Their route includes lots of waiting in the dreaded line at the border, but there are also vendors, who move through the cars with delicious foods, and the girls choose different breakfast treats each day. At last, the family reaches school, where they exchange loving hugs, ready to start their day. Based on her own childhood experiences of growing up as an American citizen in Mexico, debut author-illustrator Sendy Santamaria shows the family's morning commute with vivid colors, sensory images, and bilingual text folds Spanish words and phrases seamlessly into each spread. Many children will recognize familiar elements in this going-to-school story, as well as the loving connections between mother and daughters.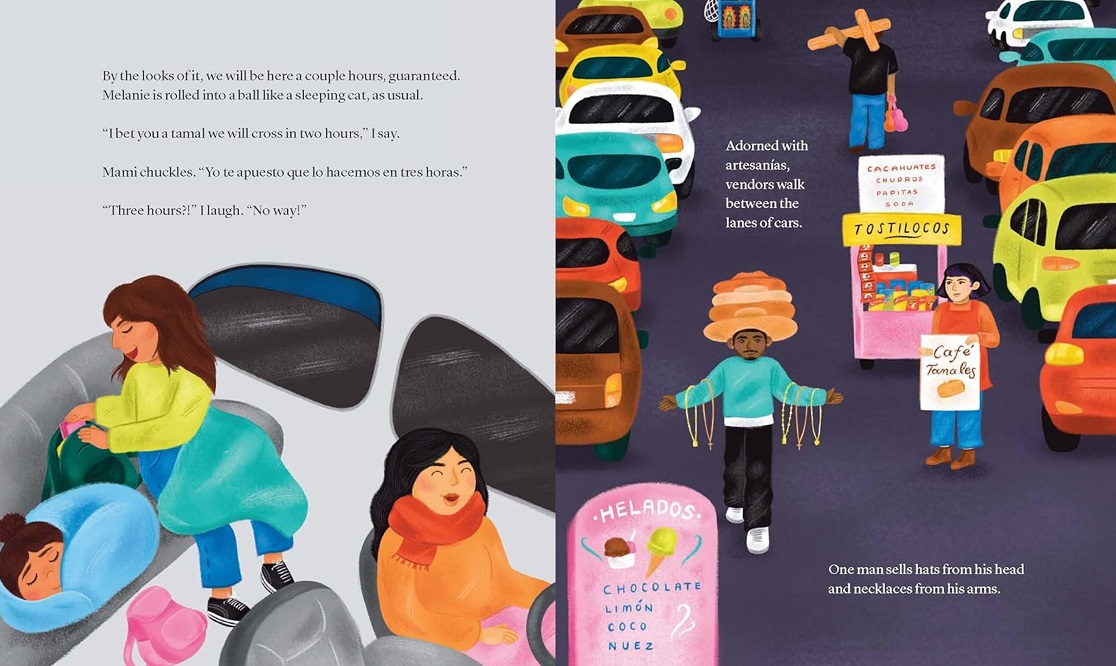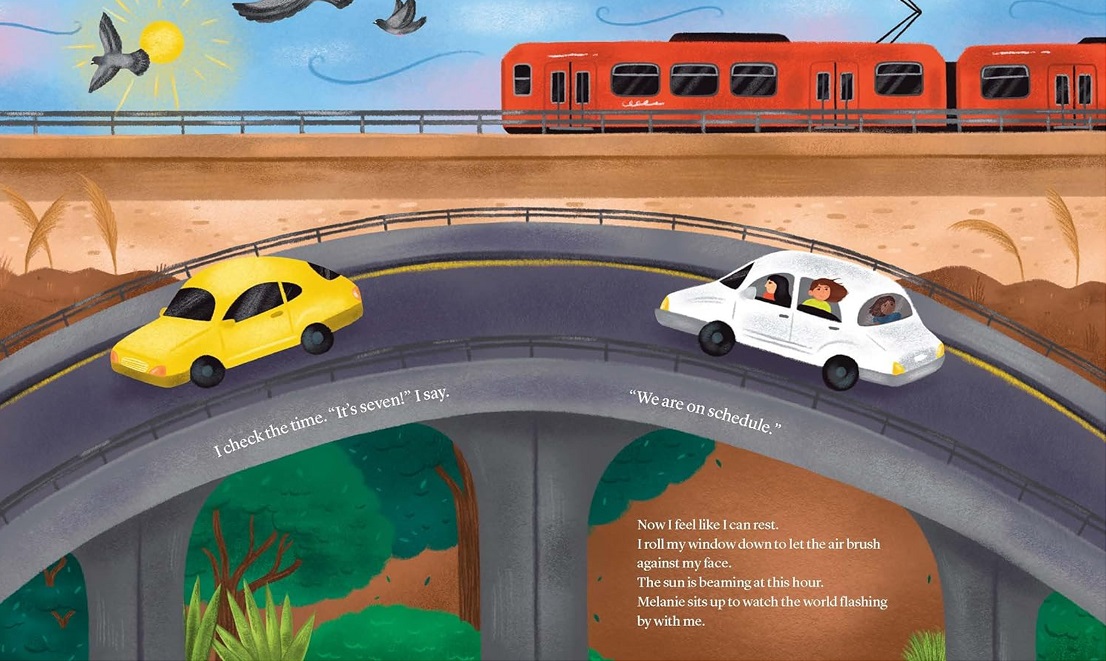 ---
Listen to Sendy Santamaria talking with TeachingBooks about creating Yenebi's Drive to School. You can click the player below or experience the recording on TeachingBooks, where you can read along as you listen, and also translate the text to another language.
---
Invitation to Imagine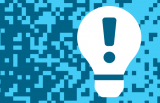 TeachingBooks asks each author or illustrator on our Virtual Book Tour to share a writing prompt, a drawing exercise, or just an interesting question to spark curiosity and creativity. Enjoy the following activity contributed by Sendy Santamaria.
Imagination Activity with Sendy Santamaria
Yenebi and Melanie pack their backpacks, eat breakfast together in the car, and cross the border to get to school. This is their daily routine on a school day. What does your morning routine look like? Describe or draw a moment from a typical school-day morning. This could be who is usually with you, what you have for breakfast, how you get there (bus, car, walk, etc.)
---
Finish This Sentence . . . with Sendy Santamaria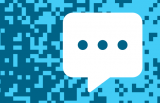 As part of our Virtual Book Tour, TeachingBooks asks authors and illustrators to complete short sentence prompts. Enjoy Sendy Santamaria's response.
"A surprising thing that helps me work is…"
A surprising thing that helps me work is playing the soundtrack of some of my favorite movies. Something about already knowing what's going to happen in a story comforts me. I also think that some scores perfectly capture the feeling of a scene, and I find them inspirational.
"Where I work is…"
This is one of my work stations where I spend time painting and brainstorming ideas for projects. My art assistant/son Pepe keeps me company but mostly reminds me to play with him every five minutes. I also spend time working on my desktop so I like to surround myself with tiny things, pictures of my siblings, and kinetic sand.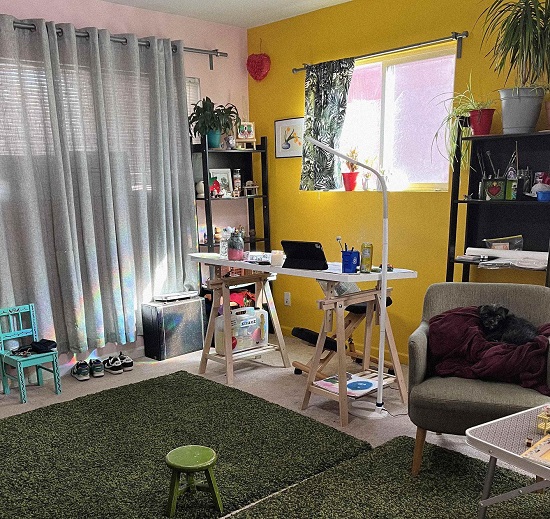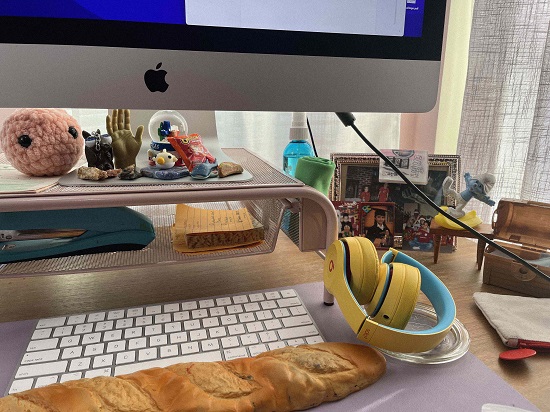 ---
Thank you!
To wrap up this Virtual Book Tour, we thank Sendy Santamaria for signing a book for all of us.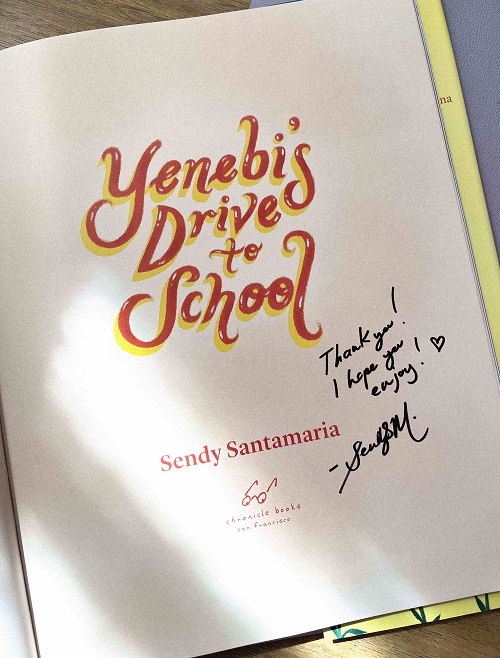 ---
More Connections to Sendy Santamaria and Yenebi's Drive to School
---
Explore all of the titles featured in the TeachingBooks Virtual Book Tour: one link with author interviews, lesson plans, activities, and more!
All text and images are courtesy of Sendy Santamaria and Chronicle Books and may not be used without expressed written consent.