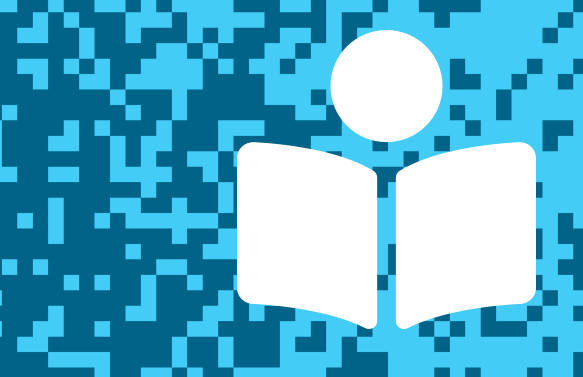 In this post, we feature author Amber McBride, whose previous titles include Me (Moth), which was named a National Book Award Finalist and the winner of the Coretta Scott King/John Steptoe Award for New Talent. You can hear her speak about her new novel, We Are All So Good at Smiling, and try her "invitation to imagine" activity. You'll also find other resources to explore. Thanks for joining us, and let us know what you think in the comments below!
---
Written by Amber McBride
Published by Feiwel and Friends, an imprint of Macmillan
Release date: January 10, 2023
Whimsy is back in the hospital for treatment of clinical depression. When she meets a boy named Faerry, she recognizes they both have magic in the marrow of their bones. And when Faerry and his family move to the same street, the two start to realize that their lifelines may have twined and untwined many times before. They are both terrified of the forest at the end of Marsh Creek Lane. The Forest whispers to Whimsy. The Forest might hold the answers to the part of Faerry he feels is missing. Together, they discover the Forest holds monsters, fairy tales, and pain that they have both been running from for 11 years. From National Book Award Finalist Amber McBride, this haunting, beautiful young adult novel-in-verse explores clinical depression and healing from trauma.
From We Are All So Good at Smiling, by Amber McBride.

"This is what I know: / my name is Whimsy and magic is real."

Click here to view a longer preview of We Are All So Good at Smiling, by Amber McBride.
---
Listen to Amber McBride talking with TeachingBooks about creating We Are All So Good at Smiling. You can click the player below or experience the recording on TeachingBooks, where you can read along as you listen, and also translate the text to another language.
---
Invitation to Imagine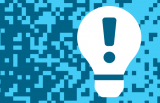 TeachingBooks asks each author or illustrator on our Virtual Book Tour to share a writing prompt, a drawing exercise, or just an interesting question to spark curiosity and creativity. Enjoy the following activity contributed by Amber McBride.
Imagination Activity with Amber McBride
According to a dictionary definition, folklore is, "The traditional beliefs, customs, and stories of a community passed down through word-of-mouth." Folklore has often been called the history of the people—with a pinch of magic: stories noting the wisdom of Anansi the spider or tales explaining what it means when it is pouring rain but sunny outside. We all have stories, so we all have the folklore. Take a moment and think about something that is very important to you—it can be family, or that tree that you climbed when you were five. Maybe it's the ocean in the morning or maybe it is something about your friends. Now tell a story about why the thing you picked is important; don't forget to add a little magic!
---
Finish This Sentence . . . with Amber McBride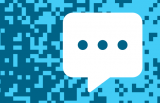 As part of our Virtual Book Tour, TeachingBooks asks authors and illustrators to complete short sentence prompts. Enjoy Amber McBride's response.
"I hope that my book may encourage readers to think about…"
I hope that my book may encourage readers to think about mental health. It is a topic that is often taboo to discuss, but mental health is just as important as physical health. If you fell and broke a bone playing soccer you would not ignore it. I hope We Are All So Good at Smiling is a tool that can be used to have these difficult conversations about depression, anxiety, and sadness.
"You may not know that I can…"
You may not know that I can tell you an herb or plant that can help you if you are feeling bad. I practice Hoodoo, also called Rootwork, which is an African American folk magic system that was created when enslaved Africans were no longer able to practice their own religions. Chamomile and lavender are very calming, especially if you have had a long day. Many people hang lavender in their showers, and Chamomile tea helps you sleep!
"Where I work is…"
I often work sitting outside on my porch looking at the trees (even in the winter). I live in the country on 20 acres, and nature is always inspiring to me. Also, the sunsets when it snows are so pretty. I often bundle up and write on the notes app in my phone.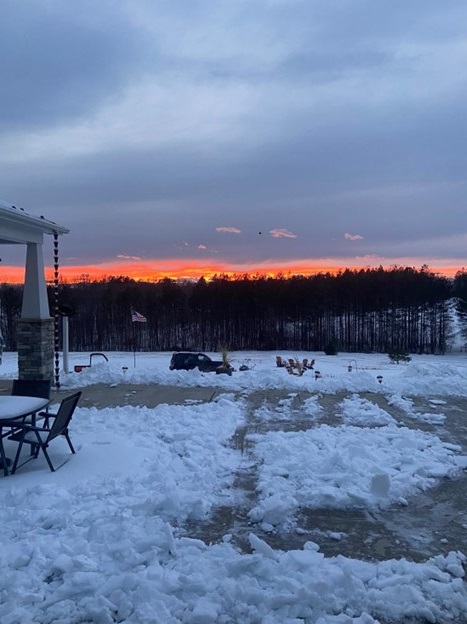 ---
Thank you!
To wrap up this Virtual Book Tour, we thank Amber McBride for signing a book for all of us.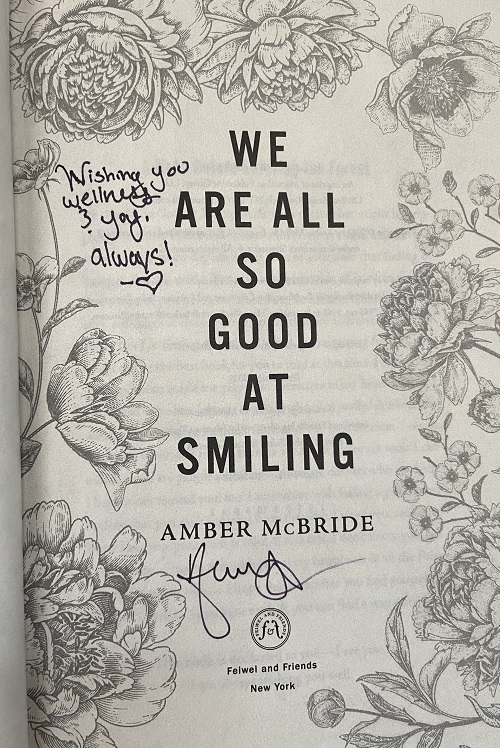 ---
More Connections to Amber McBride and We Are All So Good at Smiling.
---
Explore all of the titles featured in the TeachingBooks Virtual Book Tour: one link with author interviews, lesson plans, activities, and more!
All text and images are courtesy of Amber McBride and Macmillan and may not be used without expressed written consent.