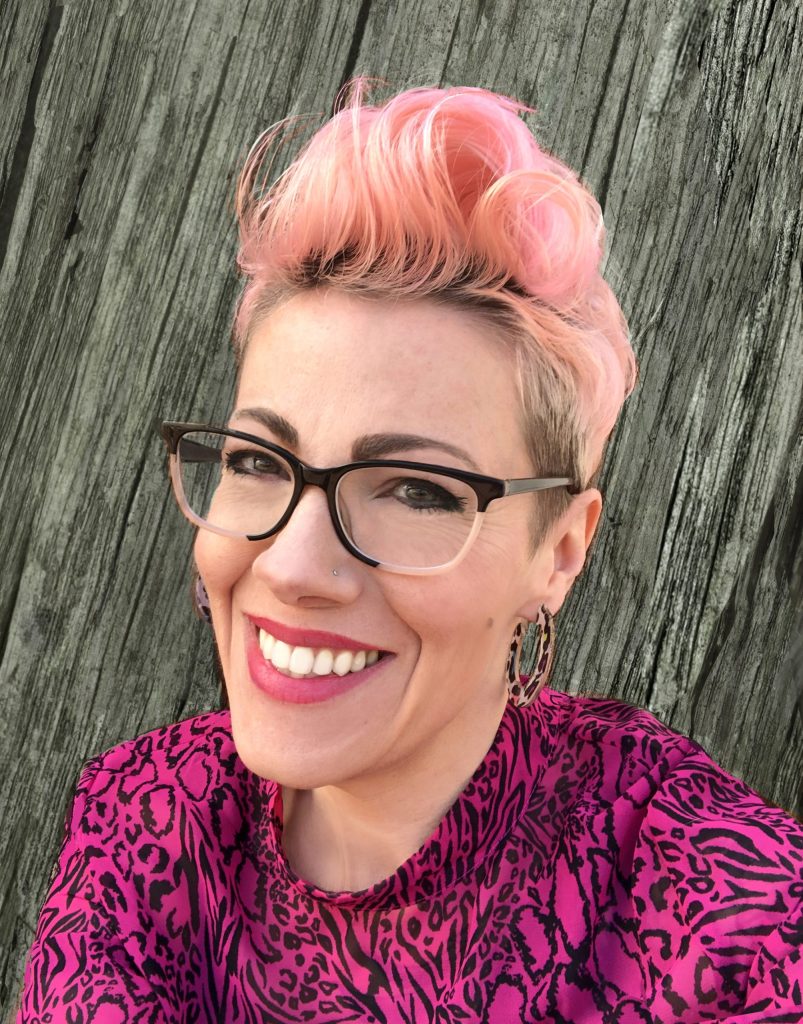 The Making of Worm and Caterpillar are Friends
By Kaz Windness
Hi! I'm Kaz Windness, the author and illustrator of Swim, Jim! (Simon & Schuster, 2022) and Bitsy Bat, School Star (Simon & Schuster, 2023). To celebrate my newest release, Worm and Caterpillar are Friends (Simon & Schuster, 2023), here's the story of how a little sketch became a published book.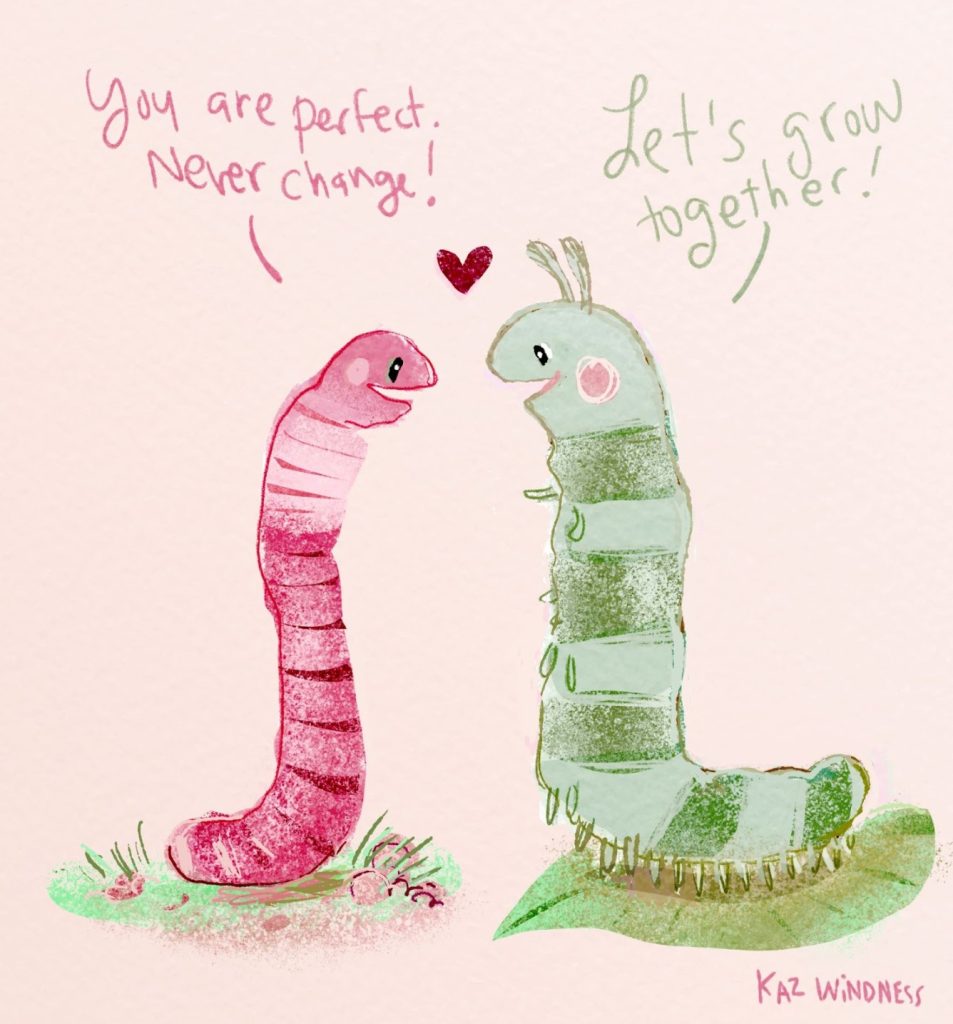 In April of 2021, I was doodling and wondered what might happen if a worm and caterpillar fell in love. In the drawing, the worm expected the caterpillar to never change, and the caterpillar wanted the worm to grow with them. Everyone knows caterpillars change and worms don't, so I was sure the relationship was doomed from the start… unless these characters could find a way to love each other unconditionally.
With the encouragement of author friends, I began writing Worm and Caterpillar's story. I started in third person, but quickly discovered these characters wanted direct and simple dialog. I shifted from prose to script, knowing that the art would utilize speech bubbles and the illustrations would do the heavy lifting of explaining the story beyond the text.
I usually labor over a story for months and land on something solid by the twelfth or thirteenth draft, but this manuscript wrote itself in about a day. These characters knew who they were, had strong voices and personalities, and told me their story without a fuss. They wanted readers to know that it can be hard and scary when a friendship goes through a big change, but what matters at the end of the day is your love and care for each other.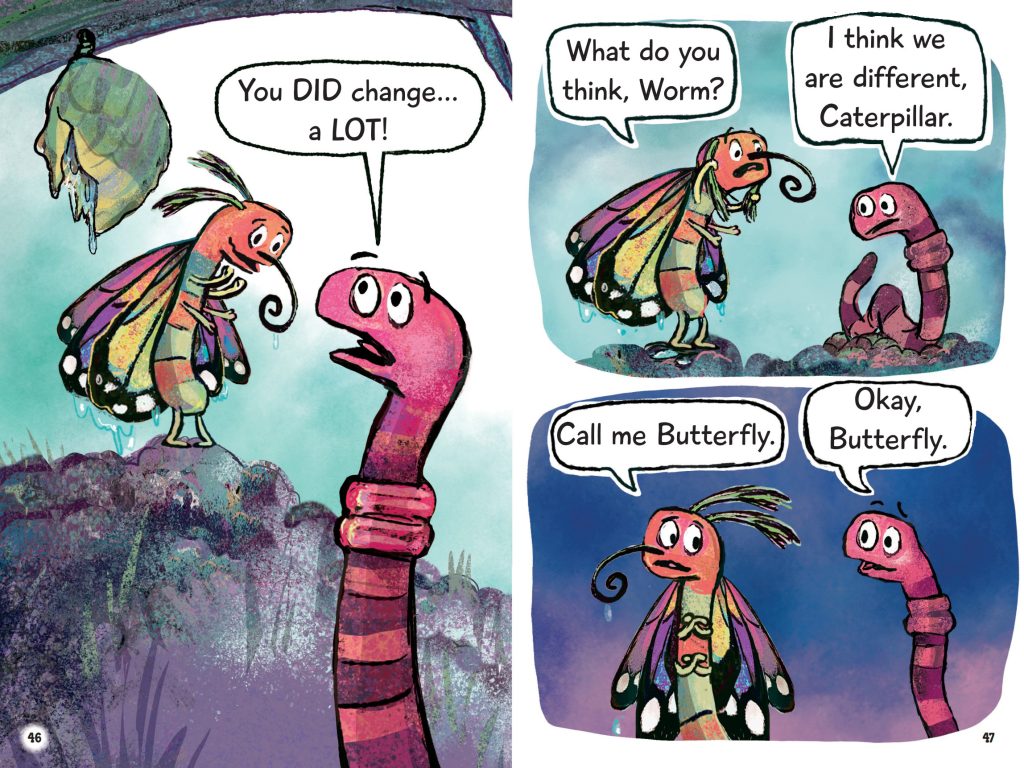 I sketched a 32-page picture book dummy with a few final art samples utilizing speech bubbles and panels, and sent that and the manuscript to my agent for his thoughts. He loved it (no edits) and said it was ready to show my Swim, Jim! editor, and while she liked the book, she didn't see it as a fit for the Simon & Schuster/Paula Wiseman imprint. She thought it could be a great early reader instead and forwarded it to Simon Spotlight.
Simon Spotlight loved the art, the characters, and their story, but wondered if I could develop the story into a 64-page Ready-to-Read Graphics book instead of a picture book. I've always wanted to illustrate a graphic novel, and jumped at the opportunity, but was worried that doubling the length of the book would be difficult. Fortunately, the Simon Spotlight team offered great suggestions of story moments to add and places where the art could expand into two pages, and I was able to revise the dummy book quickly. Then, after minor text and art edits, I had the green light to go to final art. I've never illustrated a graphic novel before and asked if I could I have a few days to time myself. By the end of those few days, I was hyper-focused and fully painted all 64-pages in exactly one month.
Simultaneously, we were developing the book cover. Cover art is the only part of the book that must be reviewed by a whole team of people—the marketing department, bookseller liaisons, and the publishing team—which is why the cover is usually completed before the final artwork. I like to give the publisher several sketch options and a few funny ones, too.
Simon Spotlight couldn't resist the humor of Caterpillar hanging from the tree (which is also intended as foreshadowing) and they asked if I would also illustrate the text. They also asked me if I would be willing to replace the ampersand with "and" so younger readers would not have to decode a symbol they were unfamiliar with.
I finished the artwork months before they needed it, so I had a long wait before I received revision notes and color proofs. It was great to have fresh eyes on the book when the proofs came in, and there were only minor art tweaks, including fixing the wrong number of Caterpillar legs on several pages. Thank goodness for the art and editorial team's sharp eyes!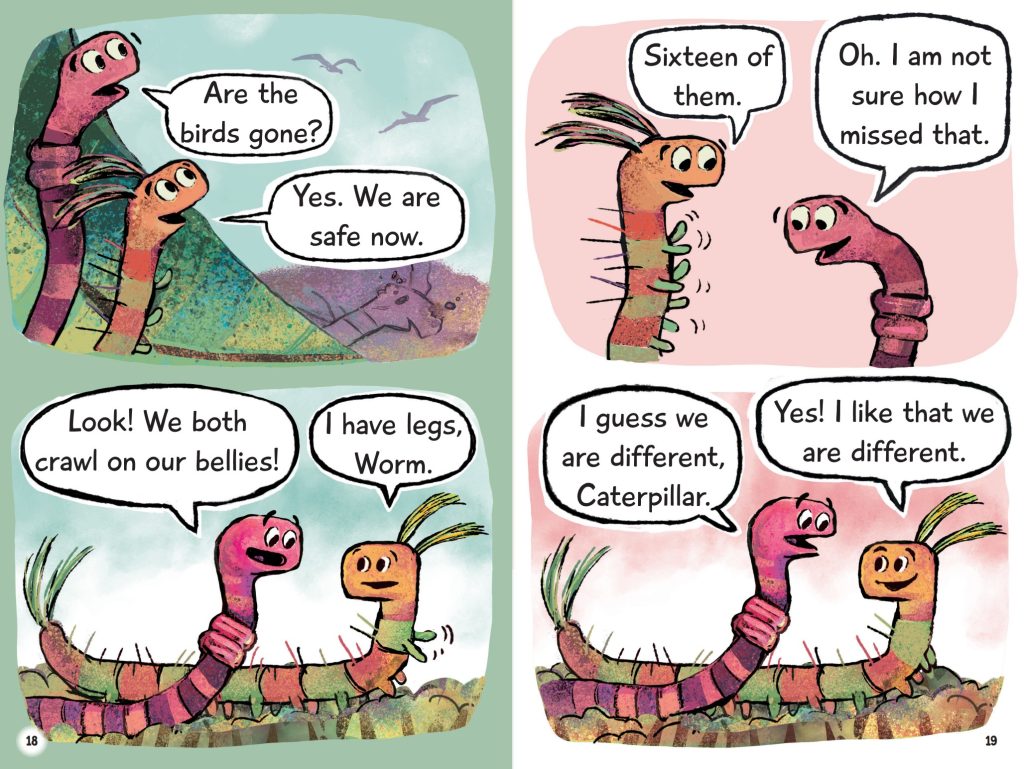 Now you know how one little drawing became a book. I'm delighted that Worm and Caterpillar are Friends is a JLG Gold Standard Selection book and has received a coveted Kirkus star review, but I'm most excited for young readers to meet these funny, heartwarming characters and embrace the message of acceptance. I hope you enjoy reading Worm and Caterpillar are Friends just as much as I enjoyed creating it for you.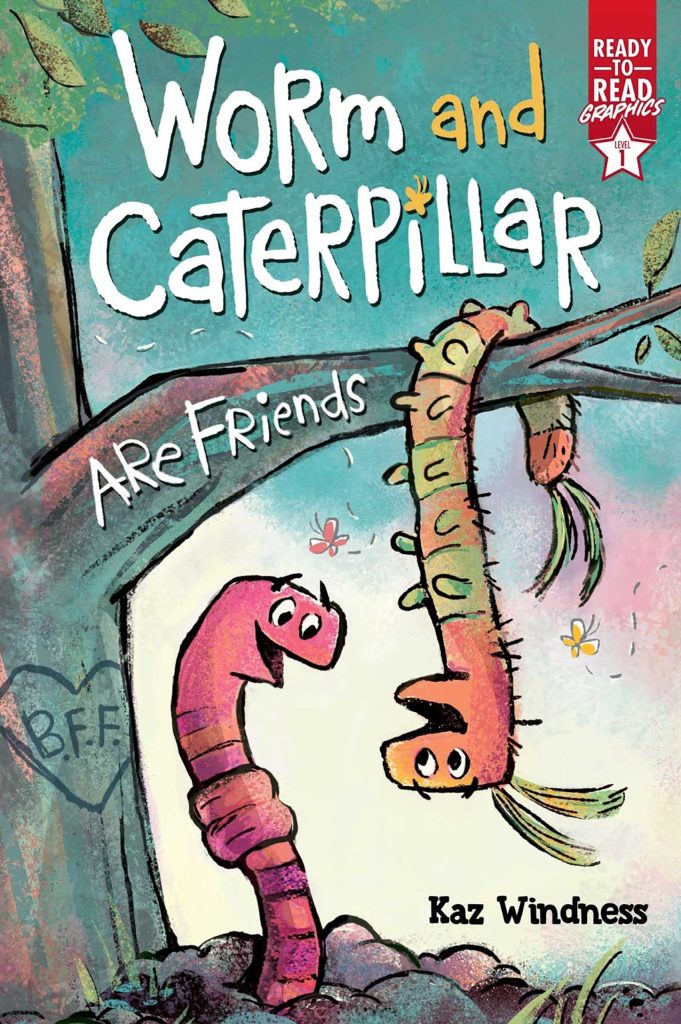 ---
Text and images are courtesy of Kaz Windness and may not be used without express written consent.