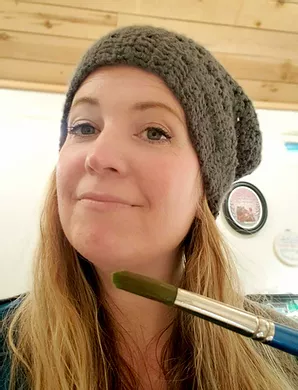 Find Your Brave
by Apryl Stott
My favorite saying is an Egyptian proverb, "A Beautiful Thing is Never Perfect." Nothing is perfect. No matter how beautiful it is. Recognizing that nothing I make will EVER be perfect has been liberating. Procrastination and perfectionism are a debilitating form of anxiety. It's so easy to hold back, never start, and then never fail. But friends, we are going to fail. No matter what. It's part of life. We'll be rejected. We'll make some cringe-worthy things. We'll come in last in the race. We've all been thirteen. We've all written terrible poems or drawn comically awful fan art, or painfully predictable fanfics. We all worry we're not good enough. We worry about what people will say.
When we create, we are brave. And that is beautiful. The kids playing their garage band to a sea of empty lawn chairs are beautiful. The grandparent who finally takes time for themselves to follow along with a Bob Ross painting is beautiful. Nothing we make, no matter how many hours we put into it, is perfect. But it is beautiful.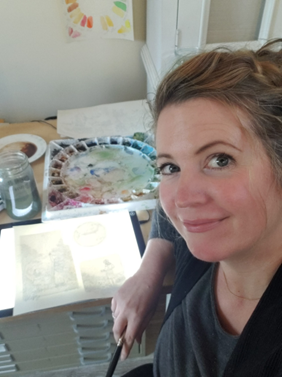 I love doing art with kids. I love it more because it's NOT my day job, just my hobby. It's so much easier to bring energy and passion into an art lesson when I can go home and decompress afterwards, not pivot to another lesson. In my twenty-plus years and countless hours volunteering with children, I've noticed a shift that starts around third grade. In Pre-K and Kindergarten classes, most students are exuberant with their experience, calling their work "magical" and "amazing"!
That enthusiasm fades as they grow older. It's almost as if they call out the inconsistencies in their work before anyone else can. It's especially hard when kids compare their work to their peers or (gasp) me. I try to remind them that, "I'm a professional" (in the most obnoxious voice possible). When I'm doing a school visit presentation, I try to show them what level of work I was doing at their age. One of my favorite things is reading a book I wrote in third grade called How To Get Rid of my Baby Sister. It's terrible and I love it.
I also go through a list of passion projects that I've made with so much love and energy… only to be rejected again and again… and again.
Like this Lift-the-Flap board book with bugs under flowers…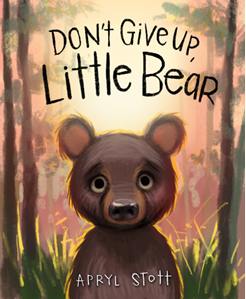 …or this story about a local black bear that was found severely malnourished on Thanksgiving Day in the Tahoe Meadows, and how he fought his way back to health to become a Black Bear ambassador for our state.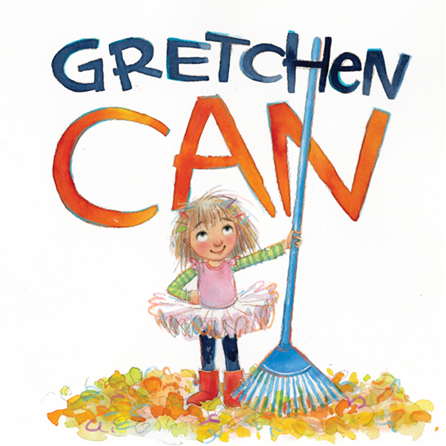 …or this semi-autobiographical story about my frustrated toddler who wanted to help with EVERYTHING. Even the things she really, really, REALLY shouldn't help with.
It took me twenty years to accomplish my goal of publishing my first picture book. Does that mean I wasn't "good" at writing or illustrating? I don't think so. It just wasn't the right time. And I'm so grateful that the time rolled around. I'm so grateful for my career and my amazing editor and my talented book designer, and the home I have at Simon & Schuster.
I'm so grateful for the opportunities I've had to volunteer in classrooms and libraries and art rooms and in Girl Scout troops and coaching. Freelancing can be a brutal way to make a living, with no benefits or retirement plans, but if I'd fallen into success as an illustrator and author immediately out of school, I wouldn't have had the priceless time I was given to help in classrooms, see the amazing work that teachers do every day, and clarify the message I want to share with kids all over the world. A big part of that message is this: Being creative is being brave. We don't have to be perfect. If there's something we love, we can do it because it's fun. We don't need to be the BEST to make something or play something or try something. I want every child, teen, parent and senior citizen to feel permission to create… anything… to express themselves. Everyone has a story to tell, and there are a multitude of ways to share that story. And I want to see and read them ALL.
---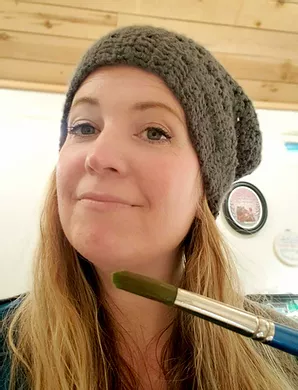 Text and images are courtesy of Apryl Stott and may not be used without express written consent.