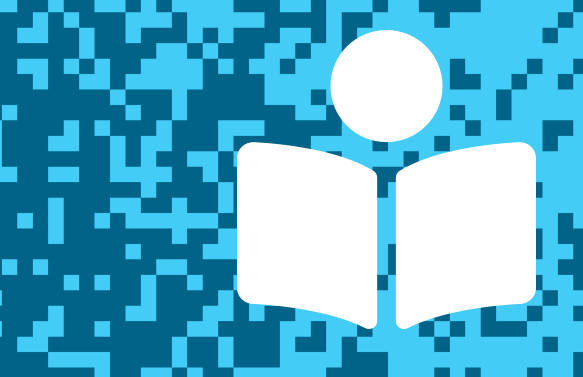 In this post, we feature author Christina Uss, whose previous titles include The Adventures of a Girl Called Bicycle, which was named a Junior Library Guild selection. You can hear her speak about her new companion novel, A Few Bicycles More, and try her "invitation to imagine" activity. You'll also find other resources to explore. Thanks for joining us, and let us know what you think in the comments below!
---
Written by Christina Uss
Published by Margaret Ferguson Books, an imprint of Holiday House Books for Young Readers
Release date: November 22, 2022
In the sequel to the popular Adventures of a Girl Called Bicycle, Bicycle has been back from her cross-country adventure with her robot-like bike, named Fortune, for just a month when it starts malfunctioning. It insists that they pedal away from their home in Washington D.C. to Harpers Ferry in West Virginia. Once there, they discover a scrapyard where bicycles are being crushed and recycled—and it appears they are too late to save them. Bicycle and Fortune head to a convenience store so that Bicycle can drown her sorrows with a chocolate bar. Much to her astonishment, she meets her long-lost family there. Bicycle learns that they have been looking for her since she disappeared as a toddler and that she is a quintuplet. She is happy to go live with them except for one thing: her family doesn't share her passion for cycling. In fact, her sisters have never even ridden a bike. This companion novel continues Bicycle's adventures as she works to fit into her family while staying true to cycling self.
From A Few Bicycles More, by Christina Uss.

"The Wheels of Fortune 713-J was no ordinary bike."

Click here to view a longer preview of A Few Bicycles More, by Christina Uss
---
Explore A Few Bicycles More
Listen to Christina Uss talking with TeachingBooks about creating A Few Bicycles More. You can click the player below or experience the recording on TeachingBooks, where you can read along as you listen, and also translate the text to another language.
---
Invitation to Imagine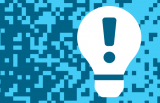 TeachingBooks asks each author or illustrator on our Virtual Book Tour to share a writing prompt, a drawing exercise, or just an interesting question to spark curiosity and creativity. Enjoy the following activity contributed by Christina Uss.
Imagination Activity with Christina Uss
Imagine that you are getting your own version of the Wheels of Fortune, an amazing bicycle with artificial intelligence and features to make it the perfect traveling machine. In addition to maps and music of the whole world, Bicycle's Fortune has a tent with built-in air conditioning, feeds her Complete Nutrition Pellets, defends her with rubber snake missiles, and is learning to tell knock-knock jokes. What would make your new bike the perfect traveling machine for YOU? Describe it in words, or draw a picture labeling all its fancy features! (Pro tip—when drawing bicycles, go look at a bicycle to figure out where all the tubes go. They're hard to draw from memory.)
---
Finish This Sentence . . . with Christina Uss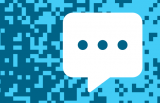 As part of our Virtual Book Tour, TeachingBooks asks authors and illustrators to complete short sentence prompts. Enjoy Christina Uss's response.
"A surprising thing that helps me work is…"
A surprising thing that helps me work is my stuffed sloth, Silvie. She sits at my writing desk with me every day and lets me know that I don't have to get things done fast to get them done well. We'll Get There When We Get There is Silvie Sloth's motto, which is also my motto for riding my bikes and writing my books.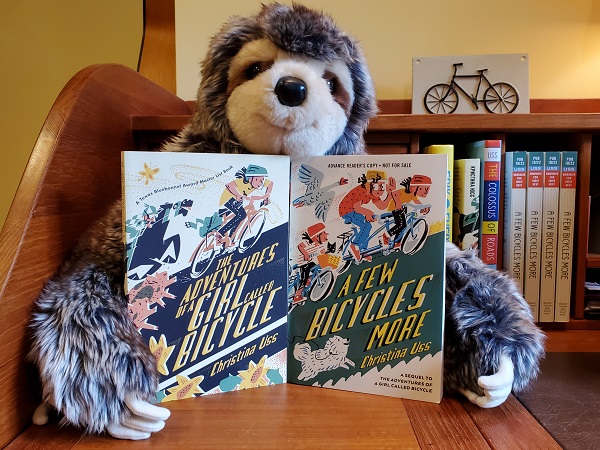 "You may not know that I can…"
You may not know that I thought I could win an eating contest, because I LOVE FOOD. So, I recently entered a contest to eat six small kielbasas (Polish sausages) at a county fair, because it's one of my favorite foods. I came in dead last, because it turns out that in an eating contest, you need to eat quickly, not just a lot. However, I felt like I won, because I got to take home the leftover kielbasa to eat later at my own pace.
---
Thank you!
To wrap up this Virtual Book Tour, we thank Christina Uss for signing a book for all of us.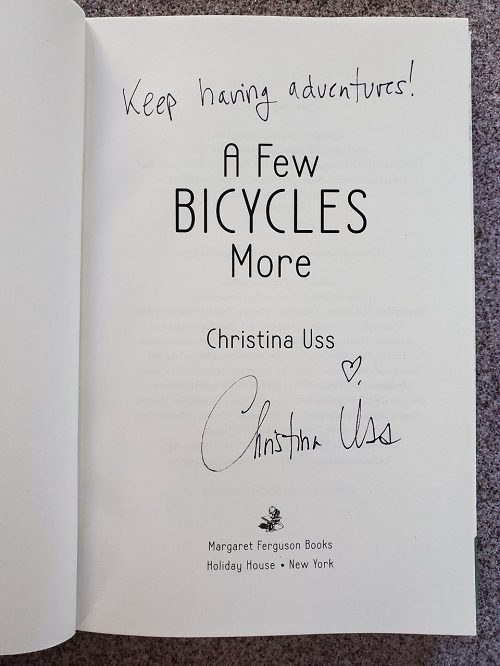 ---
More Connections to Christina Uss and A Few Bicycles More
---
Explore all of the titles featured in the TeachingBooks Virtual Book Tour: one link with author interviews, lesson plans, activities, and more!
All text and images are courtesy of Christina Uss and Holiday House and may not be used without expressed written consent.