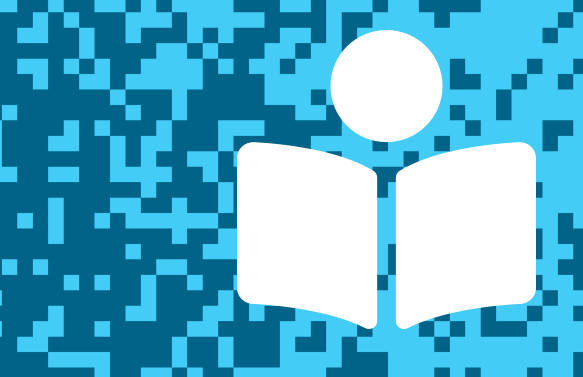 In this post, we feature debut author Suma Subramaniam and illustrator Sandhya Prabhat, whose previous titles include A Sari for Ammi, written by Mamta Nainy. You can hear them speak about their new picture book, Namaste Is a Greeting, and try their "invitation to imagine" activities. You'll also find other resources to explore. Thanks for joining us, and let us know what you think in the comments below!
---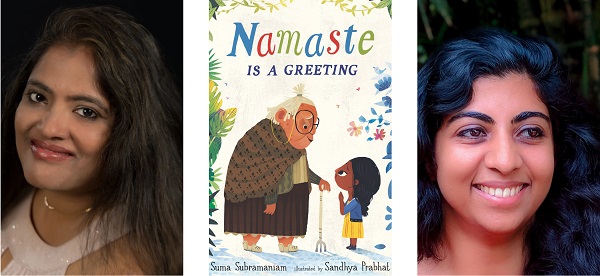 Written by Suma Subramaniam and illustrated by Sandhya Prabhat
Published by Candlewick Press
Release date: October 4, 2022
What is namaste? It's found in a smile, a friendship, a celebration. It exists in silence; it can be said when you're happy or when you're feeling low. For one small girl in a bustling city, namaste ("I bow to you") is all around her as she and her mother navigate a busy marketplace. When she returns with a little plant and chooses to give it to an elderly neighbor, it can be seen in the caring bond between them. In a sweet, universal text, debut author Suma Subramaniam shines a light on a word with significance far beyond yoga class, while artist Sandhya Prabhat makes the concept of mindfulness come alive in inviting illustrations.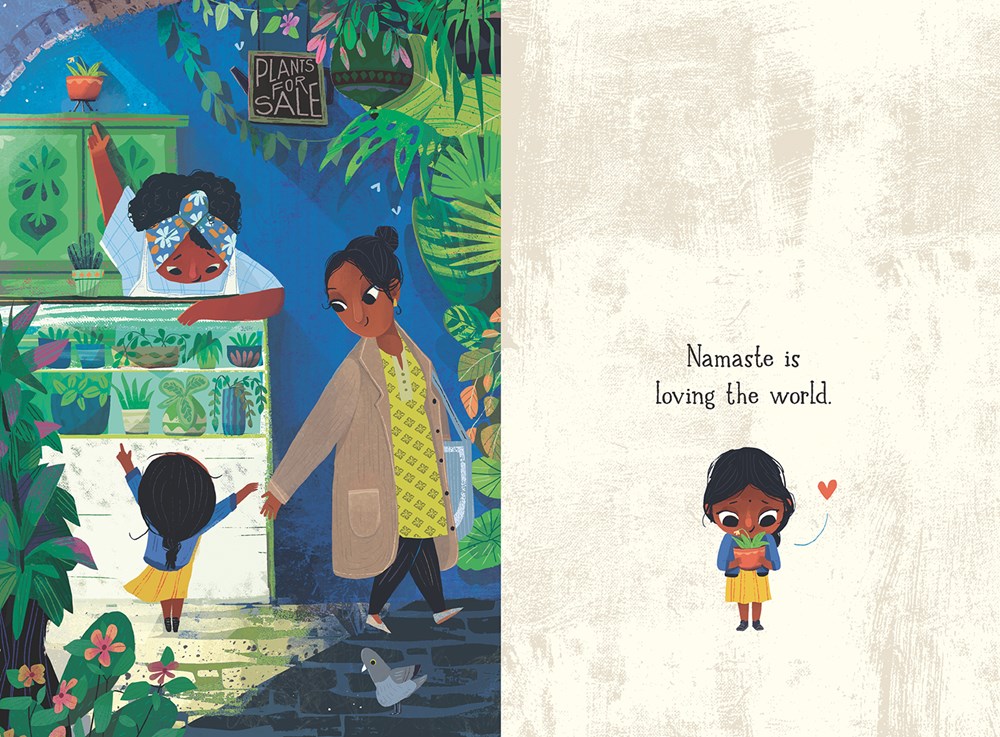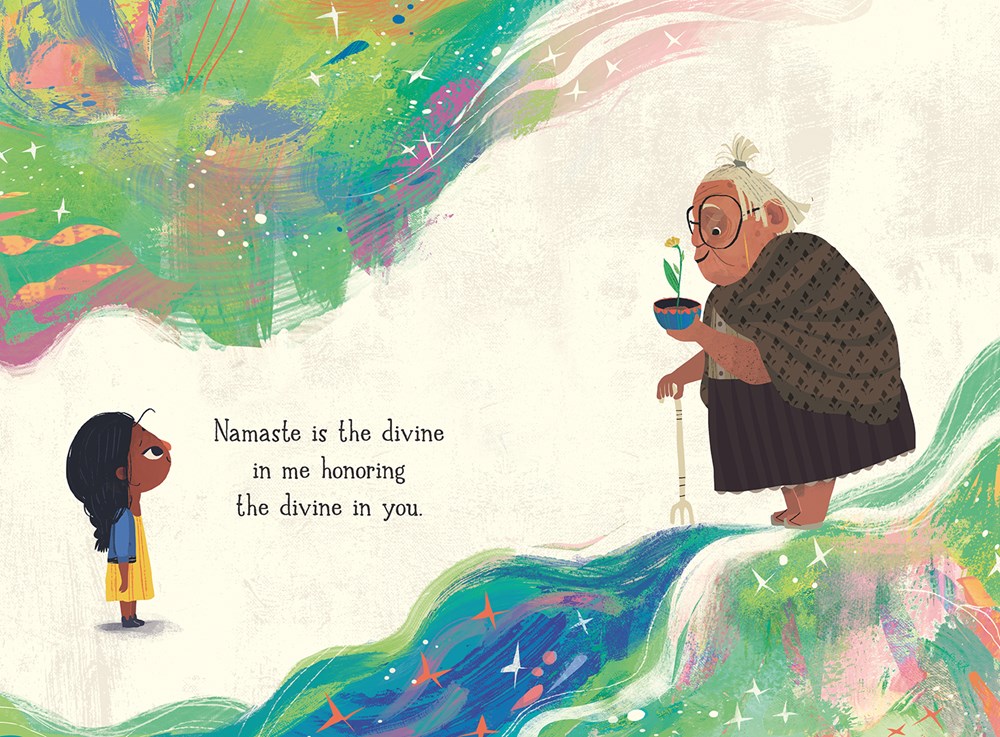 ---
Listen to Suma Subramaniam and Sandhya Prabhat talking with TeachingBooks about creating Namaste Is a Greeting. You can click the player below or experience the recording on TeachingBooks, where you can read along as you listen, and also translate the text to another language.
---
Invitation to Imagine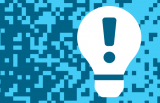 TeachingBooks asks each author or illustrator on our Virtual Book Tour to share a writing prompt, a drawing exercise, or just an interesting question to spark curiosity and creativity. Enjoy the following activity contributed by Suma Subramaniam and Sandhya Prabhat.
Imagination Activity with Suma Subramaniam and Sandhya Prabhat
Stories come out of your imagination, your heart, your family, celebrations, reading, observing, even bedtime. Do you have a story idea brewing inside you? What are you going to do with it? Write it down. Then rewrite it until the story comes to life.
Imagine holding a copy of a book that you made. You too can be a storyteller. Imagine and create!
---
Finish This Sentence . . . with Suma Subramaniam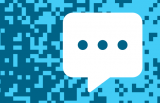 As part of our Virtual Book Tour, TeachingBooks asks authors and illustrators to complete short sentence prompts. Enjoy Suma Subramaniam's responses.
"My favorite books as a child were…"
My favorite books as a child were Amar Chitra Katha comics that were sold at train and bus stations in India. The comics had stories about Indian culture, folktales, mythology, biographies, and historical figures.
"A surprising thing that helps me write is…"
A surprising thing that helps me work is lighting a lamp or a candle while writing and journaling by hand. When I hold a pen to paper, my writing is slower. The exercise stretches my brain, and my words become more artful.
"I hope my book encourages readers to think about…"
I hope that my book may encourage kids to think about the meaning of words in their own culture, as well as those outside their own, and learn how to use them.
---
Thank you!
To wrap up this Virtual Book Tour, we thank Suma Subramaniam for signing a book for all of us.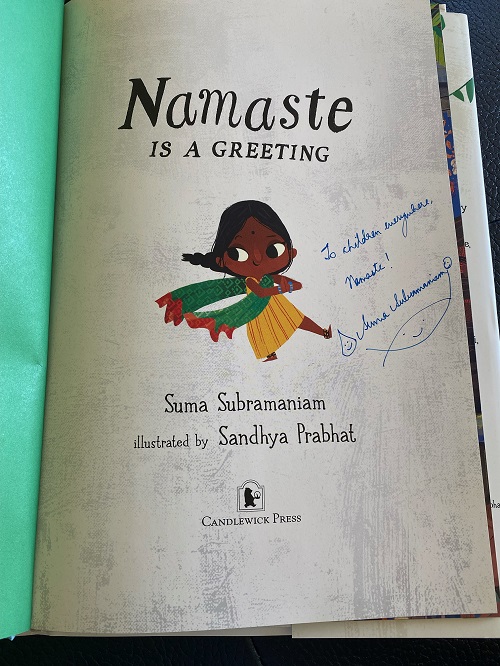 ---
More Connections to Suma Subramaniam and Sandhya Prabhat and Namaste Is a Greeting
---
Explore all of the titles featured in the TeachingBooks Virtual Book Tour: one link with author interviews, lesson plans, activities, and more!
All text and images are courtesy of Suma Subramaniam, Sandhya Prabhat, and Candlewick Press and may not be used without expressed written consent.