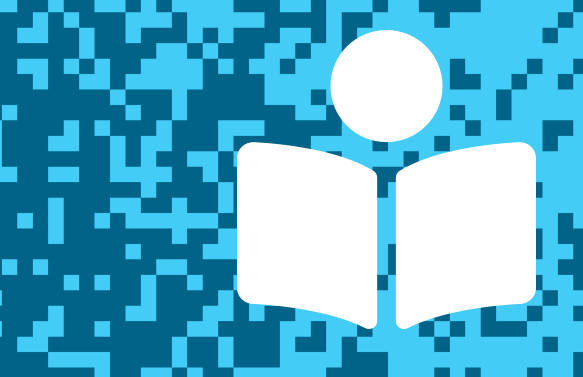 In this post, we feature author Margi Preus, whose previous, acclaimed titles include the Newbery Honor Book Heart of a Samurai. You can hear her speak about her new book, Windswept, and try her "invitation to imagine" activity. You'll also find other resources to explore. Thanks for joining us, and let us know what you think in the comments below!
---
Written by Margi Preus, illustrations by Armondo Veve
Published by Amulet Books, an imprint of Harry N. Abrams Inc.
Release date: September 13, 2022
In Tag's world, children are disappearing. "Youngers" who venture outside are windswept—vanishing in the swirling snow. Tag's sisters are among them. Many have tried to find the lost children; all have failed. And since the Other Times, the Powers That Be seem intent on keeping it that way. Little remains from those times: snippets of songs, heaps of plastic trash, and a few banned texts, including a book of fairytales. An unlikely crew of Youngers join forces: Boots, who can climb anything; Ant, who will eat anything; Ren, who will say anything; and Tag, who doesn't appear to have any talent whatsoever. With their dubious skills, the fairytales, a possibly magic ribbon, and an unwillingness to accept "that's impossible," they set off to rescue their windswept siblings in this spellbinding fantasy about the power of storytelling. Spot art by award-winning illustrator Armondo Veve enhances the story.
From Windswept, by Margi Preus, illustrated by Armondo Veve.

"Everything was just as it had been, except Tag's sisters were gone."

Click here to view a longer preview of Windswept, by Margi Preus, illustrated by Armondo Veve.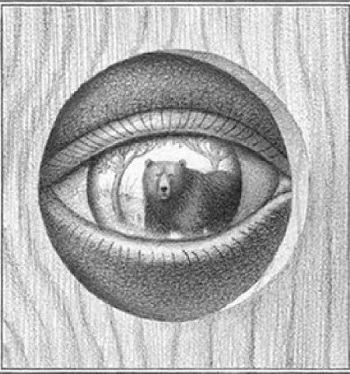 ---
Listen to Margi Preus talking with TeachingBooks about creating Windswept. You can click the player below or experience the recording on TeachingBooks, where you can read along as you listen, and also translate the text to another language.
---
Invitation to Imagine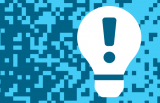 TeachingBooks asks each author or illustrator on our Virtual Book Tour to share a writing prompt, a drawing exercise, or just an interesting question to spark curiosity and creativity. Enjoy the following activity contributed by Margi Preus.
Imagination Activity with Margi Preus
If you usually write on a computer or tablet, try writing on paper with a pen or pencil. Studies show that more parts of your brain fire when you write this way. Since I need all the brainpower I can get, this is the way I usually compose. Or, try writing while staring out the window. This is what I do sometimes when I'm composing on the computer, because when I look at the screen, I start becoming an editor, wanting to "fix" as I go, and when I'm first writing, I think it's important to not edit yourself too much. Looking out the window encourages me to let my imagination freely wander. (By "composing," I mean writing first drafts, when you're just starting fresh. Revision is a whole different ball of wax.)
---
Finish This Sentence . . . with Margi Preus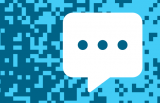 As part of our Virtual Book Tour, TeachingBooks asks authors and illustrators to complete short sentence prompts. Enjoy Margi Preus's response.
"A surprising thing that helps me work is…"
A surprising thing that helps me work is: Research! Research, I feel, is the cure for writer's block. No matter what I am writing about, whether it's historical fiction or mysteries or a fantasy, there is always something to research. For Windswept, I read many, many fairytales. I also read about fairytales—what they mean, how to interpret them, and so on. I also did a lot of research about Scandinavian trolls and learned lots of things about them (things my protagonist, Tag, also learns). If I am ever stuck, I do some research, and I always find something there to get me going again: a little bit of information, or an image, a snippet of dialogue, a solution to a problem. When my characters in Windswept got themselves into impossible situations—situations I didn't know how to get them out of, I read fairy tales. The tales often gave me solutions to their problems.
"Where I work is…"
When I was in Japan many years ago, one of my sons decided to build me a little writing house while I was gone. I call it my "little house in the backyard." It is airy and bright in summer, and sometimes it takes some shoveling to get to it in the winter. There is a little wood stove that I fire up in the morning and then go eat my breakfast and wait for the house to warm up before going out to work. I share the space with a small black-and-white dog you may recognize as one of the characters in Windswept. Here she is in her favorite wintertime spot inside the writing house.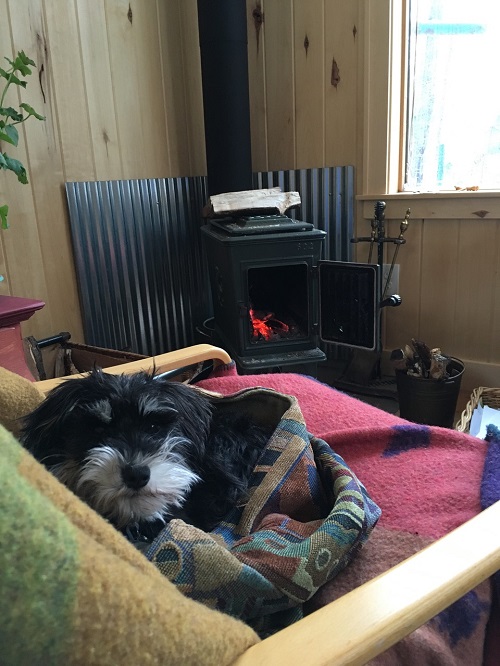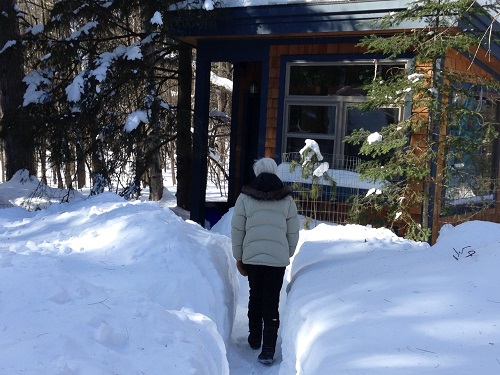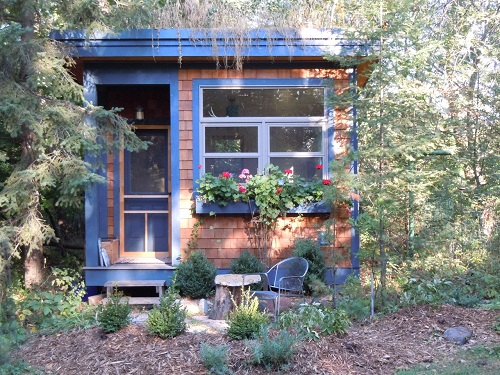 ---
Thank you!
To wrap up this Virtual Book Tour, we thank Margi Preus for signing a book for all of us.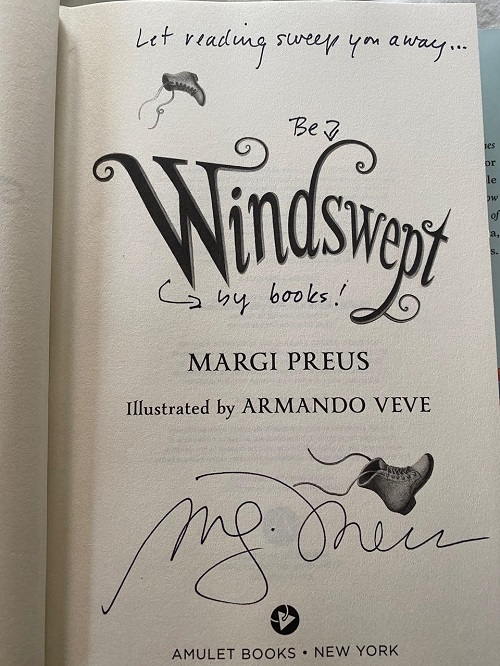 ---
More Connections to Margi Preus and Windswept
---
Explore all of the titles featured in the TeachingBooks Virtual Book Tour: one link with author interviews, lesson plans, activities, and more!
All text and images are courtesy of Margi Preus, Armondo Veve, and Harry N. Abrams, Inc. and may not be used without expressed written consent.