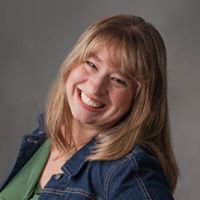 Learning to Be a Family
By Rebecca Evans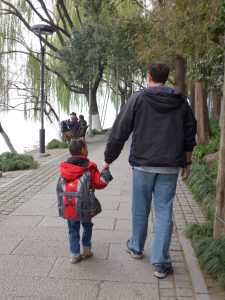 I have an unusual family. If you spotted us in the grocery store, you might raise your eyebrows as you watched my horde of four children stampede past. Onlookers often ask us: "Are they all yours?"
Although two of my children are biological, my daughter was adopted in Korea as an infant, while my son ran into our arms yelling "Mama! Baba!" (Mommy! Daddy!) at nine years old in Hangzhou, China. During the adoption process, we spent multiple weeks in China touring, visiting the parks and historical sights, working with the Chinese government, speaking with the Chinese people, and trying to navigate a new language and culture. I was fascinated with the beautiful architecture, markets overflowing with anything I could dream of—streets filled with bicycles, and restaurants boasting food I'd never seen.
The road to becoming a Chinese-Korean-American family has not been easy. When he arrived home, our son spoke only Mandarin and had no concept of what America was like. Nothing prepared us for the rollercoaster of emotions, cultural differences, and tangled communication we faced. Our son was part of our family, but at the same time he felt alone. He missed his friends and worried he might never belong.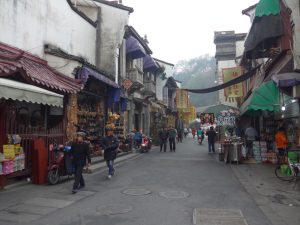 Little by little, we discovered how to be a family together. As our son learned about America, we learned about China: the language, the culture, the social norms, and the government systems. As a family, we worked hard to learn about Chinese culture, language, food—we wanted to do everything we could to truly become a new family. We wanted to bring home some of our son's heritage and culture, not just thrust him into ours.
We laughed together at my pathetic chopstick skills. He sang us songs about tigers, and we sang him songs about little lambs. He had his first Christmas tree, and we celebrated our first Chinese New Year. He tasted blueberries and hot dogs for the first time, then introduced us to congee and baked egg custard. He giggled at how we pronounced Mandarin words and we adopted his mispronunciation of "abocabo" and made it our new name for the green fruit. We showed him how to make cookies and he put us all to shame with his dumpling folding skills. The more he shared about the country where he was born, the more I wanted to learn. To this day, we are still learning!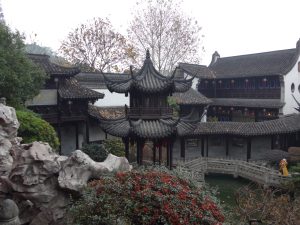 As an artist, an image stuck with me long after I had returned home from China—a little girl in a sea of bicycles staring back at me through the smog. The painting came first, but once on paper, I needed to know this little girl's story. But I had never even spoken to her, how would I find out why she looked so lonely? I began to ask questions. As I spoke with my son, his Mandarin tutor, and our Chinese American friends, I came to understand the restrictions of the hukou system that caused a whole generation of children to be left behind, physically, socially, or academically as their parents sought work in the teeming cities. The hukou system affects hundreds of thousands of families and I had never even heard of it. I wanted to share what I'd learned with others, not only about the hukou system, but also about the beauty I'd experienced in China. And as I watched my son struggle with feelings of loneliness, displacement, and fear as he adapted to his new country, I wondered if there was some way I could tell his story in a more accessible way.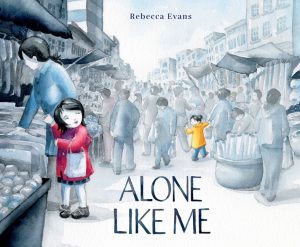 Out of this tangled mass of joy and sorrow, confusion and excitement, learning and frustration, my book Alone Like Me (Penguin Random House, 2022) was born. I wrote the story not only to help myself discover and understand a different culture, but also to try to share that culture with others. More than that, I wrote to speak to the universal, yet sometimes difficult, feelings that all my children struggled with at different times in their lives—in truth, all of us have struggled with feelings of loneliness and fear, but there is also always hope. You never know when a new friend (or even a new family) might walk into your life and change it forever. I hope readers of Alone Like Me carry that with them.
---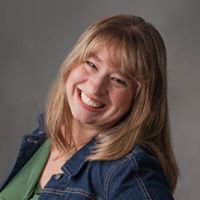 Text and images are courtesy of Rebecca Evans and may not be used without expressed written consent.