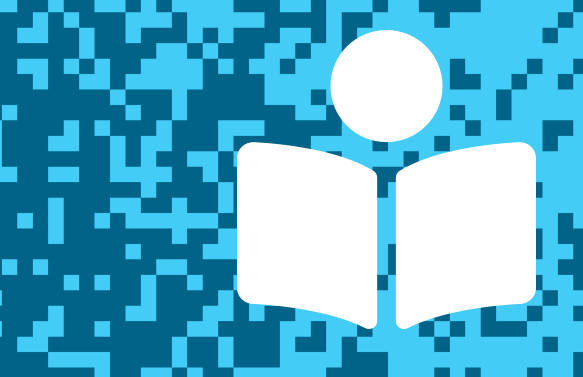 In this post, we feature debut author Adrea Theodore, and award-winning illustrator Erin K. Robinson, whose previous book Brave. Black. First.: 50+ African American Women Who Changed the World, written by Cheryl Willis Hudson, was a Jane Adams Children's Book Award Finalist, among other honors. You can hear them speak about their new picture book, A History of Me, a Junior Library Guild selection, and try their "invitation to imagine" activities. You'll also find other resources to explore. Thanks for joining us, and let us know what you think in the comments below!
---
Written by Adrea Theodore and illustrated by Erin K. Robinson
Published by Neal Porter Books, an imprint of Holiday House Books for Young Readers
Release date: January 18, 2022
Being the only brown girl in a classroom full of white students can be hard. When the teacher talks about slavery and civil rights, she can feel all the other students' eyes on her. Having gone through the same experiences, the girl's mother offers a different, empowering point of view: she is a reflection of the powerful women that have come before her, of the intelligence, resilience, and resourcefulness that have been passed down through the generations. Her history is a source of pride, a reason to sit up straight and recognize everything beautiful and powerful in herself. Inspired by the author's experiences in school and as a parent, Adrea Theodore's debut picture book is a powerful testament to the past as well as a benediction for the future. Erin Robinson's textured, digital illustrations bring this warm message of empowerment to life with a bold, saturated palette. Emphasizing the strength, creativity, and courage passed down through generations, A History of Me offers a joyful new perspective on how we look at history and an uplifting message for the future.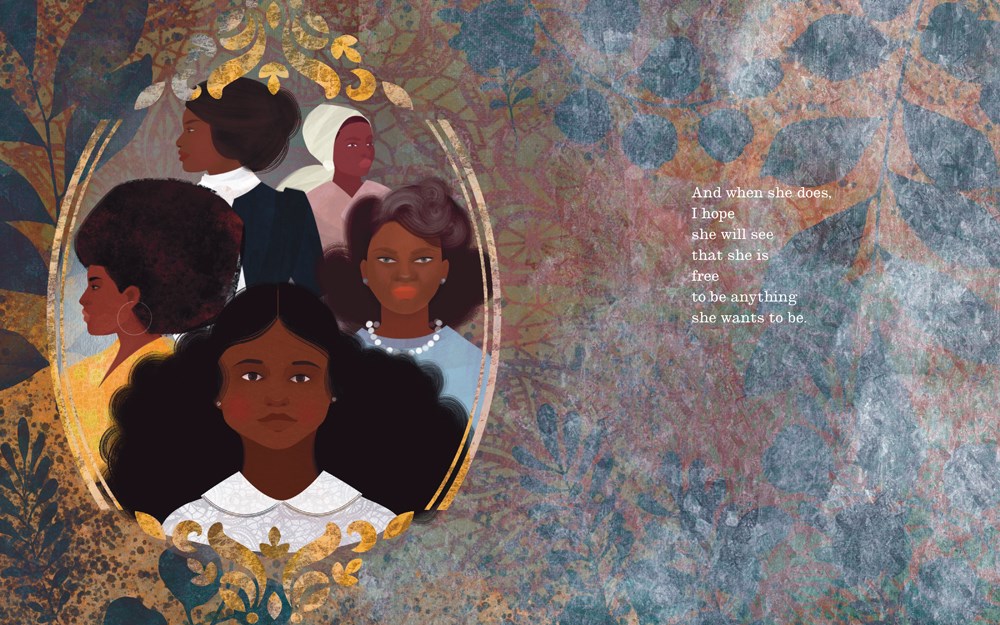 ---
Listen to Adrea Theodore and Erin K. Robinson talking with TeachingBooks about creating A History of Me. You can click the player below or experience the recording on TeachingBooks, where you can read along as you listen, and also translate the text to another language.
---
Invitation to Imagine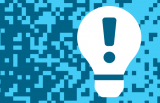 TeachingBooks asks each author or illustrator on our Virtual Book Tour to share a writing prompt, a drawing exercise, or just an interesting question to spark curiosity and creativity. Enjoy the following activity contributed by Adrea Theodore and Erin K. Robinson.
Imagination Activity with Adrea Theodore and Erin K. Robinson
One important part of A History of Me occurs when the young girl looks at herself in the mirror.
It reminds her that what she thinks about herself is more important than what other people think
about her. It also reminds her to look to her past (ancestors) for inspiration, knowing that they
survived and overcame enslavement. Imagine if you had a magic mirror at your home, and
you could ask it to show you "yourself"—aspects of who you are right now. Would it show you
as brave, or silly, or smart, or all of the above? What if it could show you certain things about
your future based upon where you are right now. What do you think it would tell you? Consider
drawing a picture of that magic mirror and what you think you would see.
---
Finish This Sentence . . . with Adrea Theodore and Erin K. Robinson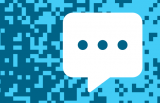 As part of our Virtual Book Tour, TeachingBooks asks authors and illustrators to complete short sentence prompts. Enjoy Adrea Theodore and Erin K. Robinson's responses.
"I hope that my book encourages readers to think about…"
I hope that my book may encourage readers to think about the words that they choose to use. In A History of Me, I included the memory of something that was said to me by another child a long time ago. It was not a very nice thing to say, and something that I never forgot. Our words matter, and they have power—even the words that kids say to other kids. We can use this power for good (or not); it's our choice!—Adrea Theodore
I hope that my book may encourage readers to think about the greatness and beauty in every shade, and that even though someone may be different from you, we should treat one another with kindness and respect.— Erin K. Robinson
"A favorite question from a young reader was…"
A favorite question from a young reader about A History of Me was: What did it feel like when the boy said unkind words to you? I replied that it was a long time ago, and I think, at first, I was surprised and then puzzled. This was a boy that I did not know, and what he did seemed strange to me. I used to ride my bike all the time, and it never occurred to me to yell at strangers! After a while, though, it made me sad, because it seemed like he thought that slavery was a good thing! And I don't know how anyone could think that slavery was a good thing. As I got older, I also felt sad because I realized that he was only looking at the outside of me (my skin color) and didn't take time to get to know me. We might've actually had something in common and become friends.—Adrea Theodore
A favorite question from a young reader about A History of Me was: How long did it take you to draw this? And my answer would vary because it's a back-and-forth process of edits, commentary, and redos, which spanned three years. Some spreads were easy and fast, and others might take more time to finesse. We also wanted to make sure our star girl was just right. She went through a few different looks before finalizing her.— Erin K. Robinson
---
Thank you!
To wrap up this Virtual Book Tour, we thank Adrea Theodore and Erin K. Robinson for signing a book for all of us.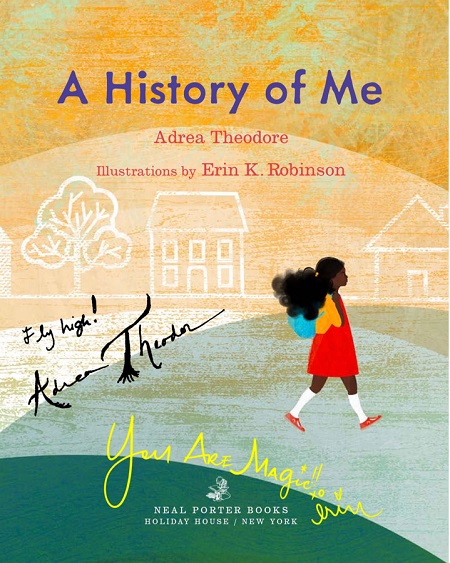 ---
More Connections to Adrea Theodore, Erin K. Robinson, and A History of Me
---
Explore all of the titles featured in the TeachingBooks Virtual Book Tour: one link with author interviews, lesson plans, activities, and more!
All text and images are courtesy of Adrea Theodore, Erin K. Robinson, and Holiday House and may not be used without expressed written consent.