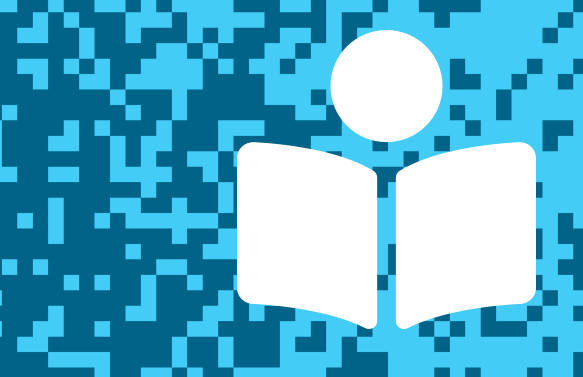 In this post, we feature author Margaret Chiu Greanias, whose previous titles include Maximillian Villainous. You can hear her speak about her new picture book, Amah Faraway, and try her "invitation to imagine" activity. You'll also find other resources to explore. Thanks for joining us, and let us know what you think in the comments below!
---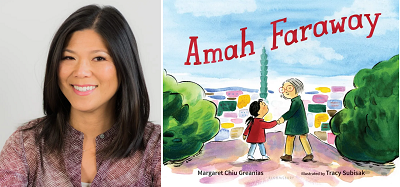 Written by Margaret Chiu Greanias, illustrated by Tracy Subisak
Published by Bloomsbury Children's Books
Release date: January 25, 2022
Kylie is nervous about visiting her grandmother, her Amah, in Taipei. At first, Kylie is shy with Amah and uncomfortable with the less-familiar language, customs, culture, and food. However, after she is invited by Amah to play and splash in the hot springs (which aren't that different from the pools at home), Kylie begins to see the things that used to scare her in a new way. Soon, Kylie is leading her Amah back through all her favorite places and having so much fun. A guide to some of the places and foods explored in Taiwan conclude this inventively told story about creating family connections and love across distance, language, and cultures.


---
Listen to Margaret Chiu Greanias talking with TeachingBooks about Amah Faraway. You can click the player below or experience the recording on TeachingBooks, where you can read along as you listen, and also translate the text to another language.
---
Invitation to Imagine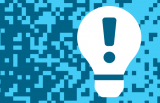 TeachingBooks asks each author or illustrator on our Virtual Book Tour to share a writing prompt, a drawing exercise, or just an interesting question to spark curiosity and creativity. Enjoy the following activity contributed by Margaret Chiu Greanias.
Imagination Activity with Margaret Chiu Greanias
Think of a new experience you had. What did you think of the new experience before you tried it? What do you think of it now?
Think of someone you haven't seen in a long time—someone who you would like to reconnect with. If you could spend a day with them, what would you want to do together and why?
---
Finish This Sentence . . . with Margaret Chiu Greanias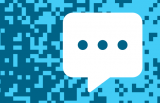 As part of our Virtual Book Tour, TeachingBooks asks authors and illustrators to complete short sentence prompts. Enjoy Margaret Chiu Greanias's response.
"A surprising thing that helps me work is…"
A surprising thing that helps me work is chores! When I am mulling over a story idea or story problem, doing chores that might otherwise be considered boring — like washing the dishes or folding laundry—helps free my mind to wander and play.
"A favorite question from a young reader was…"
A favorite question from a young reader was, "How did Amah and Kylie come to live so far away from each other?"
---
Thank you!
To wrap up this Virtual Book Tour, we thank Margaret Chiu Greanias for signing a book for all of us.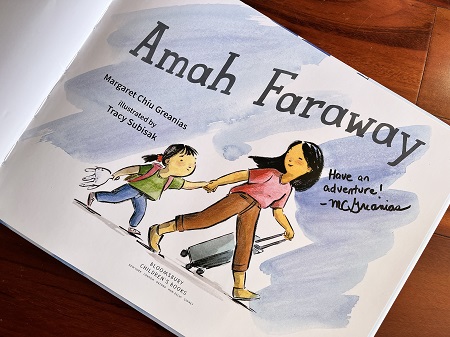 ---
More Connections to Margaret Chiu Greanias and Amah Faraway
---
Explore all of the titles featured in the TeachingBooks Virtual Book Tour: one link with author interviews, lesson plans, activities, and more!
Author photo by Erin Sloan Photography. All other text and images are courtesy of Margaret Chiu Greanias, Tracy Subisak, and Bloomsbury and may not be used without expressed written consent.