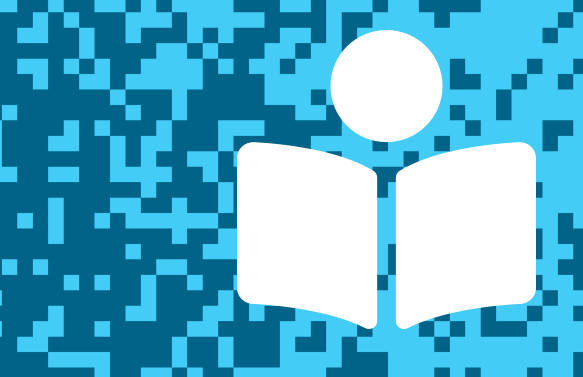 In this post, we feature award-winning author Kelly Barnhill, whose previous titles include the Newbery Medal-winning novel, The Girl Who Drank the Moon . You can hear her speak about her new novel, The Ogress and the Orphans, and try her "invitation to imagine" activity. You'll also find other resources to explore. Thanks for joining us, and let us know what you think in the comments below!
---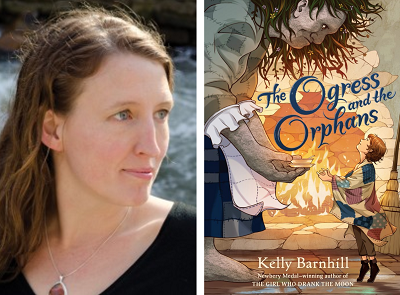 Written by Kelly Barnhill
Published by Algonquin Books for Young Readers, an imprint of Workman Publishing
Release date: March 8, 2022
Stone-in-the-Glen, once a lovely town, has fallen on hard times. Fires, floods, and other calamities have caused the people to lose their library, their school, their park, and even their neighborliness. The people put their faith in the Mayor, a dazzling fellow who promises he alone can help. After all, he is a famous dragon slayer. (At least, no one has seen a dragon in his presence.) Only the clever children of the Orphan House and the kindly Ogress at the edge of town can see how dire the town's problems are. Then one day, a child goes missing from the Orphan House. At the Mayor's suggestion, all eyes turn to the Ogress. The Orphans know this can't be: the Ogress, along with a flock of excellent crows, secretly delivers gifts to the people of Stone-in-the-Glen. But how can the Orphans tell the story of the Ogress's goodness to people who refuse to listen? And how can they make their deluded neighbors see the real villain in their midst? Newbery Medal-winning novelist Kelly Barnhill tells a gripping fantasy about the power of generosity and love, and how a community suffers when they disappear.
From The Ogress and the Orphans, written by Kelly Barnhill.

This is a story about an ogress. She is not who you might think she is. (But really, is anyone?)

Read a longer excerpt from The Ogress and the Orphans, written by Kelly Barnhill

.
---
Listen to Kelly Barnhill talking with TeachingBooks about creating The Ogress and the Orphans. You can click the player below or experience the recording on TeachingBooks, where you can read along as you listen, and also translate the text to another language.
---
Invitation to Imagine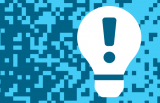 TeachingBooks asks each author or illustrator on our Virtual Book Tour to share a writing prompt, a drawing exercise, or just an interesting question to spark curiosity and creativity. Enjoy the following activity contributed by Kelly Barnhill.
Imagination Activity with Kelly Barnhill
Close your eyes and imagine a bird, sitting on a branch. It doesn't matter what kind. Just get a picture of the bird in your mind: how big it is, what color its feathers are, its eye, its beak, the sound of its song. The whole thing. Now imagine that bird flying towards you and landing on your hand. Now imagine that bird looking you in the eye, and it begins to talk. Right now, as quick as you can, write down the conversation that you might have with that talking bird. What does it want to say to you? What might it ask you to do? What will you do next? Write for 10 minutes and see where it leads.
---
Finish This Sentence . . . with Kelly Barnhill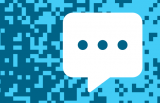 As part of our Virtual Book Tour, TeachingBooks asks authors and illustrators to complete short sentence prompts. Enjoy Kelly Barnhill's response.
"I hope my book may encourage readers to think about…"
I hope my book might encourage kids to think about their own neighbors, and their communities, and why kindness, connection, generosity, and sharing stories all matter.
---
Thank you!
To wrap up this Virtual Book Tour, we thank Kelly Barnhill for signing a book for all of us.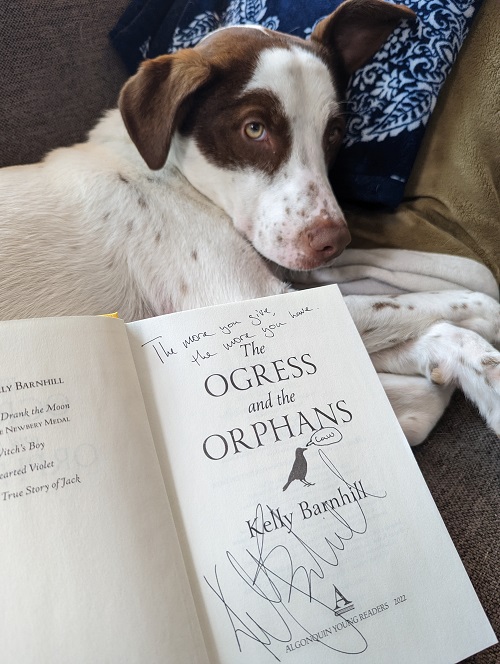 ---
More Connections to Kelly Barnhill and The Ogress and the Orphans
---
Explore all of the titles featured in the TeachingBooks Virtual Book Tour: one link with author interviews, lesson plans, activities, and more!
All text and images are courtesy of Kelly Barnhill and Workman Publishing and may not be used without expressed written consent.