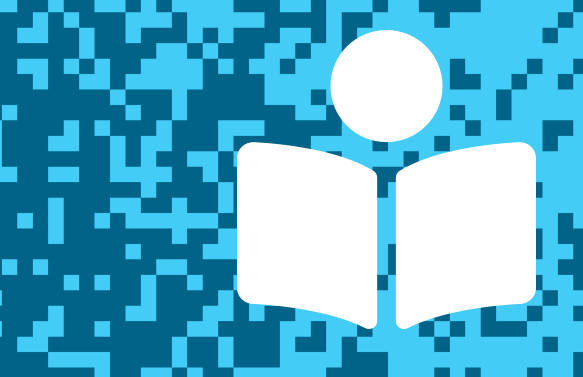 In this post, we feature author Gregory Maguire, whose previous, award-winning titles for children include Egg & Spoon, which received wide acclaim, including a Boston Globe Horn Book Honor. You can hear him speak about his new novel, Cress Watercress, and try his "invitation to imagine" activity. You'll also find other resources to explore. Thanks for joining us, and let us know what you think in the comments below!
---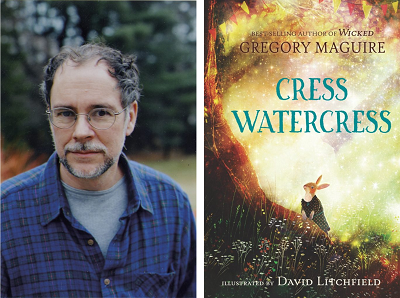 Written by Gregory Maguire and illustrated by David Litchfield
Published by Candlewick Press
Release date: March 29, 2022
When Papa doesn't return from a nocturnal honey-gathering expedition, Cress holds out hope, but her mother assumes the worst. It's a dangerous world for rabbits, after all. Mama moves what's left of the Watercress family to the basement unit of the Broken Arms, a run-down apartment oak with a suspect owl landlord, a nosy mouse super, a rowdy family of squirrels, and a pair of songbirds who broadcast everyone's business. Can a dead tree full of annoying neighbors, and no Papa, ever be home? Written with tenderness and humor, this story for animal lovers of all ages features an unforgettable cast that leaps off the page in glowing illustrations by David Litchfield. This meditation on coming-of-age invites us to flourish wherever we find ourselves..
From Cress Watercress, by Gregory Maguire, illustrated by David Litchefield.

They left their home for the last time. No one bothered to lock the door or to look back at nobody waving goodbye.

Read a longer passage from Cress Watercress, by Gregory Maguire and illustrated by David Litchfield.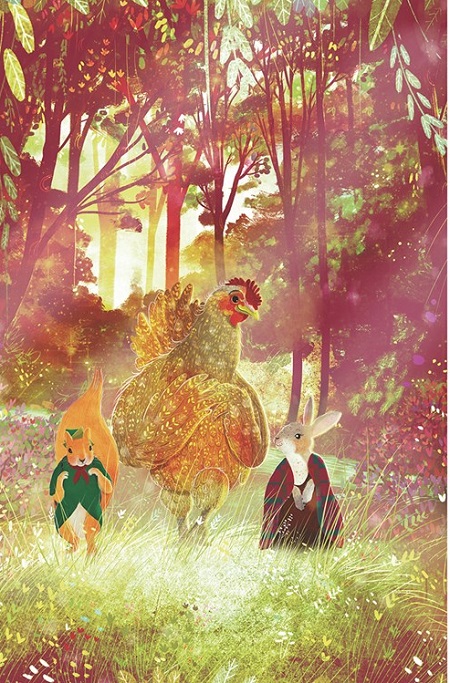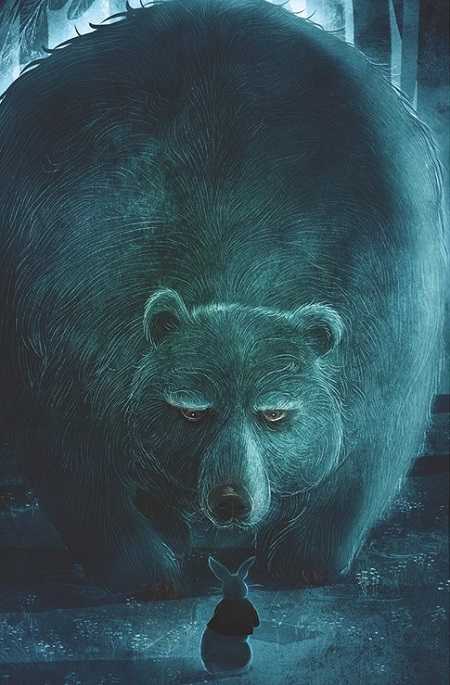 ---
Listen to Gregory Maguire talking with TeachingBooks about creating Cress Watercress. You can click the player below or experience the recording on TeachingBooks, where you can read along as you listen, and also translate the text to another language.
---
Invitation to Imagine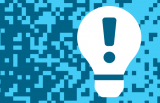 TeachingBooks asks each author or illustrator on our Virtual Book Tour to share a writing prompt, a drawing exercise, or just an interesting question to spark curiosity and creativity. Enjoy the following activity contributed by Gregory Maguire.
Imagination Activity with Gregory Maguire
One of my favorite prompts was to provide students with two sets of images pulled from the newspapers, magazines, old books, photocopies, etc. One envelope featured characters from the real world—a trash pickup crew member, a grandmother, a toddler on a bike, a cat on a fence, a man with a briefcase, a woman with a briefcase, the President, the Pope, a football player, a teenage kid with a safety pin through every earlobe. A student had to select at random without looking at the image—grab bag. Then I would ask the student to take an image from another envelope, in which there were fantastic characters—a mermaid, a tooth fairy, a witch, a space alien, a ghost, a monster on a pogo stick, a giant sick in bed with a thermometer in her mouth. The prompt would not be to write a story about these two creatures, but to write a mere scene in which they encounter each other. The point being that the arresting difference in their natures was what made the situation interesting (and writable). A student writer can do this with the images in his or her head, of course. Incidentally, I always did my own projects myself, and it was a scene between a tooth fairy and an old lady on her deathbed that I wrote, and that eventually became inspiration for my book What-the-Dickens: The Story of a Rogue Tooth Fairy.
---
Finish This Sentence . . . with Gregory Maguire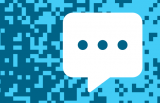 As part of our Virtual Book Tour, TeachingBooks asks authors and illustrators to complete short sentence prompts. Enjoy Gregory Maguire's response.
"You may not know that I can…"
You may not know that I can read in French and speak a little Greek (very little, but then, I'm a little guy). I have perfect pitch. I can't curl my tongue, though, and this has caused me years of dissatisfaction and boredom while sitting waiting for the bus with nothing else to do but practice curling one's tongue.
"Where I work is…"
Here I am working in a café in France, which is pretty much my study when I am not at home.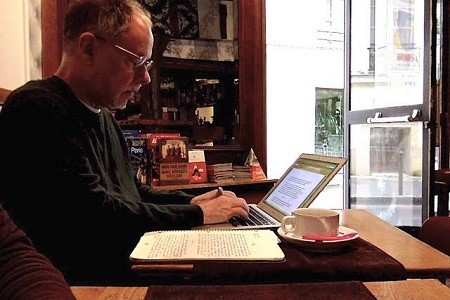 "I hope my book encourages readers to think about…"
I hope my book encourages readers to think about the reality of feelings: they don't just wash over you and subside; they come back in patterns, over and over. A sorrow, for instance, is not just something to endure and get beyond—as Wilbur endures it when Charlotte the spider dies—but something to learn to expect. One will meet it again—and survive it again.
---
Thank you!
To wrap up this Virtual Book Tour, we thank Gregory Maguire for signing a book for all of us.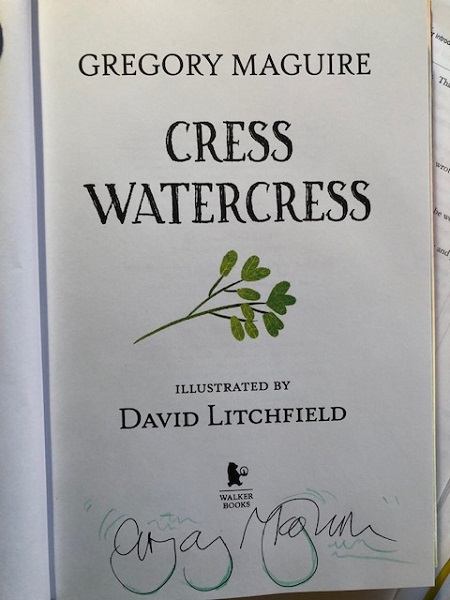 ---
More Connections to Gregory Maguire and Cress Watercress
---
Explore all of the titles featured in the TeachingBooks Virtual Book Tour: one link with author interviews, lesson plans, activities, and more!
Author photo by Andy Newman. All other text and images are courtesy of Gregory Maguire, David Litchefield, and Candlewick Press and may not be used without expressed written consent.