Over the summer and fall of 2021, TeachingBooks added four new Implementation & Training Specialists to our Professional Development team. Please welcome Danielle Burbank, Jade Valenzuela, Jill Coste, and Susannah Gilbert! Read on to learn more about our new TeachingBooks team members.
---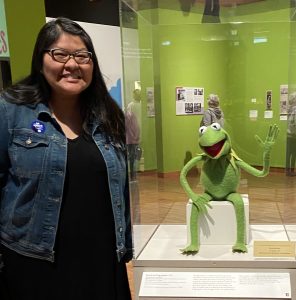 Danielle Burbank
Yá'át'ééh/Hello! Danielle Burbank yinishyé. I am Danielle Burbank. I am from the Navajo Nation and currently reside in New Mexico.
Before TeachingBooks, I started as a Teacher Librarian in a Bureau of Indian Education school in my hometown on the Navajo Nation. This experience was special because my maternal grandfather attended the one-room log cabin school in the 1930s and then helped build the newer school campus in the 1950s.
I then transitioned to a community college where I was a Reference Librarian for thirteen years. Working at a smaller community college was important because it gave me the chance to have personal interaction with students, staff, and community members. My teaching background helped me to enrich library instruction and focus on information literacy by promoting Indigenous knowledge and understanding.
I am passionate about children's/YA literature because I feel that cultural representation matters. As a Navajo child growing up, I did not see myself represented in the books I read; thankfully this is changing. I am thrilled to work for TeachingBooks as an Implementation and Training Specialist to help guide teachers, librarians, and students to all of our wonderful resources.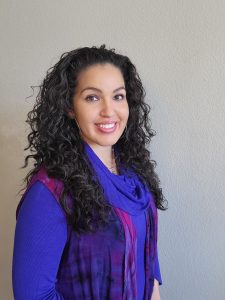 Jade Valenzuela
I was born and raised in the Land of Enchantment (New Mexico). I graduated Summa Cum Laude from the University of New Mexico with a double major in History and Spanish Language & Literature, then I completed my Masters of Library & Information Science.
I spent sixteen years in library work, mostly as a School Librarian working with children and teens, and as a Director of Library Services leading all aspects of library operations. I've also served as a Director of Diversity and Inclusion and enjoyed being able to contribute towards my passions of diversity, inclusion, equity, and justice. I am just as passionate about reading, literacy, and increasing access to resources for all, and I value lifelong learning and building connections.
I stay active in youth literature through committee work. I have served on the Sibert Award committee, the Jane Addams Book Award Committee, the YALSA Quick Picks team, and others. I am excited to be able to help connect resources to more educators, librarians, and most of all, readers through my work at TeachingBooks! When I'm not at work, I love music, books, travel (especially to the ocean), zumba, and spending time with my family.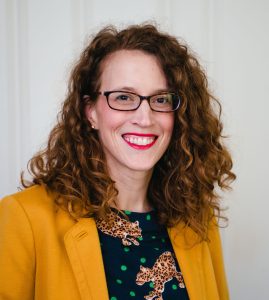 Jill Coste
Hi, all! I'm delighted to be part of the Implementation & Training team at TeachingBooks. I spent the last ten years in academia, first getting an MA with a focus on children's literature from San Diego State University, then a PhD in English from the University of Florida. Before graduate school, I worked in a variety of roles: in community relations for higher education, in theatre public relations, and as an assistant learning specialist for student-athlete academic services.
At both San Diego State and University of Florida, I taught children's and young adult literature, and I'm forever fascinated by the way literature for young people both reflects and challenges cultural norms. My dissertation focused on youth agency in young adult fairy tale retellings, and I bring that interest to how I approach my work now: I want young readers to find and access the myriad ways literature shows them the world.
I am a longtime member of the Children's Literature Association, and I continue to teach through UC San Diego Extension. Now that I'm not living the all-consuming life of "grad student," I'm trying to rediscover previous hobbies, like tinkering on the piano and tin whistle. I also love reading (of course) and finding new ways to entertain my busy toddler.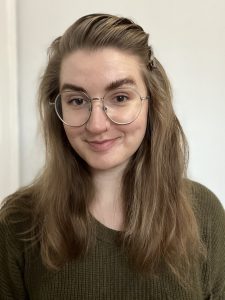 Susannah Gilbert
Hi readers! I'm so excited to be part of the team at TeachingBooks. Prior to working here, I worked as a youth collections librarian and before that a teen services librarian, and I'm particularly looking forward to bringing that public library experience to my role at TeachingBooks.
I come from a family full of library staff and library lovers, so, of course, it took me a long time to admit that I wanted to get my Masters in Library & Information Studies. While putting it off, I worked in bookstores, with kids at home and abroad, and on a magical farm in the mountains.
I'm passionate about accessibility, building diverse collections, self-directed learning, and the joy of discovering a new favorite book. I'm a firm believer that as well as engaging and empowering young readers, hearing from authors and illustrators has the power to inspire young writers and artists to pursue their own creative projects, particularly those who may not have ever heard from a published author or illustrator who has a lived experience similar to their own. I'm thrilled about the opportunity to work with all of you to increase access to those experiences.
---
Learn more about all of the TeachingBooks.net staff by visiting the Staff Directory. We are all here to help support you in using TeachingBooks resources to deepen connections to children's and young adult literature in your educational curriculum, library programming, and at-home reading.