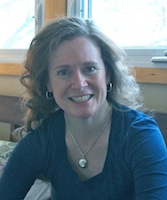 The Superhero in Each of Us
By Kate Hannigan
I was recently asked why I like writing history for young readers. There are so many reasons why history is important for kids to learn. But the biggest reason I like to explore it is to offer kids trajectories. Possibilities. I want them to see the many paths they can take to create a life of meaning and significance. When we show them the who and the why and the how of remarkable figures from the past, it can powerfully impact their future.
I had this in mind when I began working on the Cape (2019), Mask (2020), and Boots (2021) books for The League of Secret Heroes series from Simon & Schuster/Aladdin.
I'd been curious about the earliest female superheroes and came across a fact that thrilled my history-nerd brain: Wonder Woman made her comic book debut in December, 1941. History buffs will know that's also a significant date in World War II—the bombing of Pearl Harbor.
So my project began to take shape. What if we had three comic-book loving kids who want so badly to help out with the war effort? And though they're thwarted going the traditional route, what if their determination leads them to becoming superheroes? And what if they get the same powers of the spectacular heroines of their comic books?
And even better, what if, as they fight for justice, they cross paths with the remarkable women of WWII? They were doing superheroic work, too.
I was off and running, researching all I could about the women who took advantage of the newfound opportunities that presented themselves as the men went off to the front lines. Suddenly female mathematicians were in demand, no longer looking at dismal job prospects. Many of then became "human computers" who helped calculate trajectories for artillery and worked on secret projects all over the country.
Women who loved puzzles became code crackers, others who spoke multiple languages became spies. Some who loved flying took to the skies as WASPs (Women Airforce Service Pilots) and ferried planes from factories to military bases.
Mathematicians Jean Jennings and Fran Bilas work on the ENIAC in 1945. WASP pilots flew every kind of plane during WWII. Code-cracker Genevieve Grotjan solved a crucial Japanese code that helped shorten the war.
Throughout the three books, I have my characters meet these key real-life figures and learn from them. So that as the superheroes demonstrate the best ways to punch out supervillains, the historical figures also show them real-life skills. I want to plant the seed with young readers that the things we're good at—math, puzzles, pattern recognition, languages, even flying—might actually become our own superpowers.
Who knows what skills will be needed to save the world one day? But it's fun to imagine playing a crucial, even super, role in it.
---
Kate Hannigan writes fiction and nonfiction for young readers. Her three-book series Cape, Mask, and Boots (Simon & Schuster/Aladdin) blends graphic-novel elements and traditional narrative, history and fantasy. Cape, Book 1 in "The League of Secret Heroes" series, received the Oklahoma Book Award and was recently optioned for film. Kate's nonfiction graphic novel The Great Chicago Fire (First Second, 2020) was a 2021 Excellence in Graphic Literature Award Finalist. And her historical mystery The Detective's Assistant (Little, Brown, 2015) won SCBWI's Golden Kite Award.
---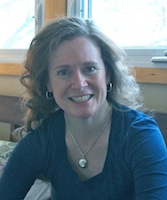 Text and images are courtesy of Kate Hannigan and may not be used without expressed written consent.