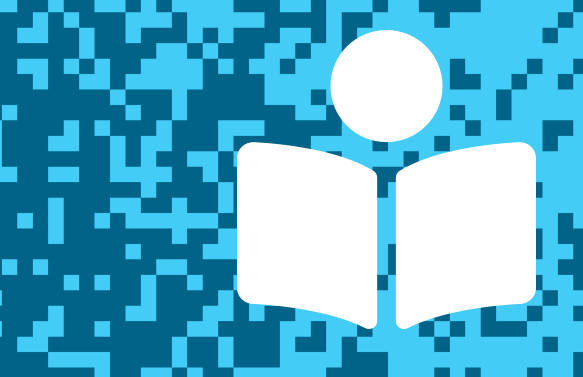 In this post, we feature award-winning author and publisher Wade Hudson, whose previous titles include We Rise, We Resist, We Raise Our Voices, which was co-edited with Cheryl Willis Hudson. You can hear him speak about his new memoir, Defiant: Growing Up in the Jim Crow South, and try his "invitation to imagine" activity. You'll also find other resources to explore. Thanks for joining us, and let us know what you think in the comments below!
---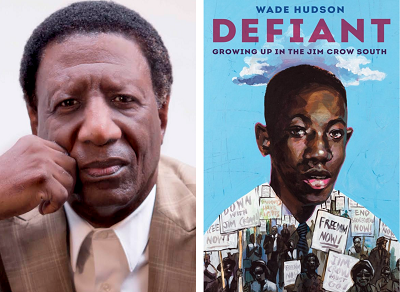 Written by Wade Hudson
Published by Crown Books for Young Readers, an imprint of Penguin Random House
Release date: October 12, 2021
Born in 1946 in Mansfield, Louisiana, Wade Hudson came of age against the backdrop of the Civil Rights Movement. From their home on Mary Street, his close-knit family watched as the country grappled with desegregation, as the Klan targeted the Sixteenth Street Baptist Church in Birmingham, Alabama, and as systemic racism struck across the nation and in their hometown. Amidst it all, Wade was growing up—getting into scuffles, playing baseball, immersing himself in his church community, and starting to write. Most important, Wade learned how to find his voice and use it. From his family, his community, and his college classmates, Wade learned the importance of fighting for change by confronting the laws and customs that marginalized and demeaned people. This powerful memoir reveals the struggles, joys, love, and ongoing resilience that it took to grow up Black in segregated America, and the lessons that carry over to our fight for a better future.
From Defiant: Growing Up in the Jim Crow South, by Wade Hudson.

So this is what solitary confinement is like? I asked myself, shaking my head.

Read a longer excerpt from Defiant: Growing Up in the Jim Crow South, by Wade Hudson.
---
Listen to Wade Hudson talking with TeachingBooks about creating Defiant: Growing Up in the Jim Crow South. You can click the player below or experience the recording on TeachingBooks, where you can read along as you listen, and also translate the text to another language.
---
Invitation to Imagine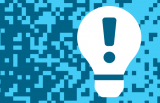 TeachingBooks asks each author or illustrator on our Virtual Book Tour to share a writing prompt, a drawing exercise, or just an interesting question to spark curiosity and creativity. Enjoy the following activity contributed by Wade Hudson.
Imagination Activity with Wade Hudson
Sometimes we have difficulty understanding what challenges others are facing—especially those whose life experiences are different from our own. I never had to pick cotton in the blistering sun as my grandparents had to do. As I wrote my memoir, I wanted to understand what they must have felt, having no choice to leave even if they wanted to. So, I found a picture of a cotton field, stared at it closely, closed my eyes and imagined being in the center of rows of white cotton. As I did so, I could hear the songs being sung, feel the sun beating down on me, feel the perspiration running down my face as I, too, bent down to pick the bolls. I was there. I knew I couldn't feel what they might have felt, but this exercise sensitized me to what they may have gone through. Do you think you can use your imagination to take you to that cotton field I went to? Try it.
---
Finish This Sentence . . . with Wade Hudson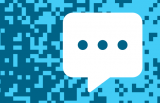 As part of our Virtual Book Tour, TeachingBooks asks authors and illustrators to complete short sentence prompts. Enjoy Wade Hudson's response.
"My favorite books as a child were…"
My favorite books as a child and teen were literary classics, such as Moby Dick, The Last of the Mohicans, Treasure Island, stories by Mark Twain, and poems by Edgar Allen Poe. I didn't have access to books that had positive Black characters in them or stories about the experiences of people who looked like me. The first book I read that spotlighted experiences to which I could readily relate was Black Boy by Richard Wright. That was in my freshman year of college.
---
Thank you!
To wrap up this Virtual Book Tour, we thank Wade Hudson for signing a book for all of us.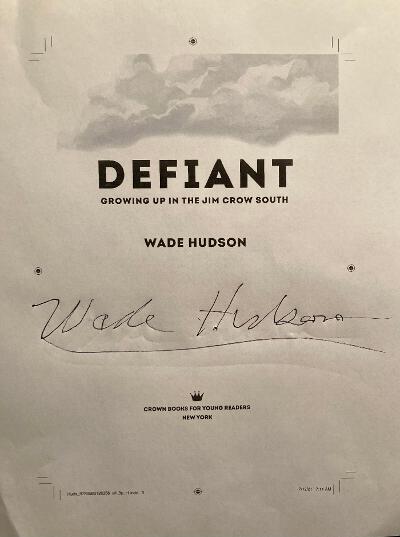 ---
More Connections to Wade Hudson and Defiant: Growing Up in the Jim Crow South
---
Explore all of the titles featured in the TeachingBooks Virtual Book Tour: one link with author interviews, lesson plans, activities, and more!
All text and images are courtesy of Wade Hudson and Penguin Random House and may not be used without expressed written consent.