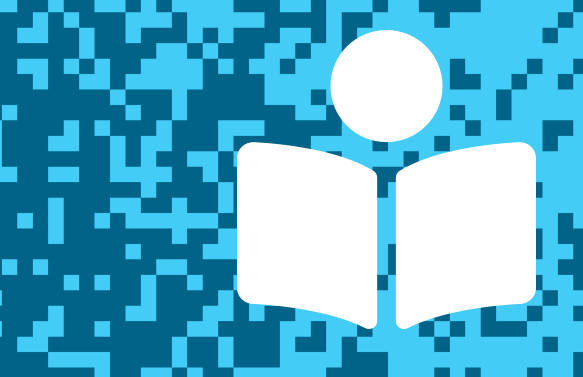 In this post, we feature award-winning author Gayle Forman, whose previous titles include the bestselling novel If I Stay. You can hear her speak about her new middle-grade novel, Frankie & Bug, and try her "invitation to imagine" activity. You'll also find other resources to explore. Thanks for joining us, and let us know what you think in the comments below!
---
Written by Gayle Forman
Published by Aladdin, an imprint of Simon & Schuster
Release date: October 12, 2021
It's the summer of 1987, and all ten-year-old Bug wants to do is go to the beach with her older brother and hang out with the locals on the boardwalk. But Danny wants to be with his own friends, and Bug's mom is too busy, so Bug is stuck with their neighbor Philip's nephew, Frankie. Bug's not too excited about hanging out with a kid she's never met, but they soon find some common ground. And as the summer unfolds, they find themselves learning some important things, including what it means to be your true self, how to be a good ally for others, and that family can be the people you're related to, but also the people you choose to have around you. Together, they discover that even though life isn't always fair, we can all do our part to make it more just.
From Frankie & Bug, written by Gayle Forman.

Ten days before school let out, Mama announced that summer was cancelled.

Read a longer excerpt from Frankie & Bug, written by Gayle Forman

.
---
Listen to Gayle Forman talking with TeachingBooks about creating Frankie & Bug. You can click the player below or experience the recording on TeachingBooks, where you can read along as you listen, and also translate the text to another language.
---
Invitation to Imagine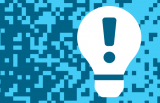 TeachingBooks asks each author or illustrator on our Virtual Book Tour to share a writing prompt, a drawing exercise, or just an interesting question to spark curiosity and creativity. Enjoy the following activity contributed by Gayle Forman.
Imagination Activity with Gayle Forman
All of my novels start with a two-word question: What if? Write down as many "what if" questions as you can, the crazier or weirder the better. Then, see which characters arrive in your head to answer that question. Here's an example: I once asked Twitter for "what if" questions and chose one at random: What if you started a new life in a foreign country and left everyone you ever knew and loved? From this one "what if" question I came up with three completely different story ideas, one about a kid, one about a mother-turned-outlaw, and a third about someone nursing a heartbreak.
---
Finish This Sentence . . . with Gayle Forman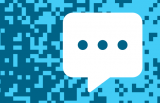 As part of our Virtual Book Tour, TeachingBooks asks authors and illustrators to complete short sentence prompts. Enjoy Gayle Forman's response.
"A surprising thing that helps me work is…"
A surprising thing that helps me work is swimming. I'll spend a day struggling with something and then jump in the pool or lake, and it will all come loose.
"Where I work is…"
Where I work is anywhere: in bed, at my desk, in a café, on the subway. And on some days, when I'm lucky, here: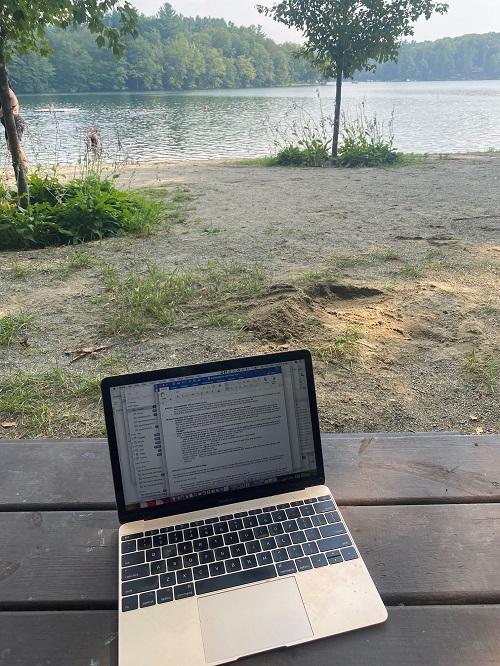 ---
Thank you!
To wrap up this Virtual Book Tour, we thank Gayle Forman for signing a book for all of us.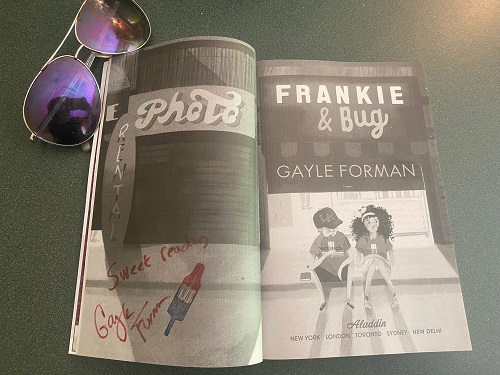 ---
More Connections to Gayle Forman and Frankie & Bug
---
Explore all of the titles featured in the TeachingBooks Virtual Book Tour: one link with author interviews, lesson plans, activities, and more!
Author photo by Laina Karavani. All other text and images are courtesy of Gayle Forman and Simon & Schuster and may not be used without expressed written consent.