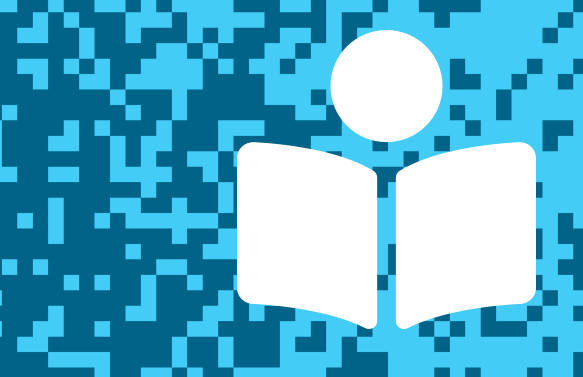 In this post, we feature author Eugene Yelchin, whose award-winning titles include the Newbery Honor Book Breaking Stalin's Nose. You can hear him speak about his new memoir The Genius Under the Table: Growing Up Behind the Iron Curtain and try his "invitation to imagine" activity. You'll also find other resources to explore. Thanks for joining us, and let us know what you think in the comments below!
---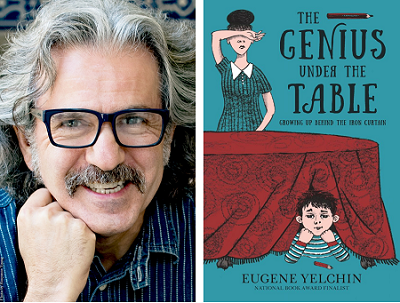 Written and illustrated by Eugene Yelchin
Published by Candlewick Press
Release date: October 12, 2021
Drama, family secrets, and a KGB spy in his own kitchen! How will Yevgeny ever fulfill his parents' dream that he become a national hero when he doesn't even have his own room? He's not a star athlete or a legendary ballet dancer. In the tiny apartment he shares with his Baryshnikov-obsessed mother, poetry-loving father, continually outraged grandmother, and safely talented brother, all Yevgeny has is his little pencil, the underside of a massive table, and the doodles that could change everything. With equal amounts charm and solemnity, award-winning author and artist Eugene Yelchin recounts in hilarious detail his childhood in Cold War Russia as a young boy desperate to understand his place in his family.

From The Genius Under the Table: Growing Up Behind the Iron Curtain, written and illustrated by Eugene Yelchin.

The first time I saw real American tourists, they hopped out of a tourist bus in Red Square in Moscow and cut in front of us in line.

Read a longer excerpt from The Genius Under the Table: Growing Up Behind the Iron Curtain written and illustrated by Eugene Yelchin.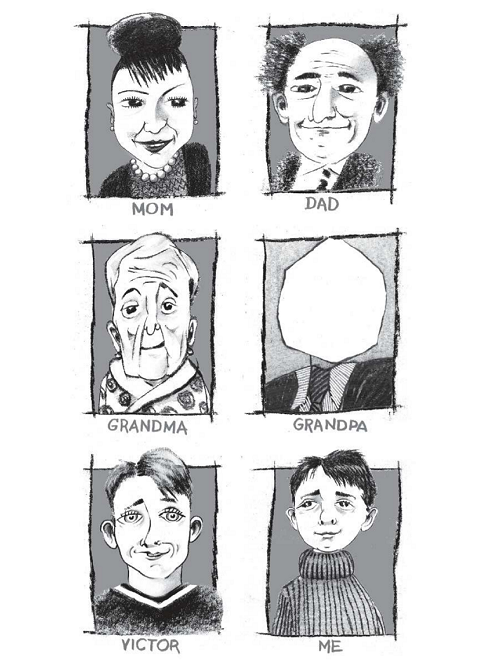 ---
Listen to Eugene Yelchin talking with TeachingBooks about creating The Genius Under the Table: Growing Up Behind the Iron Curtain. You can click the player below or experience the recording on TeachingBooks, where you can read along as you listen, and also translate the text to another language.
---
Invitation to Imagine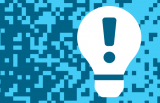 TeachingBooks asks each author or illustrator on our Virtual Book Tour to share a writing prompt, a drawing exercise, or just an interesting question to spark curiosity and creativity. Enjoy the following activity contributed by Eugene Yelchin.
Imagination Activity with Eugene Yelchin
Imagine if your entire family—parents, grandparents, siblings—had to live in one small room. Describe in words or draw a picture of your family sharing that room.
For extra fun, write one line of dialogue for each member of your family: what they would say about living together in one room.
---
Finish This Sentence . . . with Eugene Yelchin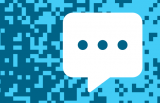 As part of our Virtual Book Tour, TeachingBooks asks authors and illustrators to complete short sentence prompts. Enjoy Eugene Yelchin's response.
"While working on this project…"
While working on my memoir, I would have long conversations with my brother about our childhood in Russia and was amazed to discover that we remembered the same events differently.
---
Thank you!
To wrap up this Virtual Book Tour, we thank Eugene Yelchin for signing a book for all of us.
---
More Connections to Eugene Yelchin and The Genius Under the Table: Growing Up Behind the Iron Curtain
---
Explore all of the titles featured in the TeachingBooks Virtual Book Tour: one link with author interviews, lesson plans, activities, and more!
Author photo is by Roxyanne Young. All other text and images are courtesy of Eugene Yelchin and Candlewick Press and may not be used without expressed written consent.