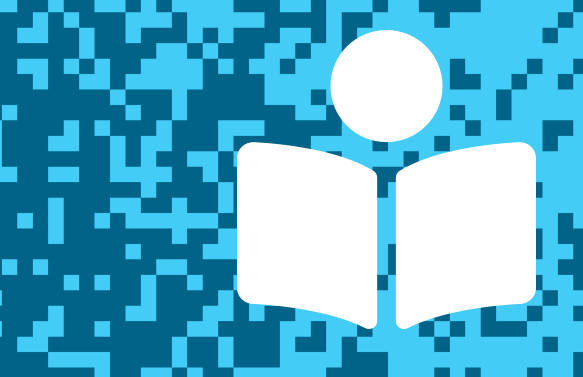 In this post, we feature author L.M. Elliott, whose popular novels include Hamilton and Peggy. You can hear her speak about her new novel, Walls, and try her "invitation to imagine" activity. You'll also find other resources to explore. Thanks for joining us, and let us know what you think in the comments below!
---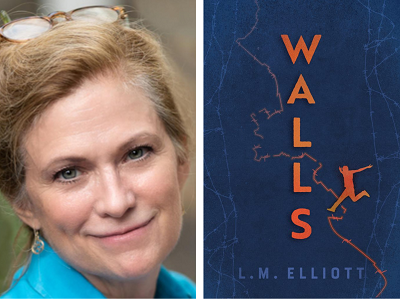 Written by L.M. Elliott
Published by Algonquin Young Readers, an imprint of Workman Publishing
Release date: July 27, 2021
Can two cousins on opposite sides of the Cold War and a divided city come together when so much stands between them? Drew is an army brat in West Berlin, where soldiers like his dad hold an outpost of democracy against communist Russia. Drew's cousin Matthias, an East Berliner, has grown up in the wreckage of Allied war bombing, on streets ruled by the secret police. From enemy sides of this Cold War standoff, the boys become wary friends, arguing over the space race, politics, even civil rights, but bonding over music. If informants catch Matthias with rock 'n' roll records or the books Drew has given him, he could be sent to a work camp. If Drew gets too close to an East Berliner, others on the army post may question his family's loyalty. As the political conflict around them grows dire, Drew and Matthias are tested in ways that will change their lives forever. Set in the tumultuous year leading up to the surprise overnight raising of the Berlin Wall in August 1961, and illustrated with dozens of real-life photographs of the time, Walls brings to vivid life a heroic and tragic episode of the Cold War.
From Walls, written by L.M. Elliott

Standing in the doorway, Drew hesitated, his freckles burning crimson like a thousand flares of anxiety.

Read a longer excerpt from Walls by L.M. Elliott..
---
Listen to L.M. Elliott talking with TeachingBooks about creating Walls. You can click the player below or experience the recording on TeachingBooks, where you can read along as you listen, and also translate the text to another language.
---
Invitation to Imagine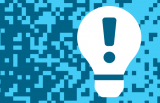 TeachingBooks asks each author or illustrator on our Virtual Book Tour to share a writing prompt, a drawing exercise, or just an interesting question to spark curiosity and creativity. Enjoy the following activity contributed by L.M. Elliott.
Imagination Activity with L.M. Elliott
Please cheer, "HUZZAH!" when a teacher says you'll be looking at some primary documents. Research and reporting is the FUN part of writing, the treasure hunt, where you play detective and find a story. Primary documents—letters, photos, diaries, news clippings—are the gems, the clues. They will jumpstart your imagination and hand you characters, the thematic spine, the pivotal plot twists, the "show-rather-than-tell" anecdotes of your narratives.
For Walls, chilling eyewitness accounts of the night the Berlin Wall went up handed me heartbreaking, specific details with which to paint that final chapter. I read memoirs of teens trapped behind the Iron Curtain, describing the bone-chilling dangers of just listening to music that Soviet Russia and East Germany had deemed provocative. If caught, for instance, with an Elvis Presley record (or just tuning their radio to a West European broadcast), youth could be charged with Kulturbarbarei, spreading "culture corruption." That drove home just how high walls would be between my two cousins—Drew, the American Army kid, and Matthias, raised in communist propaganda. To "show-rather-than-tell" how suspicious and fearful Matthias might be of American pop culture—and to allow a wary empathy to begin between the two boys who had been taught by their nation's political rhetoric to distrust one another—I have Drew take his East Berlin cousin to a Sadie Hawkins dance.
Now your turn: In East Berlin, teens had been pitted against each other, tagged either as believers or dangerous subversives in need of "re-education." Those who joined the FDJ (Free German Youth) might report their friends for "lack of enthusiasm" at state-mandated parades. The day the Wall went up young Vopos ("the People's Police") had to stop their friends and neighbors, maybe even their family, from escaping to the West.
Look at this photo, these faces, the body language. There is a pair of Vopos right at the barbed wire and another three talking to the growing crowd of anxious East Berliners. What do you see? What do you feel? What do you imagine? Stand in these people's shoes. Tell me their story. Pick one cluster of conversation in the photo and then one participant. Use his or her point of view—are you a Vopo or a civilian surveying the barbed wire with dismay? Dialogue is often the quickest character reveal and certainly a powerful way to convey the emotion, the two sides, of a scene.  Now switch people and groups and write a different perspective.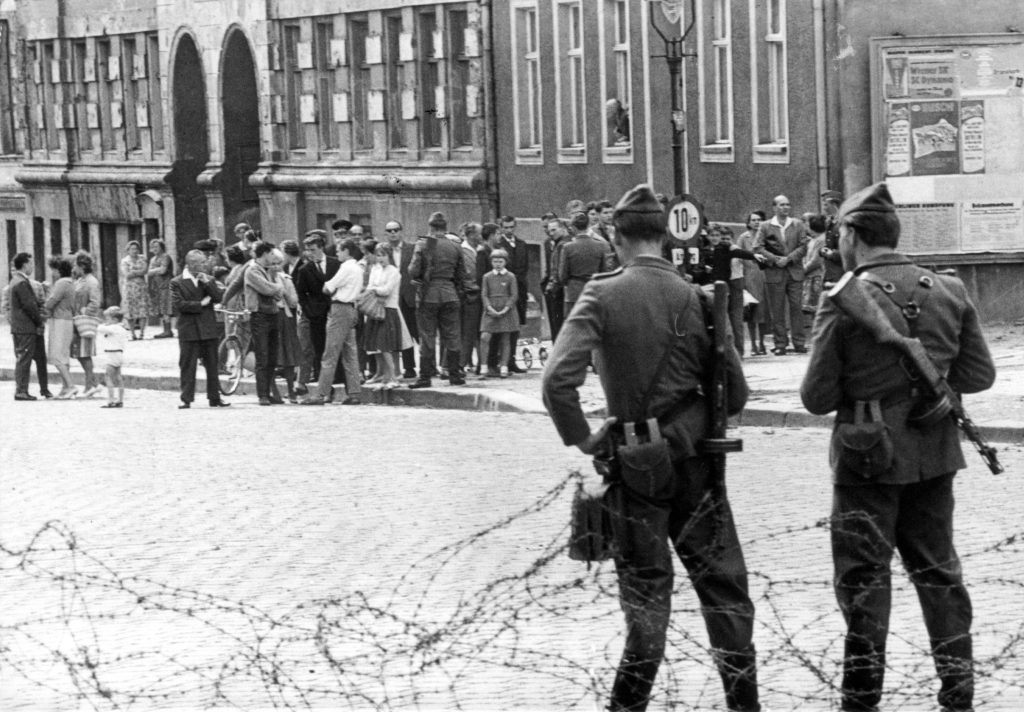 ---
Finish This Sentence . . . with L.M. Elliott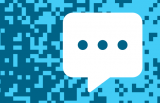 As part of our Virtual Book Tour, TeachingBooks asks authors and illustrators to complete short sentence prompts. Enjoy L.M. Elliott's response.
"While working on this latest project, I was surprised to discover that…"
While working on this latest project, I was surprised (stunned!) by so many things. I'll start with the shocking fact that East Germany literally raised the Berlin Wall—caging millions of people—overnight. For weeks the communist regime had secretly stockpiled 330 tons of barbed wire, hundreds of concrete posts and pairs of protective gloves. Then, over a holiday weekend, when all Berliners—East and West—had been enjoying and distracted by fireworks and children's festivals, the Soviet-backed "Operation Rose" (bizarrely referencing the wire's thorns) kicked into gear a few minutes past midnight. More than 40,000 men—armed troops, paramilitary police and factory workers, Stasi secret police, backed with armored car and water canon units plus Russian tanks and infantry—were mobilized. By dawn they had unfurled and secured 28 miles of barrier splitting Berlin in half. Without warning, families, friends, sweethearts awoke to find they were separated, most forever. Radio trucks patrolled the city, broadcasting that the Wall was being raised to protect the "good German people" and their "Utopia" from "warmongering" Americans and their NATO allies.
Two other astounding facts just as example of the many others:
In East Germany, youth were encouraged and rewarded for spying on one another. If someone shouted the state-prescribed greeting of "Freundschaft!" (Friendship!) with less than complete exuberance, or admitted to being religious, or cut-up during a classmate's presentation on a Soviet martyr or leader, they could be pulled in front of a youth tribunal for questioning and a Selbstkritik (self-criticism). They might also be reported to school authorities, which would destroy a youth's chances for being sent to university.
On the other side of town, American military kids faced far more dangers than I imagined. If their fathers were intelligence officers, for instance, and they got too close to the border, they were vulnerable to Stasi secret police picking them up to hold overnight as a way of threatening, or trying to turn, those parents. With Berlin buried 100 miles inside East Germany, the only way for "Berlin Brats" teams to play other American schools was to travel in sealed "duty trains," in unnerving overnight passage through communist controlled territory.
"A surprising thing that helps me work is…"
A surprising thing that helps me work is looking up at the wall of photos I have above my desk of the travel adventures I've been blessed to share with my now grown children. Shots of them in Scotland, Italy, France, England, Canada, Ireland, and a cross-continental drive through the United States always fill my heart with the sound of their laughter and amazement. These trips also featured research for some of my favorite books—Under a War-torn Sky, A Troubled Peace, and Da Vinci's Tiger—and so the photographs never fail to reboot my imagination, if I am lagging!
"I hope that my book encourages teens to think about…"
I hope that my book will encourage teens to resolve to think for themselves: to not swallow disinformation or labels born of fear or lack of firsthand knowledge; to listen and open up their hearts to others who differ from them; and to accept our responsibility as a free people not to simply stand by when witnessing others fighting for their own rights, whether in a foreign nation or marching on our own streets. I hope Walls also brings home the sacrifice and bravery of military kids, who follow their parents often into dangerous settings and who have to constantly redefine and re-establish themselves in new schools with each two-year posting. Please reach out to them if they come to your neighborhood and welcome them.
Finally, I hope the cousins' hard-won friendship—and anecdotes like East Berliners being so hungry for American jazz that they devised recording live performances onto old x-ray film—will help teens marvel at the astounding resilience of the human spirit, our longing to imagine and to cry out against darkness. The saga of the Berlin Wall and its eventual dismantling proves free speech, the arts, and some empathy can indeed change minds and chip away at barriers.
---
Thank you!
To wrap up this Virtual Book Tour, we thank L.M. Elliott for signing a book for all of us.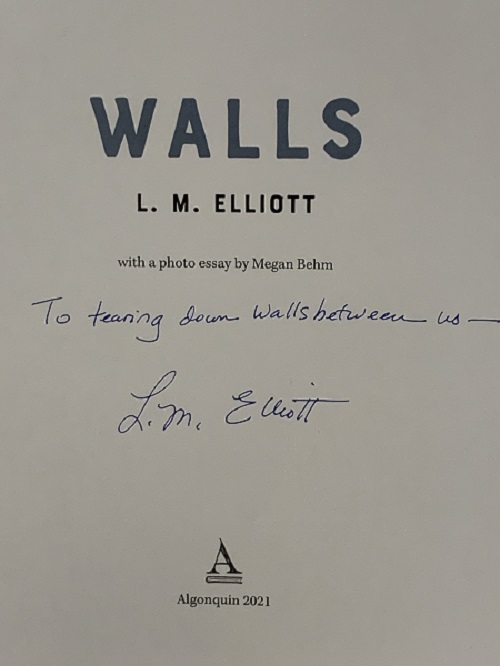 ---
More Connections to L.M. Elliott and Walls
---
Explore all of the titles featured in the TeachingBooks Virtual Book Tour: one link with author interviews, lesson plans, activities, and more!
Archival image of soldiers used with permission from Alamy. All other text and images are courtesy of L.M. Elliott and Workman Books and may not be used without expressed written consent.