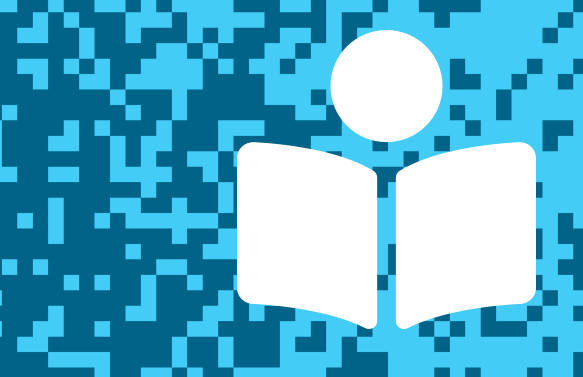 In this post, we feature author Kaela Rivera. You can hear her speak about her debut novel, Cece Rios and the Desert of Souls, and try her "invitation to imagine" activity. You'll also find other resources to explore. Thanks for joining us, and let us know what you think in the comments below!
---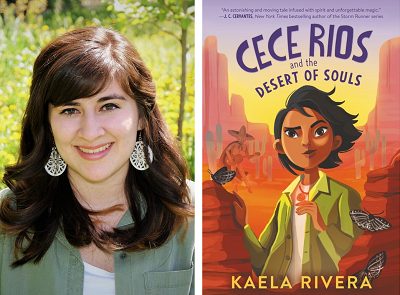 Written by Kaela Rivera
Published by Harper, an imprint of HarperCollins Children's Books
Release date: April 13, 2021
Living in the remote town of Tierra del Sol is dangerous, especially in the criatura months, when powerful spirits roam the desert. But Cecelia Rios has always believed there was more to the criaturas, much to her family's disapproval. After all, only brujas—humans who capture and control criaturas—consort with the spirits, and brujeria is a terrible crime. When her older sister, Juana, is kidnapped by El Sombrerón, a powerful dark criatura, Cece is determined to bring Juana back, but she'll have to become a bruja herself. Thankfully, the legendary criatura Coyote has a soft spot for humans and agrees to help her on her journey. With him at her side, Cece sets out to reunite her family—and maybe even change what it means to be a bruja along the way. Rich with Mexican-inspired folklore, this coming-of-age debut introduces a magical desert world with a big-hearted, brave girl at its center.
From Cece Rios and the Desert of Souls, by Kaela Rivera

I was seven years old when I met my first criatura.

Read a longer excerpt from Cece Rios and the Desert of Souls, by Kaela Rivera.
---
Listen to Kaela Rivera talking with TeachingBooks about creating Cece Rios and the Desert of Souls. You can click the player below or experience the recording on TeachingBooks, where you can read along as you listen, and also translate the text to another language.
---
Invitation to Imagine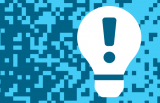 TeachingBooks asks each author or illustrator on our Virtual Book Tour to share a writing prompt, a drawing exercise, or just an interesting question to spark curiosity and creativity. Enjoy the following activity contributed by Kaela Rivera.
Imagination Activity with Kaela Rivera
Select one of your favorite characters. They can be from a TV show, book series, or movie—superhero, normal, or whatever! Now, ask "what if" and change one big thing about the character's situation.
Example: What if Spider-Man had been born two hundred years earlier? Or, what if Moana had been scared of the ocean? How would those changes alter the story? Peter Parker might have been accused of being a witch when his superpowers started to show and would have had to outrun witch hunters, and maybe Moana's story would have focused on a girl overcoming fear to protect her island. By asking "what if" about stories you love, you can start making your own entirely new story and weave an independent and fresh adventure. Try it! I bet you'll make something amazing.
---
Finish This Sentence . . . with Kaela Rivera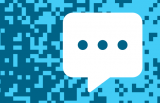 As part of our Virtual Book Tour, TeachingBooks asks authors and illustrators to complete short sentence prompts. Enjoy Kaela Rivera's response.
"A surprising thing that helps me work is…"
A surprising thing that helps me work is staring out windows while listening to music. It may look like inattentiveness to other people, but I'm in fact quite busy crafting a world. It's amazing how much of Cece came from staring out the windows of cars, trains, buses, and sometimes even my office window, while listening to a playlist of random songs I don't know.
"You may not know that I can…"
You may not know that I can go head-to-head in a fight! I've trained in tae kwon do (a Korean martial art), mixed martial arts, and even a bit of capoeira (a Brazilian martial art). I also enjoy axe-throwing—and I'm pretty good at it!
---
Thank you!
To wrap up this Virtual Book Tour, we thank Kaela Rivera for signing a book for all of us.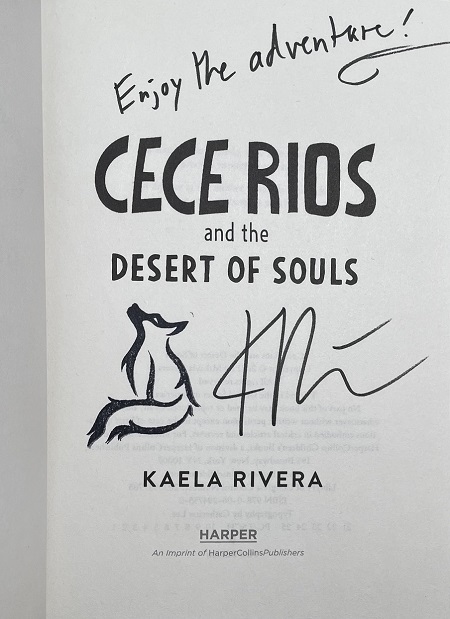 ---
More Connections to Kaela Rivera and Cece Rios and the Desert of Souls
---
Explore all of the titles featured in the TeachingBooks Virtual Book Tour: one link with author interviews, lesson plans, activities, and more!
All text and images are courtesy of Kaela Rivera and HarperCollins Children's Books and may not be used without expressed written consent.