One for STEM, and STEM for All
By Laurie Wallmark
As a child, I loved everything and anything having to do with math and science, especially math. (This was before the term STEM was coined.) I read every popular book I could find in my local library about these subjects. It didn't matter that I couldn't yet understand half (okay, more than half) of what I read. The bits and pieces I could comprehend helped build up both my knowledge of and my interest in science and math. The more I read, the more I understood and the more I loved these fields. I even built a small mechanical computer in seventh grade.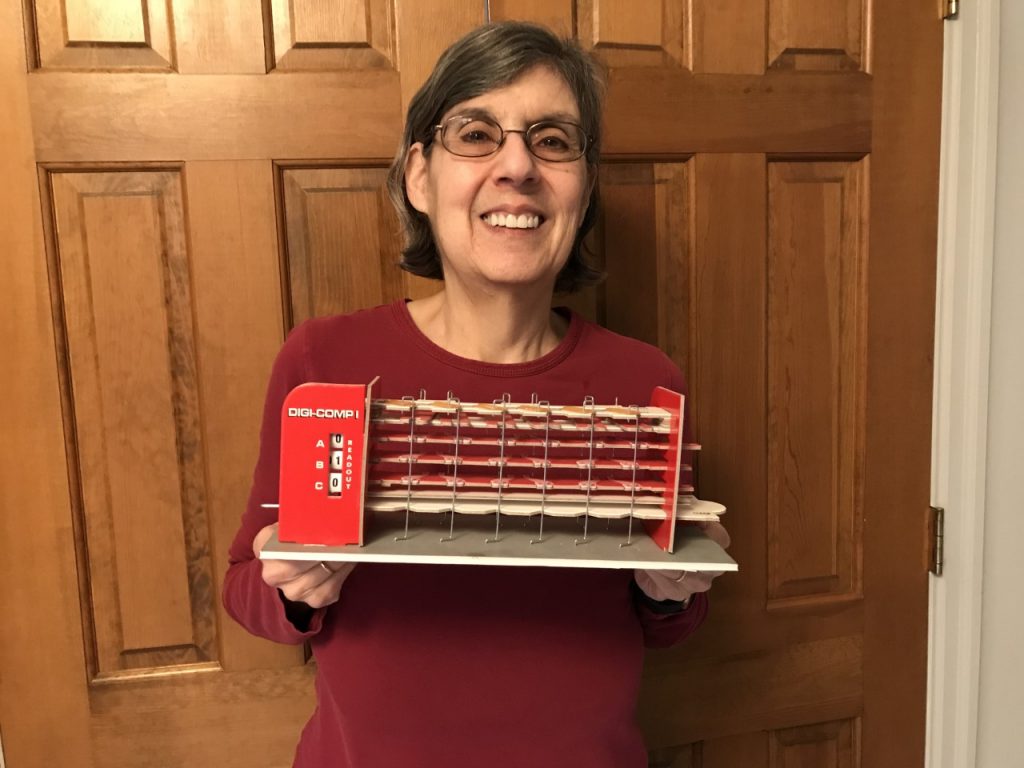 Flash forward to college. I ended up majoring in biochemistry, because that gave me the excuse to study related scientific disciplines, such as biology and chemistry, in addition to math. In addition to all the other major and distribution requirements, I also took several programming classes. These were so much fun, and I fell in love with writing software.
Combining my many interests (math, science, computers), after graduation I took a job as a scientific programmer. Later, I went back and earned a master's degree in information systems, a field that combines computers, processes, and people.
So, what does my background in STEM have to do with writing for children? Well, as it turns out, a lot. When I speak with children (and adults) about writing, I always suggest they "Write Your Passion." Obviously, I have a passion for STEM and want to share that love with others. But I have another, equally important, passion. It's important to me that children realize careers in STEM are open to anyone, regardless of sex, race, ethnicity, physical or mental challenges, etc.
That's why I write about unsung women in STEM.
So, how can we use books to encourage children's interest in STEM? To do so, we need to ignite their excitement at an early age. Barriers to children embracing these fields include inadequate access and exposure, prejudicial expectations, and lack of interest, among other things. How can we help children overcome these obstacles? It's easy. All we have to do is expose them to STEM-related books, both fiction and nonfiction.
The digital divide in our country runs deep, especially in these days of remote learning. Because of circumstances beyond their control, many children have inadequate access and exposure to STEM activities. If our poorer school districts don't have enough money for up-to-date textbooks, how can they afford the resources needed for children to learn about STEM? Lab equipment, computers, and visiting scientists are expensive. If we can't provide hands-on experiences for these children, at least they can experience STEM through books.
Certain groups of students, such as girls, children of color, and those with physical or mental challenges, have an additional barrier to their access to STEM—prejudicial expectations. In my own field of computer science, only 18% of the computer science majors nationwide in 2018 were women. Yet in 1985, thirty-three years earlier, 37% were women. The number of woman computer science majors shrunk!
Books can work to combat the stereotypes driving these prejudices. Children who think people like them aren't supposed to be good in STEM will see themselves reflected in biographies of role models. For children who are not part of these underrepresented minorities, books will provide a window to the wide diversity of people involved in STEM. Many children have preconceived notions of about what they think a scientist or mathematician is supposed to look like. Books with an emphasis on diversity will help change these.
The last major barrier to enthusiasm about STEM is a child's lack of interest. It's perfectly reasonable for a child to have, or even prefer, interests other than STEM. What is not acceptable is if this lack of interest is due to the child never experiencing the creative, enjoyable side of STEM.
Here again, books can help. Books that include STEM-related content don't need to be dry and pedantic. Rather, they can show children all the ways that they can make STEM a part of their everyday lives. Most importantly, through books, they'll learn that STEM is fun!
There are other reasons children might not embrace STEM. They make think STEM isn't creative. Or it's too nerdy. Or too hard. Many children are afraid of failure—without exposure to STEM, they don't realize most scientific advances are built on series of failures!
There are so many well-written and -illustrated STEM-related books, both fiction and nonfiction, today. Sharing these with children will help prepare them for today's increasingly technological world.
Listen to the Meet-the-Author Recording for Code Breaker, Spy Hunter.
Hear Laurie Wallmark's Audio Name Pronunciation.
Visit Laurie Wallmark's blog.
Explore Laurie Wallmark's books.
Text and images are courtesy of Laurie Wallmark and may not be used without expressed written consent.