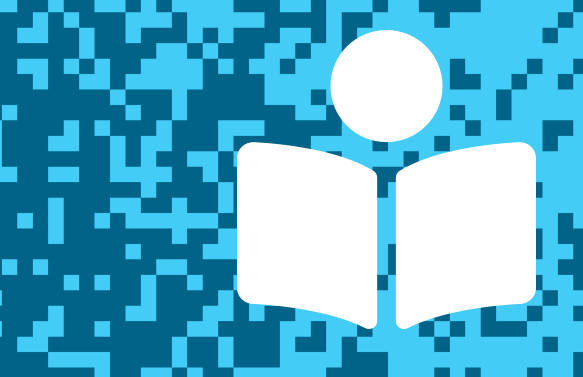 In this post, we feature author Crystal Maldonado. You can hear her speak about her debut novel, Fat Chance, Charlie Vega, and try her "invitation to imagine" activity. You'll also find other resources to explore. Thanks for joining us, and let us know what you think in the comments below!
---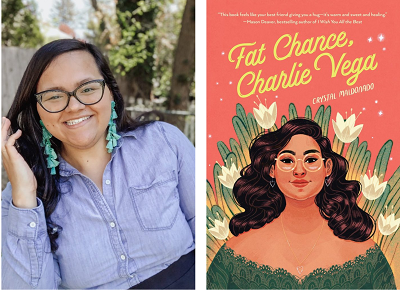 Written by Crystal Maldonado
Published by Holiday House
Release date: February 1, 2021
Charlie Vega is a lot of things. Smart. Funny. Artistic. Ambitious. Fat. People sometimes have a problem with that last one. Especially her mom. Charlie wants a good relationship with her body, but it's hard, and her mom leaving a billion weight loss shakes on her dresser doesn't help. The world and everyone in it have ideas about what she should look like: thinner, lighter, slimmer-faced, straighter-haired. Be smaller. Be whiter. Be quieter.
But there's one person who's always in Charlie's corner: her best friend Amelia. So when Charlie starts a tentative relationship with cute classmate Brian, the first worthwhile guy to notice her, everything is perfect until she learns one thing—he asked Amelia out first. So is she his second choice or what? Does he even really see her? A sensitive, funny, and painful coming-of-age story with a wry voice and tons of chisme, Fat Chance, Charlie Vega tackles our relationships to our parents, our bodies, our cultures, and ourselves.
From Fat Chance, Charlie Vega, by Crystal Maldonado

I imagine being kissed about a hundred times a day.

Read a longer excerpt from Fat Chance, Charlie Vega, by Crystal Maldonado.
---
Listen to Crystal Maldonado talking with TeachingBooks about creating Fat Chance, Charlie Vega. You can click the player below or experience the recording on TeachingBooks, where you can read along as you listen, and also translate the text to another language.
---
Invitation to Imagine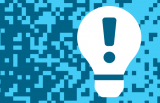 TeachingBooks asks each author or illustrator on our Virtual Book Tour to share a writing prompt, a drawing exercise, or just an interesting question to spark curiosity and creativity. Enjoy the following activity contributed by Crystal Maldonado.
Imagination Activity with Crystal Maldonado
Before she begins to write, Charlie Vega likes to set up her workspace with all of her favorite things. She cues up a good playlist, turns on her twinkle lights, and gathers a nice pen and notebook or her fully charged laptop, depending on her mood. Describe or draw what your ideal workspace would look like, if money were no object!
---
Finish This Sentence . . . with Crystal Maldonado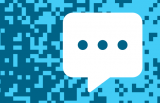 As part of our Virtual Book Tour, TeachingBooks asks authors and illustrators to complete short sentence prompts. Enjoy Crystal Maldonado's response.
"I knew I would be a writer when…"
I knew I would be a writer when I was in the third grade and I had to work on a writing prompt at school — and actually enjoyed myself! I kept asking for more paper to keep writing my story, long after all of my classmates had finished theirs. I felt so powerful being able to create something from nothing!
"I hope that my book may encourage readers to think about…"
I hope that my book may encourage readers to think about how they treat one another and themselves. It can sometimes be easy to cast judgment, but I hope we can extend kindness to each other and celebrate everyone for exactly who they are.
---
Thank you!
To wrap up this Virtual Book Tour, we thank Crystal Maldonado for signing a book for all of us.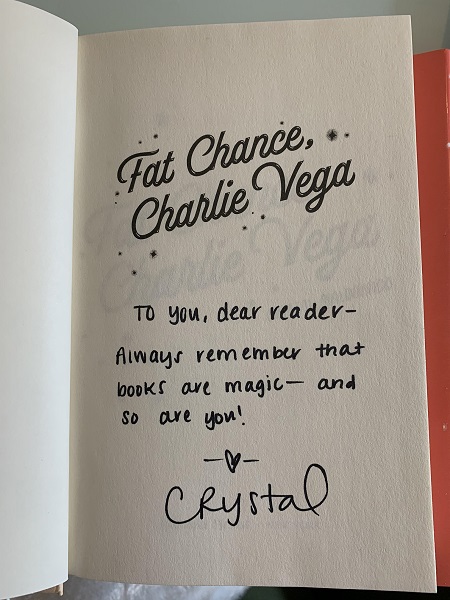 ---
More Connections to Crystal Maldonado and Fat Chance, Charlie Vega
---
Explore all of the titles featured in the TeachingBooks Virtual Book Tour: one link with author interviews, lesson plans, activities, and more!
All text and images are courtesy of Crystal Maldonado and Holiday House and may not be used without expressed written consent.