On Adventure
By G.D. Falksen
Adventure stories are among the oldest and most recognizable kinds of narratives in literature. They span countless genres, from thrillers to detective stories, action pieces to sci-fi and fantasy. Adventure narratives appear in ancient mythology and legends, and arguably pre-date recorded history and the written word. And unlike most story types, which are bound together by parameters of setting, archetypes, or themes, adventure fiction grows and changes to fit the mold its story needs to inhabit. Star Wars is sci-fi/fantasy, the Bond books are spy novels, the Odyssey is an epic poem from ancient Greece, but all of them are adventures.
Adventure fiction follows a common premise: the protagonists are faced with a challenge or problem outside of the reader's normal experiences, they pursue a goal of great importance to them, face adversity along the way, and in the end, often against all odds, they triumph. And through it all, we are along for the ride, experiencing excitement and thrills unlike our everyday experiences. This is not slice of life storytelling, and while it may well delve into some significant philosophical issues, they are undercurrents traveling alongside the action, never eclipsing it. And whatever happens along the way, in the end, the good guys win.
This is precisely why adventure stories are so important, both for adults and especially for younger readers. They provide a fictional world in which one can safely confront danger and adversity before returning to the real world better prepared to face challenges in real life. This mode of storytelling is sometimes derided as mere escapism, a temporary jaunt in a world where things are simpler and more clear-cut. Certainly, in the real world challenges are often more nebulous and the outcomes less reliable. The good guys don't always win, the bad guys often get away with things, and sometimes telling the two apart can get unpleasantly confused.
I would argue that so-called escapist fiction has value simply by virtue of providing an alternative to the stresses of daily life. Any book lover knows the relief offered by escaping into the pages of a story that offers thrills, excitement, or calm, depending on what is required at the moment. The world can be overwhelming at times, and one of art's many roles is to provide comfort for those in need. But adventure stories go a step further, offering a vision of a world where success against all odds is possible. This is why the clarity of an adventure is so important, especially for younger readers. Being able to see fictional characters taking risks and ultimately succeeding can be a powerful motivator for action in the real world. Just because things don't always work out in real life doesn't mean that one shouldn't try, and reading stories about people who take risks and ultimately triumph can be deeply inspiring.
The world can be disheartening, conflicted, and confused. Adventures remind us that hope is worthwhile and that hard work can succeed in the end. That is a message that everyone needs to hear sometimes. Even at the top of the third act with the heroes on the ground and the villain monologuing in triumph, we need to get up, dust ourselves off, and keep going.
In closing, I would like to make one final point about adventure fiction. Adventures are for everyone, and they should be for everyone. Every reader has the right to see characters like themselves in the pages of these stories, persevering through adversity and ultimately succeeding in their goals.
My book, The Secret Life of Kitty Granger, stars a teenage autistic girl in 1960s London. However, it is not a book about autism. It is a book about a teenager who becomes a spy and saves Britain from a fascist conspiracy. Kitty's autism is important to the story. It's an integral part of her and it affects how she experiences and interacts with the world around her. But it is not the point of the story. The point of the story is an adventure; an adventure centered on Kitty Granger, a working-class autistic girl from the East End of London.
Neurotypical characters get to have adventures and be the hero. Neurodiverse characters should get to as well.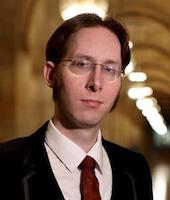 Listen to the Meet-the-Author Recording for The Secret Life of Kitty Granger.
Hear G.D. Falksen's Audio Name Pronunciation.
Visit G.D. Falksen's website.
Text and images are courtesy of G.D. Falksen and may not be used without expressed written consent.