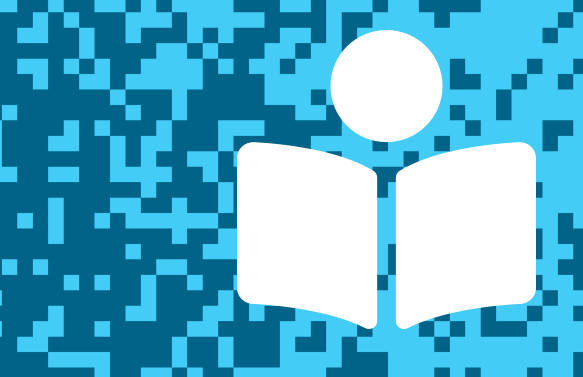 In this post, we feature award-winning author Meg Medina, whose beloved titles include the Newbery Medal-winner Merci Suárez Changes Gears. You can hear her speak about her new novel, Merci Suárez Can't Dance, and try her "invitation to imagine" activity. You'll also find other resources to explore. Thanks for joining us, and let us know what you think in the comments below!
---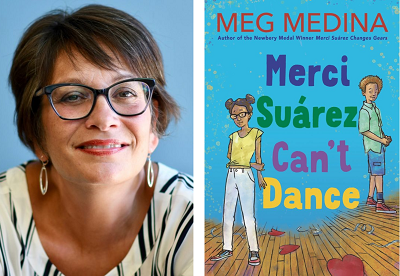 Written by Meg Medina
Published by Candlewick Press
Release date: April 6, 2021
Seventh grade is turning out to be a real trial for Merci Suárez. In addition to lots of school challenges, she's tangling again with bossy classmate Edna Santos, who is in charge of the annual Heart Ball. One thing is for sure: Merci Suárez can't dance—not at the Heart Ball or anywhere else. Dancing makes her almost as queasy as love does, especially now that Tía Inés, her merengue-teaching aunt, has a new man in her life. Unfortunately, Merci can't seem to avoid love or dance for very long. She used to talk about everything with her grandfather, Lolo, but with his Alzheimer's getting worse each day, whom can she trust to help her make sense of all the new things happening in her life? The Suárez family is back in a touching, funny story about growing up and discovering love's many forms, including how we learn to love and believe in ourselves.
From Merci Suárez Can't Dance, by Meg Medina.

Sometimes you have bad options but you still have to pick, like, do you eat the yucca or the quimbombó at Lolo and Abuela's house for dinner? You just make the best of it. So that's what I did.

Read a longer excerpt from Merci Suárez Can't Dance, by Meg Medina.
---
Listen to Meg Medina talking with TeachingBooks about creating Merci Suárez Can't Dance. You can click the player below or experience the recording on TeachingBooks, where you can read along as you listen, and also translate the text to another language.
---
Invitation to Imagine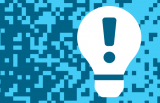 TeachingBooks asks each author or illustrator on our Virtual Book Tour to share a writing prompt, a drawing exercise, or just an interesting question to spark curiosity and creativity. Enjoy the following activity contributed by Meg Medina.
Imagination Activity with Meg Medina
I use a lot of events from my life as starting points for characters or storylines in my books. One exercise I use is called I Remember. I need my phone timer, a pencil, and a piece of paper or journal. I write "I Remember" on the top of the page, and then I set the timer for eight minutes. Then I time myself, and I write about something specific that I remember from when I was a kid. Some of my topics have been my favorite toy or game, my first friend, something I got in trouble for –– even someone I was scared of. As I write, I try to use lots of details about what I remember. When I have two minutes left, I ask myself: Why do I think I remember this? The answer to that question often tells me something about what I found truly meaningful as a younger person. And all the details give me materials for my characters and plots.
---
Finish This Sentence . . . with Meg Medina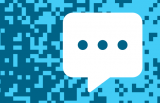 As part of our Virtual Book Tour, TeachingBooks asks authors and illustrators to complete short sentence prompts. Enjoy Meg Medina's response.
"I hope that my book encourages kids to think about . . ."
I hope that my book may encourage kids to think about all the ways we have to get out of our comfort zones when we're growing up. Sometimes it means trying something new that makes us uncomfortable. Sometimes it means thinking about ourselves or someone else in a new way.
---
Thank you!
To wrap up this Virtual Book Tour, we thank Meg Medina for signing a book for all of us.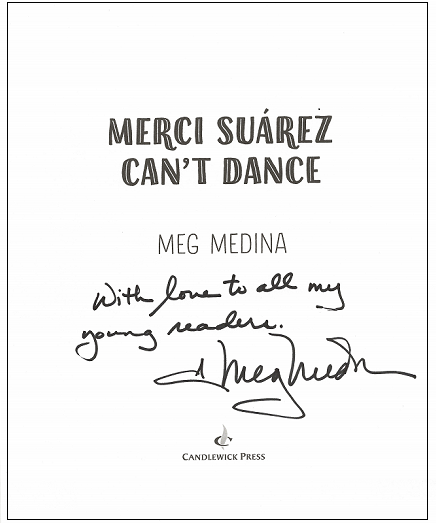 ---
More Connections to Meg Medina and Merci Suárez Can't Dance
---
Explore all of the titles featured in the TeachingBooks Virtual Book Tour: one link with author interviews, lesson plans, activities, and more!
Author photo is by Sonya Sones. All other text and images are courtesy of Meg Medina and Candlewick Press and may not be used without expressed written consent.