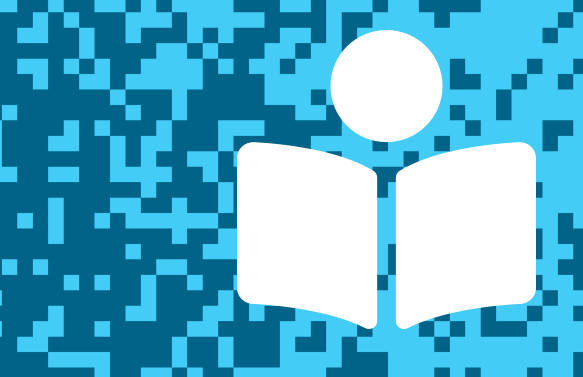 In this post, we feature award-winning author Eliot Schrefer, whose titles include the National Book Award Finalists Threatened and Endangered. You can hear him speak about his new book, Case File: Little Claws, the first title in The Animal Rescue Agency series, and try his "invitation to imagine" activity. You'll also find other resources to explore. Thanks for joining us, and let us know what you think in the comments below!
---
Written by Eliot Schrefer
Published by Katherine Tegen Books, an imprint of HarperCollins Children's Books
Release date: January 12, 2021
When an animal is in trouble, there's only one place to turn: the Animal Rescue Agency! Dashing Esquire Fox used to organize the world's most elaborate chicken raids until the day she encountered Mr. Pepper. Meeting the blustery old rooster changed her heart, convincing her to form the Animal Rescue Agency, which masterminds rescue operations across the globe. Esquire and her unlikely chicken business manager coordinate their far-flung agents to get them to the Arctic, where saving a polar bear cub will pit them against the scariest predator in the world: a human. Eliot Schrefer introduces a delightful and dynamic animal duo in this first book in a hilarious and heartwarming middle-grade series about friendship and conservation.
From Case File: Little Claws, by Eliot Schrefer.

It was a strange life, Esquire knew, a fox sharing a home with an old rooster. But she and Mr. Pepper had been working together for years. And Esquire was no normal fox.

Read a longer excerpt from Case File: Little Claws, by Eliot Schrefer.
---
Listen to Eliot Schrefer talking with TeachingBooks about creating Case File: Little Claws. You can click the player below or experience the recording on TeachingBooks, where you can read along as you listen, and also translate the text to another language.
---
Invitation to Imagine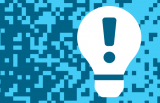 TeachingBooks asks each author or illustrator on our Virtual Book Tour to share a writing prompt, a drawing exercise, or just an interesting question to spark curiosity and creativity. Enjoy the following activity contributed by Eliot Schrefer.
Imagination Activity with Eliot Schrefer
Here's how I start a story, and I hope it might be useful for you! Instead of imagining the beginning, I first think about the middle of the story. I like to have the main character make a big decision in that moment, something that is really hard to decide. A true dilemma! Say I'm writing a war story about a sergeant leading her platoon. Maybe she'll have to decide whether to do the thing that will save her platoon but lose the war, or win the war by potentially sacrificing her platoon. (Then plotting the rest of the story is manageable—I just build the story up to that dilemma point, and write what happens after.) Can you come up with a character, and then think of what the most difficult choice for that character might be? Then write the story leading up to that choice, and tell us what happens after!
---
Finish This Sentence . . . with Eliot Schrefer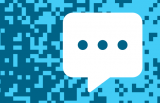 As part of our Virtual Book Tour, TeachingBooks asks authors and illustrators to complete short sentence prompts. Enjoy Eliot Schrefer's response.
"My protagonist can't live without . . ."
Esquire Fox can't live without her jazz records, her tweed jacket, and her set of lockpicks. She wouldn't admit it, but she also can't live without Mr. Pepper, the rooster who manages the Animal Rescue Agency and gets her out of trouble!
"While working on my latest book, I was surprised to learn . . ."
While working on The Animal Rescue Agency, I was surprised to learn that foxes have the most horrifying howls—they sound like someone screaming in pain. I made a quick editorial decision that Esquire wouldn't sound like that. Otherwise, no one would want to listen to the audiobook!
---
Thank you!
To wrap up this Virtual Book Tour, we thank Eliot Schrefer for signing a book for all of us.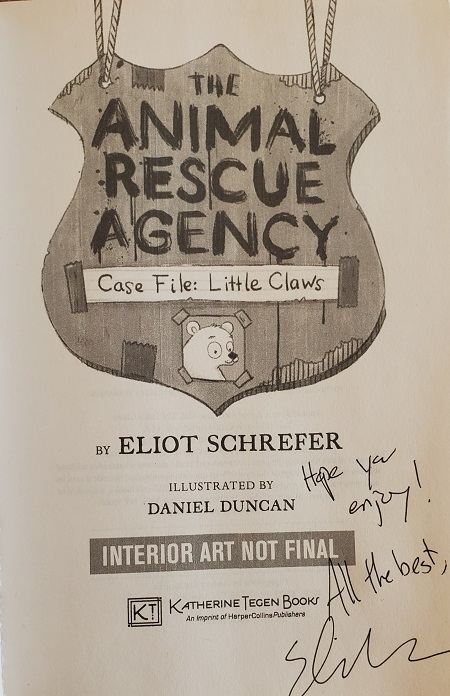 ---
More Connections to Eliot Schrefer and Case File: Little Claws
---
Explore all of the titles featured in the TeachingBooks Virtual Book Tour: one link with author interviews, lesson plans, activities, and more!
Author photo is by Priya Patel. All other text and images are courtesy of Eliot Schrefer and HarperCollins and may not be used without expressed written consent.