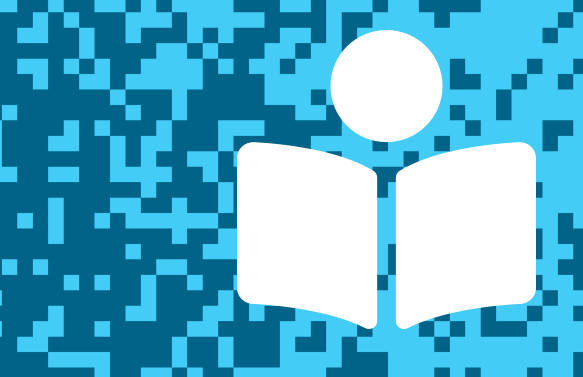 In this post, we feature author Andrea Wang, whose award-winning titles include The Nian Monster. You can hear her speak about her new picture book, Watercress, and try her "invitation to imagine" activity. You'll also find other resources to explore. Thanks for joining us, and let us know what you think in the comments below!
---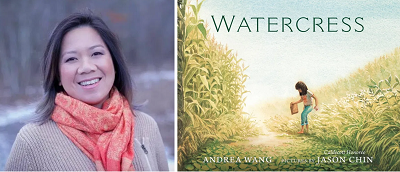 Written by Andrea Wang and illustrated by Jason Chin
Published by Neal Porter Books, an imprint of Holiday House
Release date: March 30, 2021
On a drive through Ohio in an old Pontiac, a young girl's parents stop suddenly when they spot watercress growing in a ditch by the side of the road. Wading into the muck, the whole family collects as much of the muddy watercress as they can. At first, the girl is embarrassed. Why can't her family get food from the grocery store? But when her mother shares a story of her family's time in China, the girl learns to appreciate the fresh food they foraged. Together, they make a new memory of watercress. Award-winning author and artist Jason Chin illustrates Andrea Wang's moving autobiographical story about a child of immigrants connecting with her heritage.


---
Listen to Andrea Wang talking with TeachingBooks about creating Watercress. You can click the player below or experience the recording on TeachingBooks, where you can read along as you listen, and also translate the text to another language.
---
Invitation to Imagine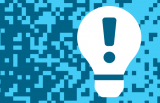 TeachingBooks asks each author or illustrator on our Virtual Book Tour to share a writing prompt, a drawing exercise, or just an interesting question to spark curiosity and creativity. Enjoy the following activity contributed by Andrea Wang.
Imagination Activity with Andrea Wang
Think about a food that you either love or hate to eat. Do you have a memory about eating it? Maybe you remember the first time you tasted it, or a time when you wanted to eat it but there wasn't any left! Write about your memory—or draw it.
Finish This Sentence . . . with Andrea Wang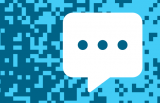 As part of our Virtual Book Tour, TeachingBooks asks authors and illustrators to complete short sentence prompts. Enjoy Andrea Wang's response.
"You may not know that I can . . ."
You may not know that I can make fancy cakes! I used to bake and decorate birthday cakes for my kids and my friends' kids. The most elaborate one was a castle with turrets, pennants flying from the turrets, and roses climbing up the white brick walls. Everything except the pennants was edible.
"I knew I would be a writer when . . ."
I knew I would be a writer when a poem I wrote in my third-grade class was published in the town newspaper, along with a photo of me writing it. Even though my entire class had their poems published, it felt so special to see my name and words in print!
---
Thank you!
To wrap up this Virtual Book Tour, we thank Andrea Wang for signing a book for all of us.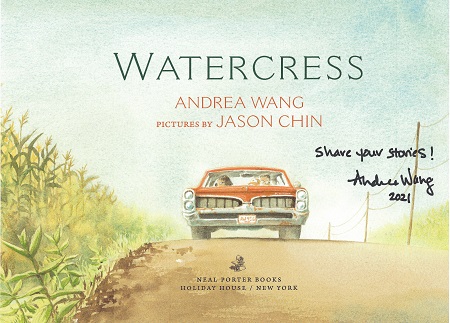 ---
More Connections to Andrea Wang and Watercress
---
Explore all of the titles featured in the TeachingBooks Virtual Book Tour: one link with author interviews, lesson plans, activities, and more!
All text and images are courtesy of Andrea Wang, Jason Chin, and Holiday House Books for Young Readers and may not be used without expressed written consent.