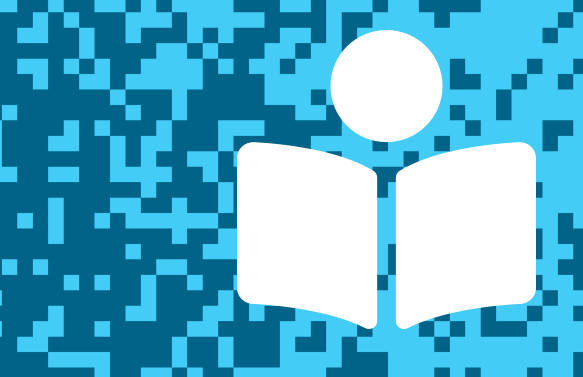 In this post, we feature author Gillian McDunn, whose previous titles include Caterpillar Summer, a Junior Library Guild selection. You can hear her speak about her middle-grade novel, These Unlucky Stars, and try her fun "invitation to imagine" activity. You'll also find other resources to explore. Thanks for joining us, and let us know what you think in the comments below!
---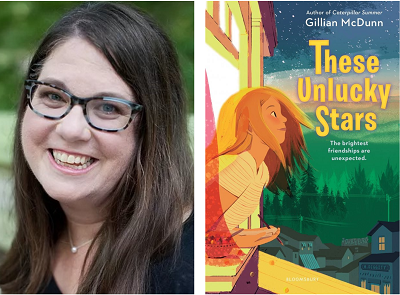 Written by Gillian McDunn
Published by Bloomsbury Children's Books
Release date: March 2, 2021
Ever since her mother left a few years ago, Annie has felt like the odd one out in her family. Her dad and brother are practical and organized; they just don't understand the way she thinks, in lines and color. Even at school, she feels like an outsider. When a prank goes wrong, Annie finds herself making amends with Gloria, an eccentric elderly woman. As she begins to connect with Gloria and her weird little dog, it becomes clear that Gloria won't be able to live on her own for much longer. But it's this brief and important friendship that gives Annie the confidence to let people in and begin to chart her own luck and path to happiness. This heartwarming novel explores how the most unexpected friendships can become the most important.
From These Unlucky Stars, by Gillian McDunn

You can measure how lucky someone is by asking them whether they believe in it.

Lucky people say, "There's no such thing."

Read a longer excerpt from These Unlucky Stars, by Gillian McDunn
---
Listen to Gillian McDunn talking with TeachingBooks about creating These Unlucky Stars. You can click the player below or experience the recording on TeachingBooks, where you can read along as you listen, and also translate the text to another language.
---
Invitation to Imagine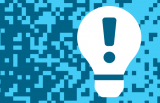 TeachingBooks asks each author or illustrator on our Virtual Book Tour to share a writing prompt, a drawing exercise, or just an interesting question to spark curiosity and creativity. Enjoy the following activity contributed by Gillian McDunn.
Imagination Activity with Gillian McDunn
Annie's favorite place in the world is her thinking spot: the rooftop outside her bedroom window. She loves to sit there, drawing "her" mountains and noticing the way that the view changes based on the seasons and the time of day. Draw a place, real or imagined, that would be your best thinking spot. Write a paragraph about what makes it a good thinking spot. Be sure to include what you would see, hear, feel, and smell while you are there.
---
Finish This Sentence . . . with Gillian McDunn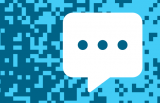 As part of our Virtual Book Tour, TeachingBooks asks authors and illustrators to complete short sentence prompts. Enjoy Gillian McDunn's response.
"A surprising thing that helps me work is . . ."
A surprising thing that helps me work is my dog, Friday. She loves to curl up under the desk when I'm writing. If I ever feel stuck, I usually take her on a walk; this always helps my creativity start flowing again!
"I hope that my book may encourage readers to think about . . ."
I hope that my book may encourage readers to think about the stories we all tell ourselves. Because of something her mother told her many years earlier, Annie has viewed life through the lens of being unlucky. But as the book progresses, Annie changes her relationship with that story, and she changes how she views herself.
---
Thank you!
To wrap up this Virtual Book Tour, we thank Gillian McDunn for signing a book for all of us.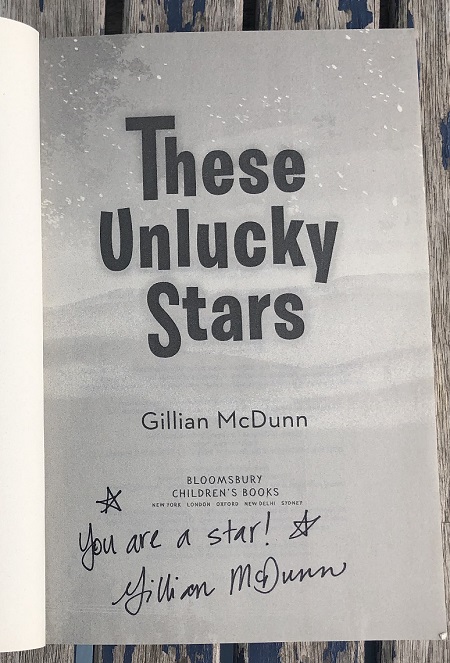 ---
More Connections to Gillian McDunn and These Unlucky Stars
---
Explore all of the titles featured in the TeachingBooks Virtual Book Tour: one link with author interviews, lesson plans, activities, and more!
All text and images are courtesy of Gillian McDunn and Bloomsbury Children's Books and may not be used without expressed written consent.