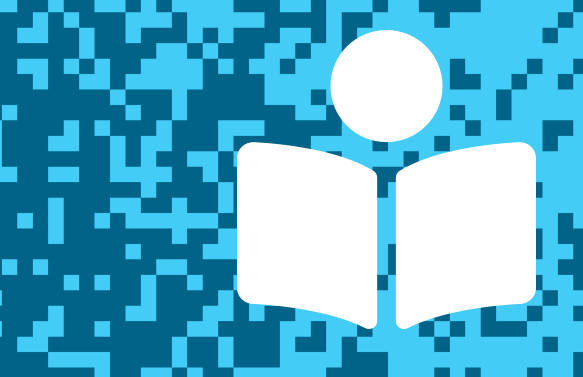 In this post, we feature author Chrystal D. Giles. You can hear her speak about her debut novel, Take Back the Block, and try her fun "invitation to imagine" activity. You'll also find other resources to explore. Thanks for joining us, and let us know what you think in the comments below!
---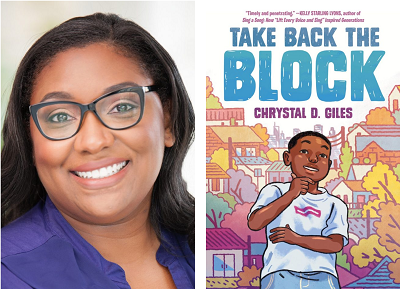 Written by Chrystal D. Giles
Published by Random House Books for Young Readers
Release date: January 26, 2021
Wes Henderson has the best style in sixth grade. That—and hanging out with his crew and playing video games—is all he wants to be thinking about, not the protests his parents drag him to. But when a real-estate developer makes an offer to buy the neighborhood Wes has lived in his whole life, everything changes. All the grownups argue, and some of Wes's best friends may be moving. Wes isn't about to give up the only home he's ever known. He knows there has to be a missing piece that will solve this puzzle, but can he find it before it's too late? Exploring community, gentrification, justice, and friendship, Take Back the Block introduces an irresistible sixth-grader and asks what it means to belong—to a place and a movement—and to fight for what you believe in.
From Take Back the Block, by Chrystal D. Giles.

I spent the morning of my eleventh birthday carrying a sign that read WE WERE HERE FIRST!

Read a longer excerpt from Take Back the Block, by Chrystal D. Giles.
---
Listen to Chrystal D. Giles talking with TeachingBooks about creating Take Back the Block. You can click the player below or experience the recording on TeachingBooks, where you can read along as you listen, and also translate the text to another language.
---
Invitation to Imagine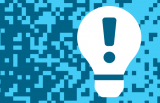 TeachingBooks asks each author or illustrator on our Virtual Book Tour to share a writing prompt, a drawing exercise, or just an interesting question to spark curiosity and creativity. Enjoy the following activity contributed by Chrystal D. Giles.
Imagination Activity with Chrystal D. Giles
In Take Back the Block, Wes tries to find something significant that can tie the history of his community to the present day. His research turns up someone very important! Is there someone significant in your community's past that people overlook? Do some digging into your community or city's history and try to find a person who had a notable impact. Write a paragraph or two about their contributions.
---
Finish This Sentence . . . with Chrystal D. Giles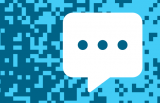 As part of our Virtual Book Tour, TeachingBooks asks authors and illustrators to complete short sentence prompts. Enjoy Chrystal D. Giles's response.
"Where I work is. . ."
Where I work is anywhere. Right now, I do not have a dedicated office space so I grab my laptop and work wherever is it semi-quiet. My son is a noisy little guy—I am often times interrupted by a remote-controlled car zooming by or a roaring toy dinosaur—so working from a laptop allows me to move around and hunt for a quiet corner where I can write.
"A surprising thing that helps me work is . . ."
A surprising thing that helps me work is reading other books! Many writers say reading other people's work while drafting is a no-no, but it really is one of my greatest inspirations. When I come across a funny dialogue scene or a suspenseful chapter in another author's book, it makes me excited to return to my own work and start writing.
---
Thank you!
To wrap up this Virtual Book Tour, we thank Chrystal D. Giles for signing a book for all of us.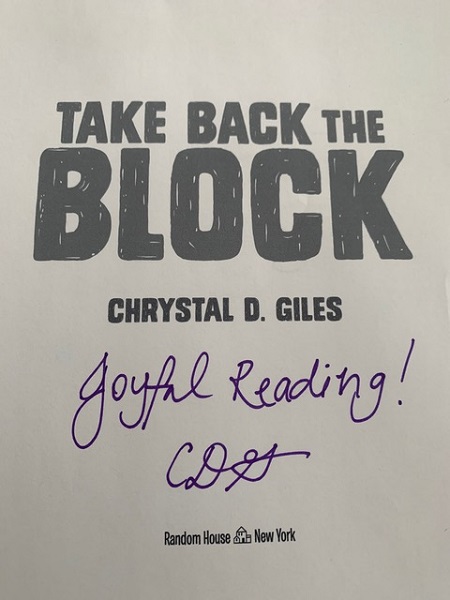 ---
More Connections to Chrystal D. Giles and Take Back the Block
---
Explore all of the titles featured in the TeachingBooks Virtual Book Tour: one link with author interviews, lesson plans, activities, and more!
All text and images are courtesy of Chrystal D. Giles and Random House Books for Young Readers and may not be used without expressed written consent.